Acer Aspire R5 471T 14" 2-in-1 Laptop (2016 model)
Oct 04, 2017
A lot of people are interested in the most ultra-small laptops available. There are quite a few out on the market. So, how do you know which laptop to buy and which one is best for you? Well, you probably end up reading, and watching, a whole bunch of lengthy reviews and still come out just as confused as you were before you started. Here, is another one to add to your reading list.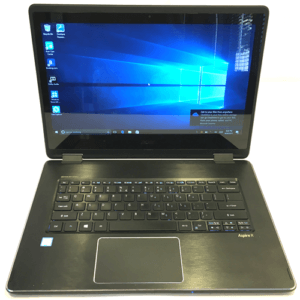 Today, I am going to touch a bit on the Acer Aspire R5 471T 14" 2-in-1 laptop. This ultrabook 2-in-1 comes equipped with a Skylake i7-6500U, 8GB of RAM, 256GB SSD, 14-inch 1080p touchscreen. The screen also rotates 360-degrees into tablet-mode. So basically, it has some pretty decent specs.
The Acer brand is considered to be an inexpensive brand when it comes to computers. When this one was released in mid-2016, it retailed from $499 - $699 USD, depending if you selected the i5 or i7.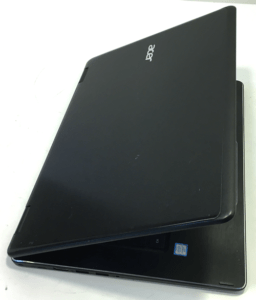 Design & Build Quality
The design and build quality are ok. It's not the best in the world, but it looks great with a brush aluminum finish on the top lid. The edges are chambered like the iPhone 5s and Dell's XPS 13. It weighs about 4.2-pounds and only measures 0.7-inches thick. The bottom plate is made out of a pretty solid soft-touch finish plastic. it's very smooth to the touch. Acer did a pretty decent job in terms of build quality, but personally, I think the keyboard deck is pretty flexy.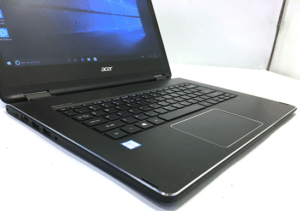 On the left side of the notebook, you have a security lock slot, USB-C, full-size HDMI, two USB 3.0 ports, and the headset/microphone jack. Flipping it around to the right side you'll find your SD card reader, volume rockers, USB 2.0, the power button and charging port. One con to this notebook is the charging port and the very small and flimsy L-shaped cable. It just looks and feels inadequate for long-term use.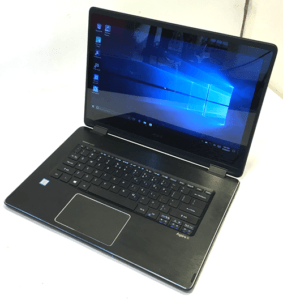 Full HD Touchscreen
The display is a Full HD 14-inch touchscreen panel, so it's a bit larger than the typical 13.3-inch displays out there. The text and color accuracy are sharp but the color accuracy needs to be calibrated out of the box. As far as the color gamut is concerned the sRGB scored 66% and the Adobe RGB scored 50%. Overall, given its price range, the display is up to par.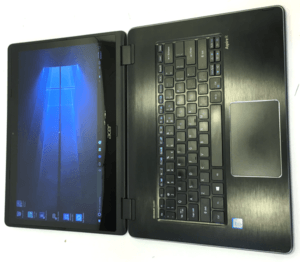 You do get a touchscreen with this device but it tends to be a bit choppy and at times the response seems to lag a bit. Since it's an IPS panel the viewing angles are decent, definitely not the best out there, but it definitely gets the job done. My main complaint is how reflective it is due to its glossy finish.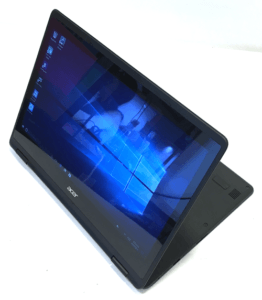 2-in-1 Laptop
As mentioned before, this is a 2-in-1 laptop. This means that you have four ways of interacting with it. The different configurations are: laptop, tent, stand and tablet-modes. Each mode can be useful for different things spanning from touch-based gaming to presentations in stand mode. Since it's weighing almost 4.2-pounds it's a bit heavy to use as a tablet.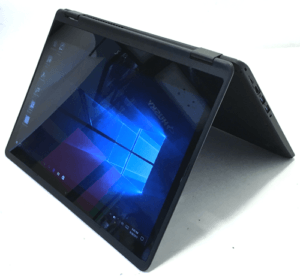 Performance
The CPU powering this laptop is a Skylake i7-6500U with clock speeds of 2.3 - 2.8GHz. This is a pretty strong CPU for a dual-core chip.
The GPU is an integrated Intel HD 520 and it offers adequate performance. You can play games like Minecraft, LoL, CS: Go just to name a few. Most of the games are going to be set on medium settings to gain the best graphics.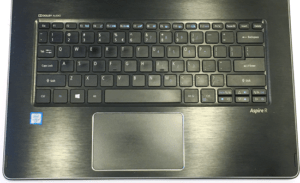 Keyboard & Trackpad
The keyboard performance is decent. Some people may find the key travel to be a bit shorter than they are used to, but it's not something that you can't get adjusted to fairly quickly. The keys do offer excellent feedback and response. Like the Dell 7000 series laptop, the enter and backslash keys are literally almost stuck together. That may cause some unintentional keystrokes, but again, it's something you can get used to pretty quickly. At least in this lower priced laptop, you will get a two-stage backlit keyboard.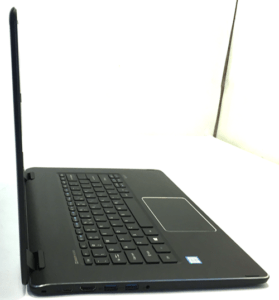 The trackpad is large and the surface feels pretty good. Tracking and two-finger scrolling and multi-touch gestures are accurate. It's not a smooth flowing like an XPS trackpad, but for a Windows trackpad, it's a solid performer.
In order to keep this laptop's price low Acer had to load this guy up with a ton of bloatware. You can download a variety of different cleaners to uninstall them, but it is pretty annoying to have to do that with a brand new computer, but then, again, it's better than paying more.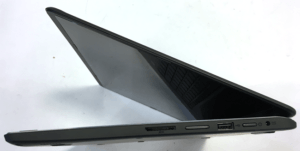 Your battery life should yield about 6-7 hours with your screen set to 50%. This is done with using programs like Microsoft Office, casual web browsing, and regular media streaming from YouTube.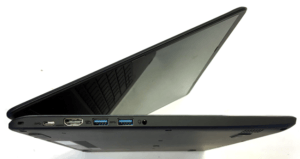 Towards the front, you have two bottom-facing Dolby Audio speakers that when adjusted with the Acer True Harmony presets sound pretty decent. They seem to consistently push about 80 decibels. As for the webcam and the microphone, both are pretty weak. You'd be best served with headphones.