Apple's Most Powerful Laptop MacBook Pro 15 2017
Sep 27, 2017
If you've been paying attention to what Apple has been doing lately then you have noticed that they're going big or going home. And the 2017 MacBook Pro (MBP) 15-inch is right up that alley.
With a maxed out configuration of Apple's most powerful laptop, the 2017 MacBook Pro 15 is as powerful as you're going to find on the Apple list of powerful devices. The big news for this year was the new Kaby Lake CPUs, along with new graphics and in addition, faster SSDs. As far as the outer looking unit, the design and overall configuration have been carried over from last year's models and previous generations.
The base configuration starts off at $2,399 USD. That will get you a Core i7 clocked at 2.8GHz, 16GB of RAM, a 256GB SSD along with the Radeon Pro 555 GPU with 2GB of memory. Today we will talk about a maxed out configuration with the CPU clocking at 3.1GHz and a Radeon Pro 560 GPU with 4GB of memory and a 512GB SSD. You can also max out the SSD to 2TB, but that will set you back another $1,200.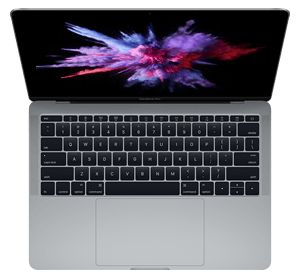 The 15-inch MBP is the only MacBook that offers quad-core CPUs and discrete graphics. Everything else only offers an integrated graphics and dual-core CPUs. Unfortunately, for many, these still have 16GB of RAM standard and it's still only DDR3 instead of DDR4.
Inside the box, you will get a two-meter USB-Charging cable and an 87-watt USB-C wall charger. This is the largest one that you can get with a MacBook Pro.
Display
Returning once again is that stunning 15.4-inch LED-backlit IPS display with a resolution of 2880 x 1800. That's good for 220 pixels per square inch. It's a very bright, sharp and color accurate display. It also has a very effective anti-reflective coating which seemed to have been improved with the newer generation. Also, built into the top of the display is the pretty familiar 720p FaceTime HD webcam.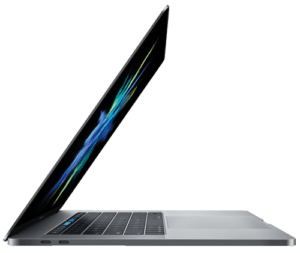 Keyboard and Trackpad
The keyboard and enormous trackpad are carried over again to this device. The trackpad does feature that Force Touch technology, so there is no mechanical mechanisms here. It does however very precisely replicate a physical click via the Taptic Engine. I really like this trackpad even though it's extremely large. It's also nice that it can tell the difference between your palm being on it or a finder command. Since it's so big it is kind of difficult to not be on top of it all of the time while typing.
The keyboard is once again, the second generation butterfly mechanism that many of us have come to love. Some people complain that it is a little noisy, and of course, not everyone likes the shallow keystrokes. With being a second gen of butterfly keys it's much faster and more precise than the previous generation. Each key is also individually backlit with an LED and there's also a slight tweak to the icons on the Control and Option keys.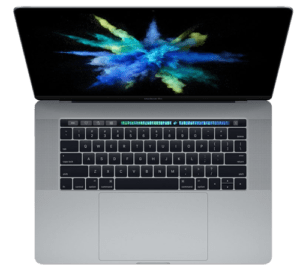 Touch Bar
Also, returning once again is the Touch Bar on the MacBook Pro. This is a feature that is somewhat controversial, but otherwise, it's a really neat OLED display covered in glass that provides contextually aware controls for whatever is on your screen. Apple did a good job making sense of the Touch Bar, but again, it's not something that I personally use very much. However, you can't go wrong with the Touch ID sensor built into the power button for unlocking the computer or making payments or logging into your passwords.
Cooling
On either side of the keyboard are the very prominent speaker grills so we have excellent from-facing stereo speakers. In terms of the ventilation, you'll find the exhaust vent built into the hinge which draws in air from the underside edge. That's a similar design we see with the 13-inch MBP with Touch Bar and the previous generation of MacBook Pros.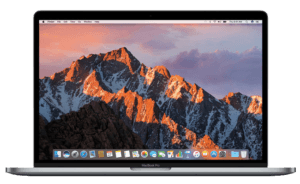 Interfaces
Also returning is one of the other controversial aspects of this design which is Thunderbolt 3 ports only, besides the headphone jack. So we have four of those, two on either side. Once again they are extremely high speed at 40GB/s and they are symmetrical. So you get the same speeds on both sides of the device. This does mean that you will need adapters for USB-A and SD cards and whatever other accessories that you may need or want.
You will get some pretty incredible flexibility and performance with these ports. You can drive up to two 5k displays at the same time in addition to the onboard display, or four 4k displays.
Battery life
Battery life is estimated at about 10 hours of regular usage. And that's with a fairly large 76-watt-hour lithium polymer battery. The only thing to be aware of with a computer this powerful is how fast you can eat up your battery time. This computer does like to spin up the fans to keep it cool and maintain a constant performance.
Graphics
So, like the previous generation, we do have the integrated graphics in addition to discrete graphics. So the integrated graphics is the Intel HD 630, that's the same on all 15-inch MacBook Pros. But in the event of the upgrade you will get a Radeon Pro 560 GPU with 4GB of GDDR5 memory which is actually the same setup in the 21.5-inch 4k iMac.
Now, comparing graphics to the similarly maxed out specs from last year, we are seeing a pretty healthy gain. We go from the AMD Radeon Pro 460 to the 560. So the openGL score goes from about 73 frames per second to about 87 fps.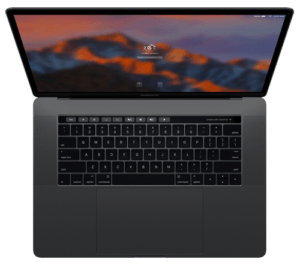 Processor
When it comes to Geekbench, in addition to Kaby Lake CPUs, we also go from 2.9GHz to 3.1GHz which gives us some pretty significant single core gains in addition to much more significant multi-core gains. This is a much more powerful computer than it was once before. The SSDs are also much faster but the write speeds are about 2,000. And the read speeds are about 2,500 versus 1,800 for both previously.
Conclusion
Who is this computer for? Well, for the most part, it's safe to say that for the average user it's much too big and expensive. Especially if you still have a MacBook Pro 2016 model. Yes, the gains are substantial. But unless you are a heavy user of video editing, graphics editing, or music editing, or anything "pro" related, there isn't much of a point to upgrade at this price, and it is probably overkill for most people. Since it's also pretty large and heavy at about 4-pounds, it is best served on a desktop type of application.
As far as spec bumps go, this is a fairly significant one. But there is no reason to trade in your late 2016 model for this version. For many that were holding out for the Kaby Lake update, this may be a good time to pick one of these up.