Acer Nitro 5 Inexpensive Gaming Laptop
Sep 24, 2017
What a week it's been, right? Devastating earthquakes, multiple hurricanes, civil unrest, it just seems like things are getting out of hand. Well, to end this week on a more positive note, we will talk a little bit about Acer Nitro.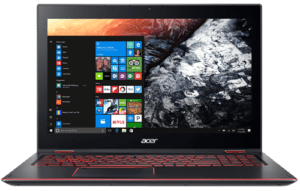 This is a laptop that's geared towards the people that are looking for an inexpensive gaming laptop. It will set you back around $900USD. So for some that may not be regarded as "inexpensive" but for the gaming market, unfortunately, it is. It has a GTX 1050 Ti, 256GB of SSD and a Kaby Lake chip. The chip reads at 1520 MB/s and writes at 520MB/s.
Build quality
Some of the things that we really like about this laptop are first, the build quality. It has a metal top panel, but everything else about the laptop is plastic. However, even though they are all plastic, they still feel really rigid and well designed. It weighs 2.7-pounds, has a 15-inch display and arguably, it looks a lot less "gamer-ish" than other gaming laptops on the market that tend to look a bit cheaper in design. A metallic red stripe goes around its base. The rest of the unit is a muted looking soft black, even the Acer logo is a subdued black and not flashy at all. It also has a thicker metallic looking border along the back in the hinge system. The components that Acer chose to put in this machine are good. The 1050 Ti is the sweet-spot for inexpensive 1080p gaming.
The port selection is pretty standard for the price point. You'll get three USB-As and one USB-C, but it doesn't support Thunderbolt 3. The display is not amazing, but it does have a nice IPS. Since it's "only" a $900 gaming laptop, you are not going to get a 4K color accurate screen. It's unfortunate, but that's just the way it goes today. It also is not super bright only measuring in at 280 nits. As for color accuracy, it's pretty low with an sRGB rating of 65% and Adobe RGB at 49%.

Keyboard and trackpad
The good news here is that both the keyboard and trackpad are really good. they keyboard is comfortable to type on and it has a nice layout. One thing to note about the layout is the placement of the shift and up arrow keys are extremely close, and depending on your typing style, you may or may not accidentally strike the up arrow instead on the shift key.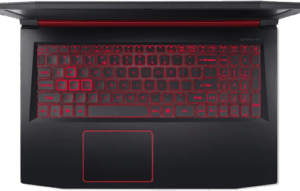 The trackpad is also really nice. it has Windows Precision drivers and has stepped away from the Synaptic and ELAN drivers and Acer has gone full Windows for the time being. The trackpad is glass with a little bit of traction but still glides smoothly as ever before. Their clicking feedback is nice on the mono looking trackpad as well.
Audio
Audio is OK. The speakers are located on the bottom on the front two corners, they don't sound terrible, but then again, they don't sound super awesome either because they are in a $900 gaming laptop. A majority of the time a gamer is going to use a headset so the functionality of these speakers can be seen completely as a secondary way to use the laptop.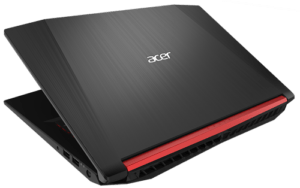 Accessing the interior is fairly easy. Both the 2.5-SATA drive and RAM bays are accessible by removing one screw each, but if you would like to get deeper into the device you'll have to take out the few remaining screws to gain full access. It's quite simple.
Battery
The power source is a 48 watt-hour battery that has been giving a constant life of about a little less than 4 hours of use. That's with the screen at 75%. Depending on what you do it should be relatively stable at 4 hours.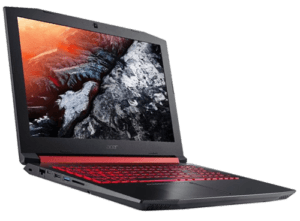 Cooling
So far everything we've mentioned is pretty much par for the course. However, when it comes to cooling this machine, I think there could have been a better way to do so. What we have here are two cooling pipes going across the GPU and CPU. In a normal production laptop it's OK because it's a very efficient way to cool both the CPU and GPU. In a gaming laptop that produces as much heat as this one, and many others do, it's not the ideal setup because the heat from the CPU must cross over the GPU and that just makes the GPU warmer than need be.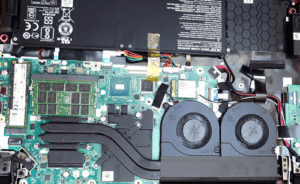 If you're only using this laptop for short spurts of time then that's fine, but if you plan on gaming for an hour or more, it really is putting extra heat stress on the GPU. Fortunately. Acer did put some built-in software in the machine called CoolBoost technology that allows you to control the fans. Under a normal load this cools well and is not very audible. But under a heavy load and even with CoolBoost enabled, the fans can get fairly loud. And they aren't necessarily doing an awesome job at cooling the GPU.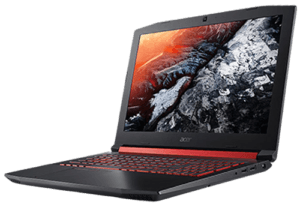 If you are in the market for a decently built gaming laptop then this Acer Nitro 5 could be what you are looking for, and if this doesn't quite fit the bill you might want to take a look at the Acer VX 15 laptop for a little bit less money, but with a better cooling system.