Asus Chromebook C302 Convertible Laptop
Sep 19, 2017
Last week we told you about the evolution of the Chromebooks and that we would get into some of the other models in the upcoming week. Well, we like to keep our promises and not let you down. So here goes, we will start out this week with the Asus Chromebook C302.
Weighing in at only 2.6-pounds and only 2.65-inches tall when closed, personally, I think this 12.5-inch Chromebook is the best one out there right now. As for a Chromebook goes it's a bit expensive being priced at $500USD. Let's touch on some of the things that I like about this Chromebook.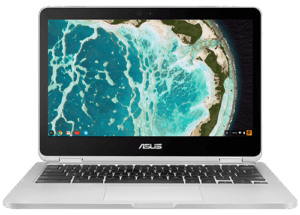 It's got great build quality. It has a full aluminum build, there's no plastic on three devices so it is a bit more solid than other Chromebooks, even the hinges feel like they are from a top-tier device. Since it is all aluminum it doesn't have much top lid flex or keyboard flex. Granted it wasn't made from a single cut of aluminum, but the way it is engineered just feels great. Durable case makes it a perfect school laptop that can be tossed around in a backpack.
As for ports it only has two USB-C ports and no USB-A ports. Clearly, that's not a really big deal because there are adapters that you can use, but then again, it is a Chromebook, so the likelihood that you'll need an abundance of ports is probably going to be small. It does feature a microSD slot a volume rockers on the side as well as the power button.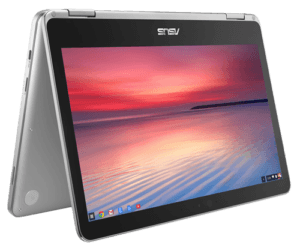 This display features 2400 x 1340p, emitting 299 nits, so it can get reasonably bright. It's color accuracy measures sRGB at 75% and Adobe RGB at 58%. It is definitely within its scope at this price point. Obviously, there are better screens out there on today's market, but this one is very nice for a Chromebook. Its biggest rival is Samsung Chromebook Pro
.
Performance is pretty strong for a Chromebook. Let's face it, it is a Chromebook, so being able to video edit is not going to be your function on this machine. You can easily have multiple tabs open at the same time and not lose any noticeable performance. If you are coming from a regular laptop the 64GB of storage may feel a bit light, but then again you have that microSD card slot, so you can very easily bump up your storage.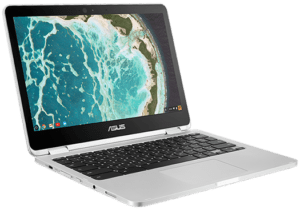 One piece of advice, if you are considering to pick one of these Asus C302s up, it would behoove you to get the upgraded version with the Core M processor for only $50 more. The Pentium processor is noticeably slower, plus you also get 32GB more of storage.
Now, about the keyboard. Arguably, this is what makes this particular Asus Chromebook a cut above the rest. Its backlit, 1.4mm key travel makes for very comfortable typing experience and it has a perfect layout. Maybe the springs could be a bit stiffer, but really, it is a great keyboard. My daily driver is a MacBook Pro and I also use a MacBook Air from time-to-time. And this keyboard feels more similar to the Air's keyboard performance. What I would use a Chromebook for is probably what most people would use one for and due to that, the keys have to be on-point, and Asus did their homework and did well on this one.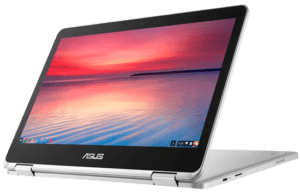 Another reason why this Chromebook is steps ahead of the rest, and quite possibly the best one, is because it has a flip screen. A lot of devices when you flip it into a tablet mode, they are pretty cumbersome and are not comfortable to hold. Since this one is only 2.6-pounds it is fairly light but it also has great ergonomics. When you hold it in tablet mode it actually kind of feels like an actual tablet. I think that if you think you are going to have a 2-in-1 device every mode, whether it be tablet mode, tent mode or regular mode, they have to all be comfortable and well functioning. If you have accomplished that, then you have done a good job.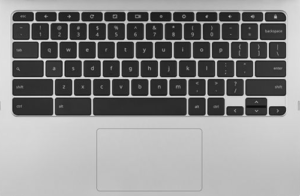 Ok, so the keyboard is awesome, but the trackpad really is less awesome. The surface feels pretty decent, but it lacks perfect precision. Sometimes it will get the occasional jitters. It is a decent trackpad, however, Asus just did not nail it like they did on the keyboard.
The battery life is pretty great. It is a 39 watt-hour battery, and you should be able to comfortably reach 8. Or even more hours on this Asus Chromebook Flip with the screen set at about 75% and with keyboard backlighting on. Since it is only a Chromebook, it is not pulling too much juice. It also uses a USB-C charging, so if you have other USB-C charging devices that is a bonus.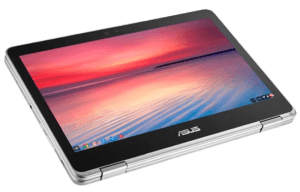 The audio is decent and you get a good stereo effect because they are located on the sides. They are clear enough since there is no fan noise. Granted, they are small speakers but they get the job done.
A few cons about this machine: You may find that the bezels are quite large on this device; especially when in tablet mode. Also, if you want to use it outside, the 300 nits of brightness will not be sufficient to do so. Lastly, the price is quite high for a Chromebook, but in order to get this type of build quality, whether it be a regular notebook or a Chromebook, you will have to shell that amount out these days.