Asus Zenbook 3 UX390 High End Laptop
Sep 11, 2017
Some of Asus laptops are best selling models on new and second hand markets. The company is gaining popularity every year making better IT products. The IT hardware category itself is one of the fastest growing industries.
In 2015 Asus Computer Inc. was the world's 4th-largest PC vendor by unit sales. We didn't see the newest reports but the company is growing and putting our more beautiful laptops in the market like the line of ZenBooks.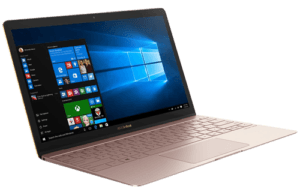 Last week we did a bit on the Zenbook UX303 while doing that we ran across a lot of info on the Zenbook 3 UX390 and thought we'd get into that one as well, so, here goes.
ZenBook vs MacBook
This laptop is kind of in a class of its own. It's similar in size to something like the 12-inch Macbook. But it's got a much more powerful processor than the MacBook does. You can also take something like the Razer Blade Stealth that has a similar processor as well, you'll just find that the Zenbook 3 is just so much more compact in comparison. It's similar but quite different from both the 12-inch MacBook and the Stealth. For ease of comparison, I'll use Mac data vs Zenbook data. It has more similarities in terms of ergonomics and design.

The Zenbook started at $1,100USD for the base model. It comes with a Core i5 or i7, 8GB or 16GB of RAM and it has a 12.5-inch display. As far as specs go, you'll get a lot more from the Zenbook than the 12-inch Macbook.
It has a full aluminum build with that brushed, radial pattern on the top lid. It comes in three colors: blue, pink and silver and they all have a gold trim which is a nice accent.
The bottom panel comes off easily, but when you're in there, the only thing that you can upgrade is the drive. The 512GB stock drive in our model is a PCIe stick from Toshiba and has a great performance factor. Asus did out in a 43-watt hour battery pack that they claim can get up to 9 hours, but with normal use, it only was getting around 6 for us. It does support fast charging so within 50 minutes you can get to a 60% charge.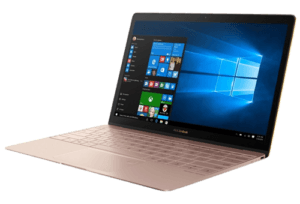 Build quality
In terms of the build quality, it feels very rigid. The screen is rock solid, the chassis is also very good, the hinge is great and you can open it with one hand it if won't flop all over the place. It's still not quite as good as the Mac since MacBook is the gold standard of build quality, but the Zenbook 3 is close.
It's limited on ports, to say the least. It comes with an audio jack on one side and a USB 3.1 Type-C port on the other side. Asus does include a multiport adapter that supports Thunderbolt 3, HDMI and a USB 3.0.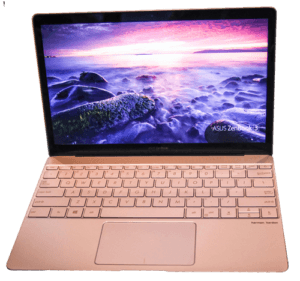 Display
The display is a 12.5-inch, 1080p panel, covered in Gorilla Glass 4 and it's not a touch screen. it measures in with really good color accuracy and contrast, but it could be a little bit brighter as it's 270 nits. It measures 96% RGB and 74% Adobe RGB. Compared to the MacBook it has a lower screen resolution but it is not noticeable at regular viewing distances. The Mac does have a better screen, but not by much.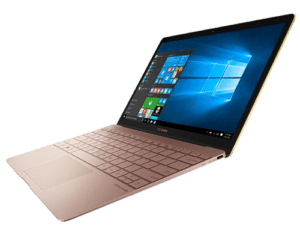 Keyboard and trackpad
The keyboard is backlit and typing felt pretty decent. The keys have 0.8mm of travel, so it's not as tactile as the Mac, but it's spacious, and for the most part, it's a decent keyboard. The space bar feels a little spongy, but that's not a big deal either.
The trackpad is pretty good. It has a smooth glass surface even though it feels like plastic. The tracking is smooth and accurate, the buttons, however, don't feel so great. There's not too much travel in the buttons when clicked. it also has a well-working fingerprint sensor that allows you to sign in with Windows Hello.
The Zenbook 3 has four speakers; two on the top and two bottom-facing ones as well. They are Harmon/Kardon and they sound better than one might expect. We think the king of all ultrabook speakers is on the Mac. Asus Zenbook laptop doesn't sound as good and it's not a clean and distortion is present at higher volumes, but they are still really solid.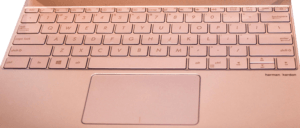 Performance
The unit we have is running a Kaby Lake 6700U and the big benefits of running a Kaby Lake over a Sky Lake are: it's more energy efficient, it has hardware encoding and decoding of certain video codecs, and it has a slightly faster clock speed.
In terms of lightweight gaming, the HD 620 will allow you to play stuff like CS: GO at low settings with good frame rates, but even moderately demanding games run pretty poorly.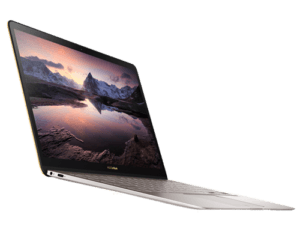 Conclusion
It only has a single fan so fan noise is not an issue. However, it does come on quite frequently even when doing light-weight tasks. Under load, the fan noise is also relatively quiet for a Core i7. But because it only has one fan, it gets pretty hot on the inside. Because of these temperatures, there is significant CPU throttling. If you're an average user you won't ever notice it. Unless you get the i5 it's difficult to keep it cool unless you throttle down the CPU. But overall in the Zenbook, you're getting an overall excellent build quality.