Alienware 13 R2 Gaming Laptop i7-6500U
Sep 04, 2017
Earlier this year we presented the 2016 Alienware 13 R3 GTX 1060 gaming laptop. That's still the newest model for 13 inch Alienware. But now everybody has the money to buy one. Especially not students that often live on a budget.
As you prepare to get back to school here in the very near future, it's our job to not let you go back unprepared and with some lame laptop. So, let's take a look at a gaming laptop that will surely allow you to get some quality gaming time in as your busy schedule allows. Here goes...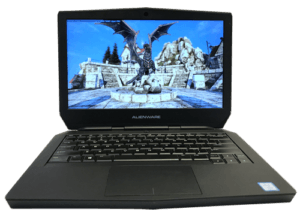 Going back to school with new laptops and new friends is around the corner, so take a look at this 2015 Alienware 13 R2 with an Intel Dual Core i7-6500U clocking at 2.5GHz, 16GB of RAM, a 1080p IPS panel, a GTX 960 with 2GB of RAM, that retailed new for about $1,500 but now on the secondhand market, you can find it for much less. This kicked off in the spring of 2015 and the entire line was refreshed to have the, then new, GTX 960 NVIDIA graphics card with Maxwell architecture.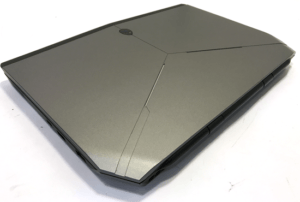 First off, I have got to say that the build quality of this machine isn't top-notch. But they still really hit it out of the ballpark with this one. The materials that Dell decided to use are just flexible, so the build is still pretty decent. It has really great curves and a very stealthy looking design.
There was noticeable flex in the screen, but it still feels relatively well made and since the hinges are not affected by this, there isn't much to worry about. The chassis and the keyboard didn't flex very much but it's probably more to the sheer thickness of the machine rather than build quality.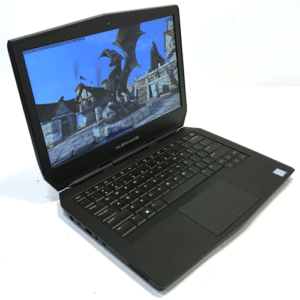 The top of the notebook is plastic and has a little Alienware jewel logo that lights up. If you're the type of person that fingerprints drive you crazy, well, you're in luck because they don't show up on this machine at all on the gray plastic that has a metallic sheen to it. On the bottom, there are 4 very hard rubber feet that aren't super grippy but their main purpose is to elevate the notebook off of the desk so the 4 intake vents can suck up as much cool air as possible. There are two screws that you can remove to gain access to the RAM and hard drive slots. So you can easily upgrade them if you want or need. This model came with a 1TB HHD, but you probably want to replace it with an SSD.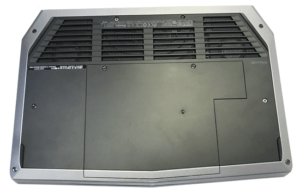 Alienware has an assortment of laptops with a 13-inch, 15-inch, and a 17-inch spread to choose from, and they are all gaming oriented. The 13-inch is the cheapest of the bunch and obviously the smallest too.
I/O is decent, on the right side of the notebook, there is a speaker, two USB 2.0 ports, and an Ethernet jack. The left side features another speaker, a lock slot, another USB 3.0, AC adapter port, and separate microphone and headset jacks. Since the thickness measures in at 1.1-inches think there is plenty of room for the fairly big speakers. Unfortunately, there is no SD card. Of course, this is a gamer notebook, but it is something to keep in mind. On the back of the notebook you have the fan exhaust, the port for the Alienware graphics amplifier, mini-displayport, and an HDMI port.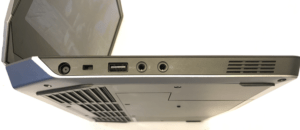 On the interior the material is actually a soft touch rubber. It shows fingerprints like crazy, but it's actually really nice to touch. When this is new it felt really nice but it's hard to predict the long term durability of it since your palm will always be rubbing against it.
Instead of chicklet keys, this thing has the old school looking notebook keyboards, but it feels good, types well and the directional keys are in a great position. The trackpad is a completely different story.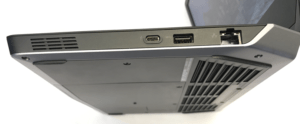 The buttons on the trackpad feel fine and click reasonably well. But the actual tracking is particularly bad and it skips around and sometimes doesn't pick up movements. Not so good trackpads accompanying otherwise great hardware seemed to be the thing back in 2015. Now trackpads are all pretty decent. So it's nice to see that developers took the time to iron out those issues.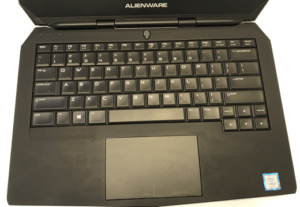 As most probably know that Alienware computers can really light up. They have some nice LED light systems in them that you can configure extensively with their software. So, you can control different zones of the keyboard. And you can adjust the Alienware and alien face logo as well. The software is really intuitive and the colored lighting is much brighter than other notebooks, like the HP Omen. You can also adjust the LEDs on the top lid, all in all, it's pretty dope.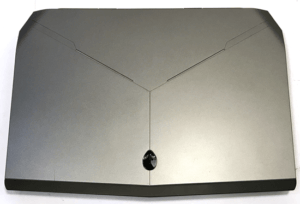 The webcam supposedly does 1080p stills, but for video use, it's more like 720p. The screen is a 1080p non-touch screen. They did make a quad HD touch screen that was about $200 more. Since it's a matte screen it keeps the reflections at bay and the viewing angles are pretty decent. Dell advertised this unit at 350 nits and it sure is pretty bright. To the naked eye the color accuracy seems pretty good. But after testing it came up with Adobe RGB at 75%, which is about right for this type of notebook. However, for regular use and gaming, it's just fine.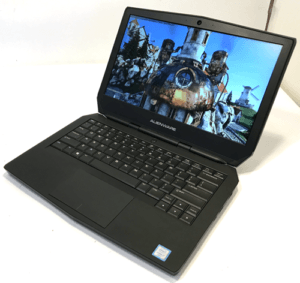 Let's get into the battery a little bit. The AC adapter is a big and heavy 120v pack. That's just the way it is with these types of notebooks. A unique feature it has is a blue indicator ring around it when it's plugged in. It's always going to be blue, there's no adjusting it. Now, the battery life itself on this laptop is pretty poor. It has a 52-watt hour battery pack, which is probably most of the problem. And you're only going to get about 4-5 hours of regular use, and if you're streaming movies about 3 hours. Even though this laptop has a feature called battery boost, which basically enables your battery to have an extended life while playing games by lowering frames rates and such, you're only going to get 1 hour to 1.5 hours max out of it during gameplay.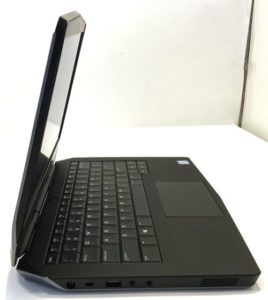 The audio on this machine is some of the loudest I've heard. As mentioned earlier since the case is so thick there is plenty of room in there to put bigger speakers. They top out at about 80-85 decibels which is pretty dang good for a laptop. Though they are big and loud that doesn't mean that they sound great
Considering that this is a gaming laptop you can assume that it'll be running high loads frequently and this is where fan noise comes into play. When it is running at an idle it meters at about 20 dB. Under a medium load it runs around 25 dB. Even at a full benchmark load it's not too terribly loud ranging in at about 30 dB. Yes, you will hear the fans, but it's much quieter than some other laptops out there.

About the gaming aspect of this laptop. Even though it's a Broadwell i7, it only has two cores. You may be surprised that games like DOTA 2, League of Legends both ran above 60 frames per second (FPS) on high settings. If you bump it up to ultra settings the fps will drop to about 40, maybe 50fps. The previous model of this laptop was running a GTX 860M, and it turns out that the 860M was also a Maxwell architecture chip. The 960M that's on this laptop is just a slightly faster-clocked version of the 860M. So, if you have the previous year's Alienware with the 860M, it's not worth the money to upgrade to the 2015 generation. Especially if you upgrade to an SSD and more RAM.