Alienware GTX 1070 15 Gaming Laptop
Aug 13, 2017
Back in the beginning of January 2017, we drop some knowledge on you about the Alienware 13 with a GTX 1060, now we're coming at you with the bigger brother, the Alienware 15 with a GTX 1070, brace yourself, here we go.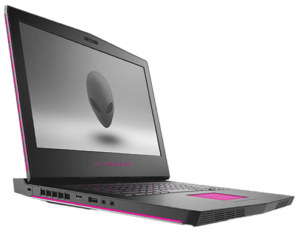 Size and Weight
So, it's been redesigned from 2016 and it has a GTX 10 series card in it. It has the hinge forward design again, like the 13-inch, but this model is easier to get used to. The 13-inch has the same hinge but because of the proportions, it just looks nicer on the 15-inch Alienware laptop. Weighing in at a monstrous 7.7-pounds, this guy is not light by any stretch of the imagination. It is built well with its aluminum paneling on the top lid and bottom plate. The base, in particular, feels really solid, and when you're handling a big laptop like this, it's nice when there is no chassis flex.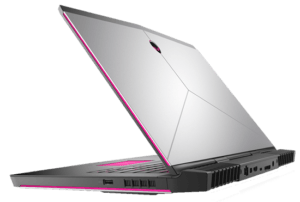 Design
It's thinner than the 2016 model by about 25%. That's pretty significant, but it's still heavy. A big part of that weight comes from the 99-watt hour battery pack. This is a huge battery, it's actually the legal limit for how big a battery you can put into a laptop. You should see about 6 hours of battery life with it with regular use.
To open it up is pretty simple. it's just 7 screws and you're in. Once inside you can upgrade your two RAM sticks and your drives. It's comes loaded with a 1TB HHD and a 256 SSD. There is room for four drives in total. A 2.5 SATA and then 3 m.2 m drives.
A lot of laptops have light up logos and keyboards, but the sidelights that this laptop comes with are off the hook. They are kind of like a retro neon tube light, but at the same time, they are kind of futuristic. They are fully customizable and super awesome. There's no way that this laptop gets away with looking like a working rig.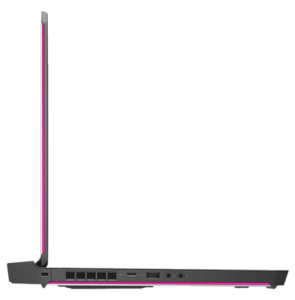 Ports
I/O is nice on this machine you get the audio jacks, three USB 3.0 ports and one is a type USB-C. On the back, there are the Ethernet, display outputs and Thunderbolt 3 and a graphics amplifier. It can connect to all of the external GPUs out there. There's no SD card reader, which is a little strange, but it's a gaming laptop and they filled all the extra space with battery cells, so it's a good trade.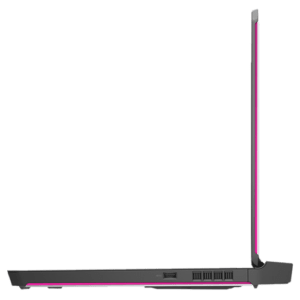 Display
This bad boy runs a 4k Exo IPS option. the screen is relatively bright at 290 nits and readings of RGB at 96% and Adobe RGB at 64%. It has a decent gamut, but the color accuracy is only OK. Even after calibration, it's not perfect. but for gaming and media consumption, it's an excellent screen. That's what it was built for. The webcam is decent and has infrared for Window Hello Log-In.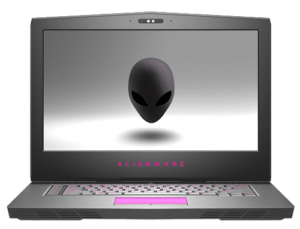 Keyboard
The keyboard has customizable zone lighting, but it has one oddity, the page up and down keys are next to the directional keys, so you might miss-click until you get used to their locations. Key travel is 2.2mm, and it's really nice to type on.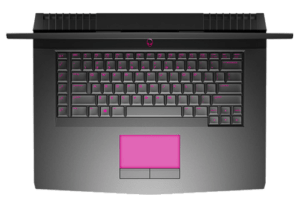 Trackapd
The trackpad is almost identical to last year's model, and that's a good thing. It has a customizable light-up surface, accurate tracking and the physical buttons have nice mechanics to them.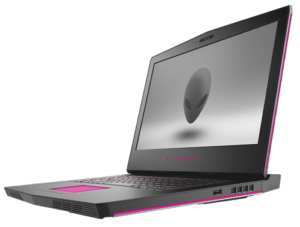 Graphics
Last year if you had the 4k display panel, the graphics chips in the laptops weren't powerful enough to really support 4k gaming. This year, if you get the GTX 1070, you can get some nice visuals at 4k if you want, but really, 1440p is the sweet spot on this top. On a 15-inch screen, you won't really notice the extra resolution when playing. If VR is your thing, even the base model with the GTX 1060 is fully VR ready laptop.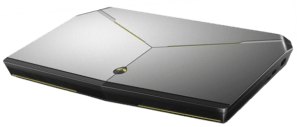 Speakers and Thermal Management
The speakers are very good. Since it's a 15-inch laptop, the speakers are a decent size and have decent bass for a computer. They distort a little at max volume, but overall, they sound great.
The thermal management is quite good as well. Even though it's packing a really powerful graphics card in there, it still remains at a comfortable temperature. Also, fan noise has improved a lot from the previous generation. They still turn on frequently, but they are much quieter even under a load.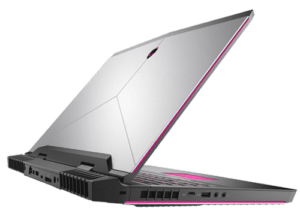 Summary
The redesigned Alienware 15 starts at $1,350 USD which is about the same as HP Omen 15 2017 Gaming Laptop with GTX 1050Ti that we reviewed last week. The price is for the base model with a GTX 1060. You're getting great build quality in a thin but heavier package. The 3k Exo panel is fast and great for gaming but lacks perfect color accuracy. The keyboard and trackpad are quite similar to the previous generation. Both are comfortable for use. On the inside the GTX 1070 and the SkyLake i7-6700HQ push out killer gaming performance and has better thermal management than last year. The two RAM slots and four drive bays are easily accessible for upgrades and the huge 99-watt hour battery gets around 6 hours of life.
Overall we really like the revamp and design cues. Alienware really did an awesome job on their remodel.