HP Omen 15 2017 Gaming Laptop with GTX 1050Ti
Aug 01, 2017
It seems that HP is getting things done quite well with their Omen line of gaming laptops. Over the past few months, we've written about a couple of them already. We've talked about the littlest brother, the Omen GTX 960 and the middle child, the Omen GTX 1070 and for today we'll kick of the week getting into the newest HP Omen, the 2017, 15-inch GTX 1050Ti. So let's get straight to it, shall we?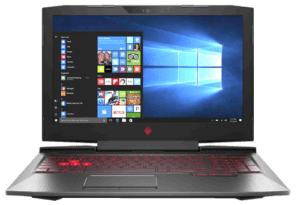 This laptop features the latest Pascal GPUs and you also have the option of an AMD GPU. Furthermore, you also get the all-new design that looks very slick. Let's see if this is worth you picking up. When breaking down the specs you'll see that is comes stocked with an Intel Core i7-7700HQ processor, 8GB of DDR4 RAM, a GTX 1050Ti, 15.6-inch FUll HD IPS display, a 256GB NVME SSD and the retail price for this configuration is $1,329 (USD), and the base model begins at just about $1,000.
This year's Omen looks so much better than the last generation. The top lid has a two-tone finish along the top which is made of all plastic and then you have the Omen logo towards the bottom. The bottom panel is also made of plastic.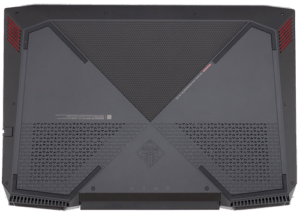 You get two speakers towards the bottom and two intake vents and there are some really cool looking edges and lines on the bottom of this rig. It looks like it's from the future. Not all gaming laptops go this route in their design and some try to be more subtle in their appearance, but this laptop would never be mistaken for a work-type of rig.
On the inside, you have your 70-watt hour battery pack, a traditional hard drive with a cool HP Omen cover, a Realtek AC wireless adapter with Bluetooth 4.1, two RAM slots that can hold up to 32GB, your PCIe SSD drive.

The interior of this laptop looks gorgeous, There is a brushed aluminum palm rest that is comfortable to type on. It weighs in at a reasonable 5.6-pounds and about an inch thick. in terms of design, HP really knocked it out of the park with the new Omen, it's just an awesome deviation from what we've seen in older markets. If you want proof in the pudding, take a look at the exhaust vents towards the back, they look like they came straight off a Lamborghini Aventador.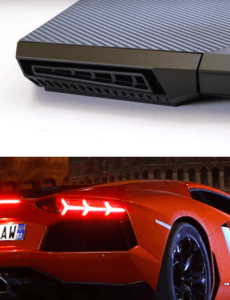 For portability, on the left-hand side, you have a security lock slot, mini displayport, full-size HDMI, gigabit Ethernet, USB 3.0, USB-C, a headset jack, and an audio jack. If you need Thunderbolt 3 support you will have to pay an additional $20. for the right-hand side, there are the two USB 3.0s, an SD card reader, a hard drive status light, and the charging port.
There is some medium display flex, especially towards the center of the lid. But don't pay too much attention to that, it'll be safe enough. In terms of keyboard flex, there's hardly any. The chassis on the Omen does a great job holding it all together nicely.
This is a 15.6-inch laptop with three different control panel configurations. The base model comes with a Full HD IPS anti-glare. For $60 more you can get a Full HD 120Hz IPS anti-glare display. If you really want to jack it up a bit, for $260 more, you can get a 4k IPS anti-glare screen. The color accuracy was very good with 98% for sRGB readings and 76% of Adobe RGB. The $60 more second tier upgrade is definitely worth the money for the 120Hz screen. It makes a big difference in gameplay. The display also looks pretty good in terms of brightness with about 275 nits. And to top if off, this IPS panel offers great viewing angles.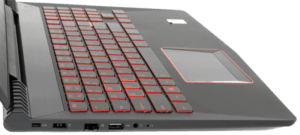 The Synaptics based trackpad is kind of small, however, you do get two physical buttons. The two-finger scrolling and multi-touch gestures were all on-point. Overall, it's a solid trackpad.
You're going to get a standard full-size numeric keyboard with a numeric keypad as well. The keys do feel a bit small for a laptop of this size, but you should get adjusted fairly quickly and never look back again. The key travel is adequate and their feedback is pretty good. You also get the red WASD keys which look pretty cool, if you like that type of thing. The keyboard backlighting is similar to Lenovo Legion Y520. All keys are lit red except for the WASD keys, they remain white. You can turn on the entire keyboard or just the WASD keys.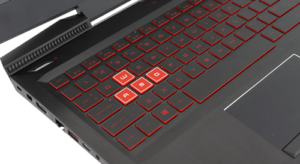 The battery pack is pretty big. It's a 4-cell 70-watt hour battery pack. With casual use, you'll get about 5.5 - 6.5 hours with medium screen brightness. Gaming will yield you about 90 minutes.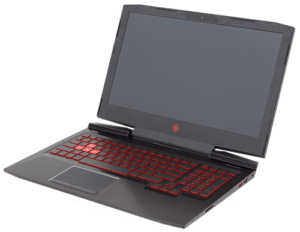 The Intel Core i7-7700HQ is a quad-core Kaby Lake that offers good, strong performance. There are multi GPU options to choose from. The base model comes with an AMD Radeon RX550, and you get an option of a GTX 1050 with 2GB or 4GB of GGRD5 followed by a GTX 1050Ti with 4GB of GDDR5 and finally, you have a GTX 1060 Max-Q version (not currently available in the US).
The mid-level GTX 1050 offers good performance. However, we would definitely recommend the GTX 1050Ti. It just offers a far superior performance. Games like Overwatch run smoothly on 1920 x 1080p on high settings that get about 90-100 frames per second. Heavy duty games like Battlefield 4, will give you about 70-80 fps at 1080p on ultra settings. Same as with the Acer Aspire VX15 the GTX 1050Ti is a great entry level GPU that offers a great bang for your buck.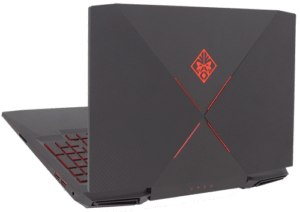 Even while playing games for about 90 minutes this GPU remained really cool at about 68 degrees Celsius. Even the exterior temperatures were pretty good. Overall, the GTX 1050Ti does a great job and is very efficient. At an idle, the fans run at about 36 decibels and if you're playing games it'll get up to around 45 decibels. The Omen Command Center seems like it's missing a critical feature; there is no kind of fan control.
There are two speakers powered by Bang & Olufsen, at first glance you may think that they are just under the screen, but they are down towards the front of the machine. The sound quality is good, the mids and highs are decent but without a subwoofer, the lows are lacking.
Overall, this laptop performs at the level you'd expect at this price-point. The upgrade to the 120Hz screen is a much for any gamer out there. Accessing the inside of this laptop is fairly easy and once you do so, you can upgrade to your heart's, or at least to your wallet's content.