Lenovo Legion Y520 Gaming Laptop
Jul 20, 2017
We started the week off with a Lenovo Legion Y720 and we will end the week with its little brother, the Legion Y520.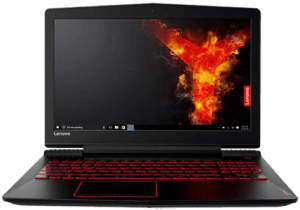 It's a mid-tier gaming laptop like Asus FX53, and aesthetically speaking, it looks really good. Laptop feels nice to hold in your hand, and fingerprints don't show up too terribly much. It weighs 5.3-pounds, it has a 15-inch display and is only 1.01-inches thick. It has a faux carbon fiber top, and it's just black everywhere. Even the logo is subdued. Most gaming laptops have some kind of red accent on the exterior, but this one doesn't. If you pulled this out at work no one would take note that you're playing and not working. There's also a really cool looking copper heatsink that is visible from the rear. However, once you open it up you will see red everywhere, it's not over the top like many other brands, but it's there.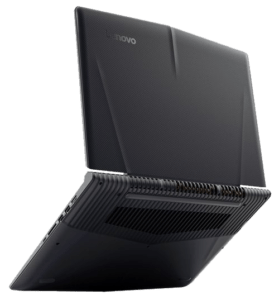 Built quality
The build quality is good, it is on par with competitors in this price range. By this price range, we mean the $850 USD price range. There isn't anything that feels poorly built; the chassis, the screen, the hinge is good too. In fact, it's way better than what you'd find on the Y50, Y700, and Y720. So yes, you can buy a good gaming laptop for around $800.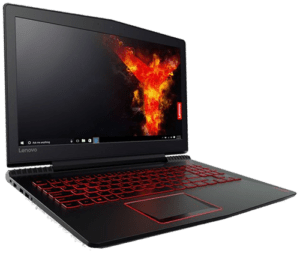 Display
The display is one of the better-looking ones in the sub-$1,000 gaming laptop market. It rocks in at about 280 nits with RGB and Adobe RGB readings of 65% and 49% respectively. It has a 1080p display and the color gamut is just mediocre, and even after calibration, color accuracy isn't the best. However, it is reasonably bright and has good viewing angles because it's an IPS panel. The bezels aren't too thick, and the webcam is ok. The display isn't touch enabled like on another gaming Lenovo, Y700. But that doesn't seem to be a huge drawback in overall performance of the laptop.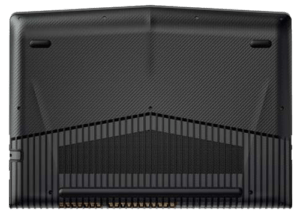 Speakers
The speakers are positioned nicely, just below the screen, and when you're playing games, it sounds like they're projecting right into your ears. They have decent volume, but they definitely lack bass and the lower frequencies.
Keyboard
The keyboard has a couple of different textures. It has a brushed finish near the top and the rest of the deck has a soft-touch finish. The keyboard has red accents and red backlighting. The number pad on the right is a little different. If you use a number pad often you'll probably feel it to be a bit strange. The rest of the layout is good and it's easy to type on. The keys have 1.2mm of travel, keystrokes feel a little soft, but it's comfortable to use.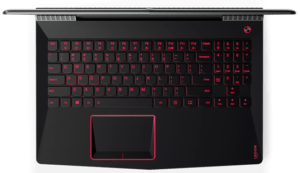 Trackpad
The trackpad kind of feels like glass but it's not, it just has a really nice smooth finish. It has Synaptics drivers, but with good tracking and gesture control. The buttons are not built into the trackpad, they are dedicated buttons. Oddly enough, the left and right buttons hinge in the middle so get a good snappy click you have to press it on its outside edges.
Ports
The port selection is good. There are Ethernet, USB 2.0, and an audio jack. On the opposite side, there is an HDMI, a pair of USB 3.0, and SD card reader, and a USB-C port. There's no Thunderbolt 3 support, but that just because that's the norm at this price.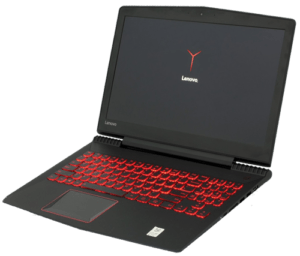 Upgradeability
To open it up simply remove the screws on the bottom, there you will have upgradable access. There is a 2.5" drive bay, an m.2 slot that supports PCIe. The configurations with SSD drives have pretty good speeds. You can also access the RAM to upgrade it to 16GB of DDR4. The battery is relatively small at 45-watt hours, but it's tucked in there nicely. With the screen at about 75% illumination, it yields about 4 hours of regular use. if you're playing games expect 45-60 minutes of gameplay. Again, that's another compromise you have to make at that price point.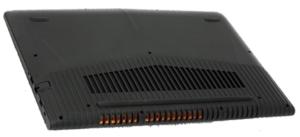 Performance
Performance overall is good, it uses Kaby Lake CPUs and a GTX 1050 Ti, even on the base model. The gaming performance between the i5 and i7 is really similar. With a 1050 Ti, and the 7700HQ, something lighter like Overwatch will hit 70 frames per second on ultra, on high, it's closer to 120 fps. Optimized shooter games are really good and things a bit more demanding like Battlefield 1, you would need to play in high settings to get 60 fps. It's definitely the best value gaming laptop for right now.
If you're editing videos, this is a great choice, especially because there are two drives in there. If you are doing color accurate work it would be the best fit with an external monitor.
For the Lenovo Legion Y520, you're getting a device with a lot of plastic materials, but with good quality. You're getting a decent IPS screen that is bright but weak on color gamut. It also is not a touch screen, so if you want that you'll need to look elsewhere. The keyboard and trackpad are good, but the buttons on the trackpad are not so good. Inside there are two options: a Kaby Lake Core i5-7300HQ or an i7-7700HQ with a GTX 1050 Ti that deliver an awesome performance for the dollar. The RAM and storage are all easy to access for future upgrades. The battery is a little light with only 4 hours of regular use.
For this price point, there's not too much to dislike about this laptop. One advantage that Lenovo has over other competitors is at this budget is they often have pretty good sales.