Lenovo Legion Y720 Gaming Laptop w/GTX 1060
Jul 17, 2017
Happy day cyber world, we're here today to kick off your week with a little bit of information regarding the Lenovo Legion Y720 with a GTX 1060. We've previously covered it's smaller sibling, Lenovo Legion Y520 gaming laptop. The Y720 features an all new aluminum design, so let's see if it's worth your money.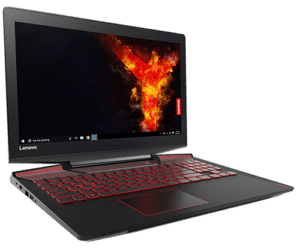 It comes with a Core i7-7700HQ, a GTX 1060 with 6GB of GDDR5 RAM, 16GB of RAM which is upgradable to 32GB, 256GB SSD, and a 15.6-inch full HD panel. All of this is available at the retail price of $1,299USD.
The Legion Y720 is simply stunning. it has an aluminum finish on the top plate with the Legion logo in the middle. The aluminum finish has a subtle checkered pattern on it to give it a unique look. It comes in about 1.14-inches thick and roughly about 7-pounds. Compared to the Y520 that weighs about 5.5-pounds, but is made of plastic. Lastly, the bottom cover is all aluminum as well with the same subtle pattern a subwoofer and intake vents.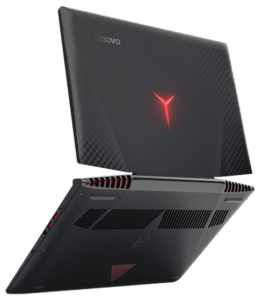 For storage options, it has a pretty good setup with 1TB for your gaming needs and a fast NVME SSD. The Samsung PM 961 is one of the fastest hard drives on the market reading at 3377 MB/s and writing at 1243 MB/s. The interior is made out of plastic. However, the palm rest has a soft touch feel that adds a really nice feel overall. Design and performance make it a perfect gaming laptop.
For your ports on the left side, you have a security lock slot, charging port, RJ45 Ethernet, USB 3 and a headset microphone combo jack. Along the other side, there are the power status lights, LED indicators, USB type-C/Thunderbolt 3 port, mini displayport, two more USB 3s, a full-sized HDMI and the Lenovo Onekey Recovery Pin.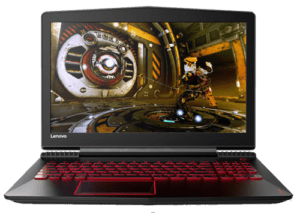 The hinges feel pretty durable and the chassis feels sturdy. There's hardly any flex in the keyboard. Overall, this laptop has a very solid feeling design and the aluminum case makes it feel premium.
This 15.6" Full IPS anti-glare display is decent. It's not that great, but it'll get the job done. The color accuracy is about average and the display brightness is fair. You get about 212 nits which are ok for indoor use but can be a problem outside. The sRGB rates at 71% and the Adobe RGB rates at 54%. These scores aren't that great but they are pretty common with the gaming laptops in this range.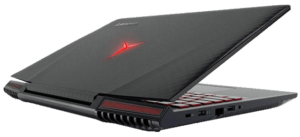 The CPU powering this laptop is a quad-core Kaby Lake Core i7-7700HQ clocked at 2.8GHz but with turbo, you can get up to 3.8GHz. The GPU elected for this laptop is a NVIDIA GeForce 1060 with 6GB of GDDR5 RAM. This is a really nice graphics card. It offers great performance to price ratio.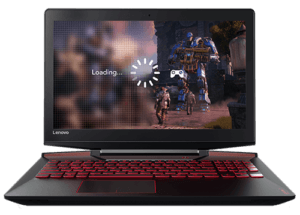 First shooter games will run smooth on epic settings at 1080p with an average of 80-110 fps. With a powerful combination of a quad-core i7 and a NVIDIA GTX 1060, this laptop is VR ready. The four cell 61-watt hour battery pack can give you roughly 3.5-4.5 hours of normal usage of light web browsing, word processing, media consumption and checking emails with the screen settings set around 50%. If you plan on gaming on the battery back, you should expect about an hour of gaming time.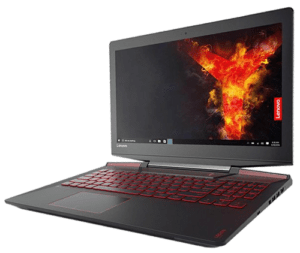 The trackpad is smooth and it feels great. Tracking and two-finger scrolling were good however, tap-tp-click may be a little sensitive coming out of the box. Go to your settings to fix this. The keyboard is pretty well spaced out and the overall performance was pretty good. You get a decent tactile feedback and the key travel is actually pretty decent for a 15-inch laptop. It also has a number keypad. Its configuration is a little bit different than what you may be used to, but in time it'll be fine after you adjust to it. The base model has only a red backlit option, but there is an upgraded version that has an optional RGB control zone lighting that also has some different setting options to fit your gaming needs.

Lenovo has its own program called Nerve Sense installed. This is where you have access to light shift, extreme cooling, network priority, and sound enhancement. The light shift options have about 5 different settings for your backlit keyboard.
The two front-facing JBL Audio speakers do an excellent job of producing sound for the action packed games like Overwatch and Battlefield. They simply sound amazing. With the subwoofer on the bottom, it really adds a nice kick.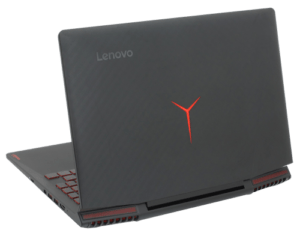 The fans do a great job at keeping this laptop running cool. In our usage, we did not experience any extreme temperatures. In terms of fan noise, on idle you're going to 37 decibels and under a load of gameplay maybe around 45 decibels and with extreme cooling, you'll get about 48 decibels.
Over all the aluminum body looks very nice and it felt durable. This 15-inch laptop is on the heavier side weighing in around 7-pounds. The Samsung PM 961 NVME SSD is super fast and the GTX 1060 s a great GPU that can handle almost all of today's' games at 1080p on high to ultra settings. The trackpad is smooth, but tap-to-click was a bit splotchy, and the battery life is decent.