Asus Q524 2-in-1 Laptop with a 940MX Graphics
Jun 19, 2017
Thinking about buying a new laptop? How about selling your old laptop first? Even if it's broken it is still worth money. Simply search the model to see our offer.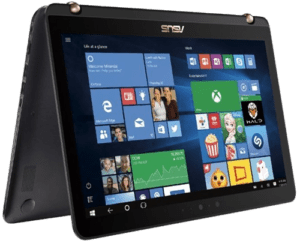 Let's take a look at the Asus Q524 2-in-1 laptop today.
This laptop was a great steal from Best Buy earlier this year, and in some stores, it may still be on sale.
It features a 15.6" touchscreen panel, an Intel® Core i-7500U with 12GB of RAM and a NVIDIA GeForce 940MX and a 2TB hard drive that runs at 5400 RPM. As far as connectivity it has a USB Type-C port, three USB 3.0 ports, and a full-size HDMI. This is all available for only $999.99 USD. However, if
you can catch this laptop on sale
, you may be able to still find it for $849.99.
The exterior features a black aluminum finish very similar to the one on LENOVO Y700 gaming laptop that we reviewed last Friday. However, Asus is calling it Sandblasted Black Aluminum. It really looks good, but it is also a fingerprint magnet. The bottom panel is also aluminum that can be removed for easy access.
Once you gain access to the inside you'd find you 54 watt-hour battery pack, a traditional 5400 RPM hard drive, 8GB soldered onboard RAM with a 4GB stick. With a 16GB stick, you could max it out to 24GB. Also, you'll find the m.2 SSD slot, a single fan, and your Intel® dual-band 8260 wireless card.

The 2TB hard drive is very slow so we recommend upgrading to the m.2 SSD for the main operating system. The read/write speeds only clocked in at 100.1 MB/s and 94.37 MB/s respectively.
Interfaces
Taking a look at the left side of the machine you'll find the Kensington Lock Slot, subwoofer port, SD card slot, USB 3.0 and an audio jack. Along the right side, you'll find the power button, the volume rockers for table mode, a USB Type-C, 2 USB 3.0 ports, and a full-size HDMI port and of course the charging port.

Keyboard and Trackpad
There is some keyboard flex found in the center of the board but it's not so much of something to worry about. The interior is made of the same black aluminum and catches every fingerprint possible, but it looks so super good if you keep it clean it'll be fine.
The Asus buttonless trackpad feels great. Since it's powered by Windows Precision drivers everything feels right on point and accurate.
You get a standard full-size keyboard with a 10-key numeric keypad for the number crunchers out there. The key travel is nice and provides a nice feedback and typing experience. Overall, it's a winning keyboard. When it comes to backlighting Asus hooked it up with 3 levels: low, medium and high.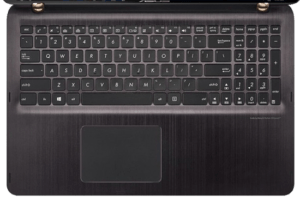 Display
One thing that you will note immediately are the sizes of the bezels. They are huge. They do however frame the 15.6" full-HD IPS touchscreen which also happens to have excellent color accuracy. Rating at 96% sRGB and 73% Adobe RGB you can expect to get great color reproduction whether you're a photo or video editor. Since this is an IPS panel you're going to get great viewing angles. The only problem here is the reflection it casts, and it casts a lot! At 219 nits it's not quite bright enough to use outdoors, but inside you'll be just fine. The hinging system feels strong and sturdy so far.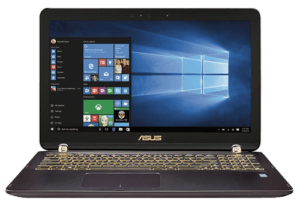 Processor
This laptop features an Intel® Core i7-7500U which is a dual-core Kaby Lake chip. It offers more power and efficiency than its SkyLake counterpart. At the end of the day, it's still a dual-core chip so you power-hungry users will have to look elsewhere.
This is a 2-in-1 laptop that can be useful in some scenarios depending on your situation. To me, the 2-in-1 options with such a big screen and over 5 pounds are kind of pointless. I tend to use all my laptops in their original position, but this Asus does accommodate the 4 different positions quite well and until now, the hinges still feel pretty good. We'll only know more about the hinges after a few months of usage.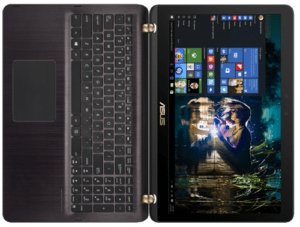 The 54-watt hour battery pack will get you about 4-5 hours of medium duty work at 50% screen brightness.
You're also getting a NVIDIA GeForce 940 MX with 2GB of GDDR5. Keep in mind there are some laptops out there with only DDR3 that are a bit slower. With medium settings of 1366 x 768, you can expect to play many of today's games. If you want to push it, you can set it at 1900 x 900 and drop the settings to low and still an average about 35-40 fps with no problem at all.
The single fan is pretty quiet for the most part and under light to medium loads you can expect about 32-34 decibels. While gaming it may be about 37 decibels.
There are two bottom-facing speakers by Harman and Kardon and the overall sound quality is good. The high and mid ranges are great, but the low-end is still lacking a lot. A nice touch my Asus is that they included a portable subwoofer in the box to get the low-end going.