Razer Blade RZ09-0196 12.5 Touchscreen Gaming Ultrabook
Jun 13, 2017
Gaming laptops are essentially the best models, sporting most powerful graphic cards and processors, also combined with more RAM than found on business and media computers. That dictates higher price than lower end models. But since video games are taking over the reality, people are willing to pay higher price in pursuit of excellent gaming experience. Not so long ago real gaming was reserved for home, due to bulky and heavy computers. Now the machines are getting smaller and fully portable. One of the great examples is a 12.5 inch Razer Blade RZ09 ultrabook that we will talk about today.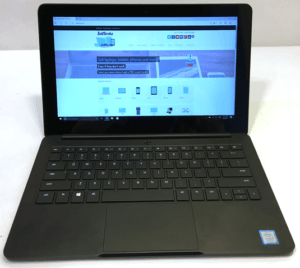 Design
On the outside the all metal chassis looks sleek like a MacBook. Of course you can't mistake it with a MacBook because of black color and green Razer Blade logo in the center of the lid.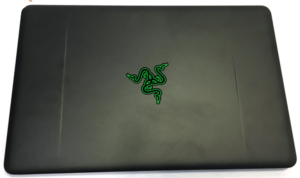 Razer Blade is doing great job in designing their gaming laptops, pushing other makers to rethink their game. Razers broke away from the idea that gaming laptop has to be bulky and heavy. That was a reality of Alienware and other gaming machines for over a decade. Even the bigger Razer Blade laptops are thin and fairly light. Dimension-wise the 12.5 is comparable to Lenovo Yoga 900, Dell XPS 13 and other 13ish notebooks. With that and good battery life Razer takes gaming on the go into a new dimension.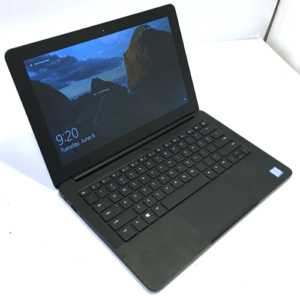 Display
Top model of the small Razer Blade costs premium and comes with a 4K display with 3840x2160 resolution. That's a lot of pixels on such a small display and boy the image is very sharp. We weren''t as lucky this time and for our testing we go the lower end model with UHD panel of 2560x1440 resolution. That's the only difference between the two. Lower resolution panel uses less energy, helping with better battery performance. Even on the cheaper model the screen is top notch, displaying beautiful warm picture, with vibrant colors and almost 180 degrees viewing angles. And finally it's a touch display that works flawlessly. The upgraded model with 4K display is impressive and easily overshadows rivals like Dell XPS 13 which is one of the best laptops in its class.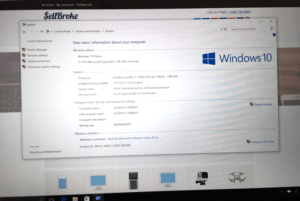 Performance
Razer packs it's smallest laptop with the newest 7th generation Intel Core i7 processor. It is a lower voltage CPU compared to older ones and helps with better power management and longer battery charging cycles. The Core i7-7500U clocks at 2.70GHz and can be boosted up to 2.90GHz. The new motherboard integrates 16GB of ram and Intel HD Graphics 620 chip. These are great numbers for an ultrabook. But when you think about a gaming machine, the little Razer isn't impressive mainly because of the graphics.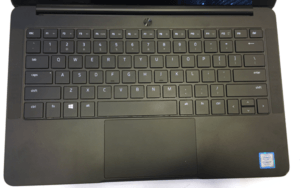 You will be able to play most games on it but you will have to set the screen resolution lower for smoother flow. And that's a bit disappointing especially after paying for the top version with a 4K display. For enhanced gaming experience the laptop maker will offer an external graphics box with a better graphics card. That sounds like a good idea but it will make the computer stationary and will probably not be cheap. So you figure if that adds to the value of the device. Anyway, we're eager to test it when it sells later this year. A fast 512GB SSD has enough space for your files, making them available in a blink of an eye.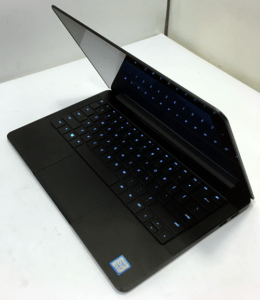 Keyboard
Razer wants their laptops to be flashy and equips the RZ09 12.5 model with really cool Chroma backlit keyboard that can be programmed to different colors and modes. The keys can be lit in one solid color theme or a moving wave of all the colors mixed together. That's not something that other laptop makers do just to give their machines a really cool look. All the keys are lit evenly unlike on the ASUS ZenBook Pro UX501V laptop that we reviewed last week, and found the backlit keyboard to be it's weakest point. On an expensive laptop like this every single detail adds up to the end result and any weak spot is considered a drawback. For such a compact chassis the keys are large and well spaced making typing very comfortable even for longer sessions.

Ports
Unfortunately in modern ultrabooks port selection is getting skimpier with every newer generation. Luckily the Razer isn't too bad, featuring two 3.1 USB and USB Type C charging port as well as audio and full size HDMI ports. I'm personally happy for the standard size video out especially on laptops with smaller screens like this one.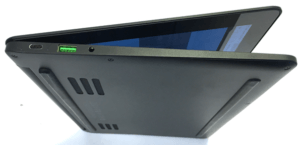 Conclusion
This little laptop is a great performing ultrabook. It is lacking a good video card to be considered a full blown gaming computer. And that's a shame because Razer Blade laptops are believed to be one of the best gaming machines. They are not cheap and the company should not cut corners and deliver computers that seem to be a compromise. Gamers know exactly what they need and are willing to pay higher price to get the best available machines on the market. Cool looks and keyboard are nice addition but can't be the driving force of sales of computers. As much as I like the small Razer Stealth I would not buy it for my gaming needs. I can get a similar gaming performance from one of the budget gaming laptop like Dell 5576.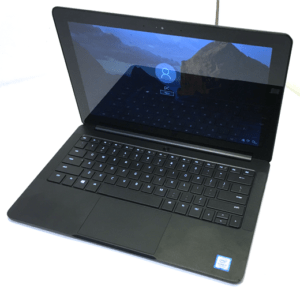 As a travel laptop the Razer Blade does great. Fast 7th gen Core i7 processor with plenty of memory and storage handle multitasking with ease. But if you simply need an ultrabook we find that a cheaper HP Envy 13 laptop does the job as well. So they may be no need to spend more money just to get a laptop that is flashy. If you do decide to buy one just to use as a laptop get the cheaper model with UHD screen instead of the prized 4K one. It will get much better battery life and you will not notice that big of a difference in the quality of displayed image which is already close to ideal with the 2560x1440 resolution. You can also save some money and look for the previous version with (Skylake) Intel Core i7-6500U and 128GB SSD which sells for $999