Dell Inspiron 15-7568 convertible laptop w/ Intel Core i7-6500U
Jun 06, 2017
Just like Lenovo Yoga 12 which we talked about in our last post, today's subject is another 2-in-1 convertible laptop. Dell Inspiron 15 7568 is more home oriented than the Yoga, but it also does well in an office environment. 15 inch display dictates bigger size overall and lesser portability.
Dell 15 7568 is a step up from it's non-convertible sibling model 7559. Both are 2016 models that you can still find new at many retails stores. You can also buy a used laptop from a person if you don't want to pay full price and sales tax.
Although both laptops have the same internal components, meaning equal performance, the convertible offers more use configurations between a laptop and a tablet. It's worth noting that there aren't too many convertible 2-in-1 laptops with 15 inch displays. They look quite impressive in a tablet mode and will visually enhance your presentation.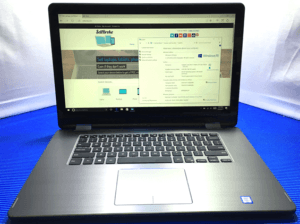 Hybrid PCs are indisputably most popular in mobile computing and people are willing to pay really high price for top models like Microsoft Surface Book. Dell Inspiron 15 7000 series fill the void between expensive and cheap laptops making them attractive for the majority of customers. The laptop looks very classy until you flip the screen around into a tent or a tablet.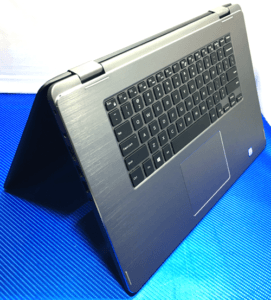 Design
Design is clean and very aesthetic. I like the feel of the soft rubbery finish on the lid, but it tends collect greasy fingerprints and can be scratched, leaving permanent marks. The base has nice brushed metallic look, and is made of aluminum for strength and lower weight. Enough about the looks since it's a computer, and we rather check its functionality.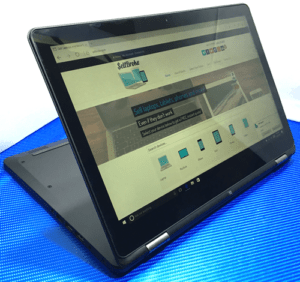 Newly redesigned hinges are said to withstand thousands of opening and closing cycles and firmly keep the laptop is all positions on any surface. With bigger size comes heavier weight. Don't expect the the Dell to be light and portable like your MacBook Air. With almost 5 pounds of mass it feels best on top of a desk.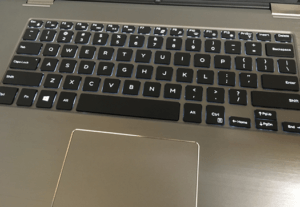 Keyboard and touchpad
Palmrest houses integrated keyboard that is large and comfortable to type on. Unfortunately Dell decided to get rid of numeric pad which could easily fit, if the keyboard was shifted to the left. It would greatly increase its workability. Otherwise keyboard works flawlessly, even in darker conditions with well spaced backlit keys. Backlighting provides two levels of illumination that can be adjusted accordingly to light conditions. Short traveled keys feel soft and take a minute to get used to them. The entire keyboard has a little flex which isn't bad.
Buttonless multi touch trackpad is spacious and sits in the center of the palmrest, where it should be found. It responds great to just one as well as to multi finger touch. It's not a Dell XPS 15 or 13 that work better but they also cost more. You shouldn't have complaints, especially that your interaction is complemented with a touchscreen as well.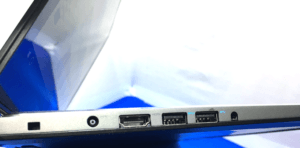 Full size case allows for more ports
than smaller convertible laptops: USB 3.0, USB 2.0, HDMI, Audio Jack, Multiformat Card Reader and Security Lock Provided ports create a good combination and you won't need any dongles and extensions like with portless laptops such as 12 inch MacBook.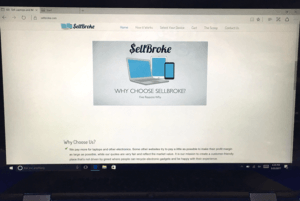 Display
1920x1080 pixels resolution Full HD display is good, considering that it an entry-level convertible notebook. If you want more, you should look at Dell Inspiron 15-7548 laptop that boasts an IPS panel with a resolution of 3840x2160. Screen on the 7568 has mediocre viewing angles and brightness that needs to be adjusted to its full setting. Otherwise the display will be too dark and doesn't provide comfortable viewing experience. All that disappoints because Dell states the primary use of the laptop will be media consuming. On the other hand with full brightness the image is clear and sharp and pleasant to eyes.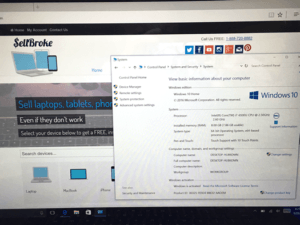 Specifications
Dell produced many performance configurations with different CPUs. The cheapest version has an Intel Pentium 3285U Broadwell, which is rather slow and should be only considered for persons on a tighter budget. Next are 5th generation Core i3-5010U, i5-5200U and i7-5500U. Spending little more will buy you laptops with 6th generation i3-6010U, i5-6200U and finally i7-6500U that we had the pleasure to test. We always try to get the top model for our testing.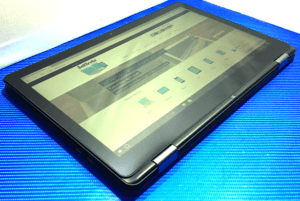 Aside for the mentioned Core i7-6500U 2.5GHz with Turbo Boost up to 3.1GHz our laptop came stock with 8GB RAM and a fast 256GB SSD. Motherboard has an integrated Intel HD Graphics 520 with shared graphics memory. The numbers speak for themselves. This is more than enough for media consuming which is a primary duty of the laptop. Laptop comes with preinstalled Windows 10 that completes the excellent package. Laptop easily handles video editing and multitasking, making it a universal machine for home and office. And if needed, the RAM can be easily upgraded, after taking off the bottom case as you can see in one of the pictures. RAM upgrade would definitely enhance its game ability which isn't too bad for casual gaming. But for gamers on a budget Dell offers the Inspiron 15 5576 with NVIDIA GTX 1050 video card.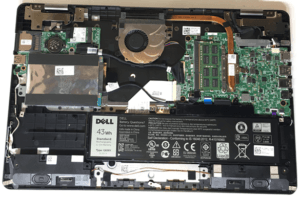 Conclusion
The laptop has good speakers that will allow to comfortably watch a movie in normal conditions without the need of using headphones or external speakers. And for an entertainment computer that's a big plus. I found the sound volume and quality best in a tent mode, where the speakers were not pointed down. The laptop is very attractive, but since I'm more work oriented I would buy LENOVO ThinkPad Yoga 15 i7-5500U. I prefer to watch movies on a TV anyway so one of the first things I look for in a laptop is a full size HDMI port. If you pick the Dell you will not be disappointed as it offers great bang for the buck. So don't wait. Sell your old laptop back and get the new Dell.