HP Envy 13 Laptop - 2016 pre-Kaby Lake
May 22, 2017
Are you looking to buy a beautiful, portable, ultrabook with a gorgeous QHD+ display? The HP Envy 13 is really attractive with its all metal design. There's an HP logo in the middle of the lid and rubber feet on the bottom prevent it from sliding. It weighs only 3-pounds and only 12.9 mm thin. This feature makes it a perfect traveling laptop.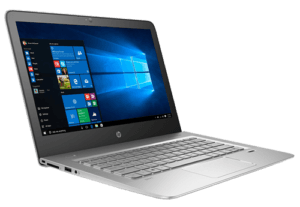 I/O
On the left, you have a security lock slot, an SD card reader, a USB 3.0 and an audio jack. Around the other side, we have the power connector a full-size HDMI port, and 2 more USB 3.0 ports.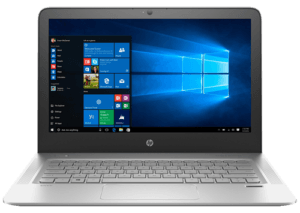 Configuration
You can configure the HP Envy with a 6th generation Intel Dual-Core i5 processor or an i7-6500U. The i7 we looked at came with a 256GB SSD that resulted in an average read speed of 530mb/s and write speed of 300mb/s. These speeds mean that you will be able to copy data back and forth much faster than you would with a traditional HHD. Also, it only takes about 8 seconds to load the operating system from the instant that you press the power button. There are 8GB of soldered RAM, the display is a non-touch 13.3" QHD+ with a 3200 x 1800 resolution. This machine will set you back about $800 if you also opt for the touchscreen you can expect a bit more in price.
The HP Envy 13 is a really good looking laptop. The QHD+ display is crisper than the majority of ultrabooks that use a full HD panel. Since it's only 13.3" the display size is already small but having such a high resolution gives you much more available screen space for applications.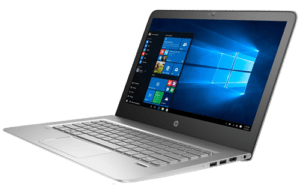 Display
The display has an sRGB value of 96% which means imagines and video on the screen look really nice and Adobe RGB that has a wider color gamut sits around 75%. Overall, this is one of the nicer displays found on a 13-inch machine. It rivals the Lenovo Yoga 900 with those values, both have the 3200 x 1800 resolution. It's perfect for consuming media. Above the display sits the HD webcam, and like most webcams as of late, it wasn't the super best that we've ever seen.
One nice thing about the way the lid opens is that the bottom-back of the lid rolls under the body of the unit and gives the keyboard a nice little incline for more comfortable typing and navigation. The keys only travel about 1.2 mm so don't expect too much crisp resistance. They are nicely spaced and sized, but a little much on the actual typing front. Since laptops are getting thinner and thinner the key travel must compensate a little for the advances. As per the norm in today's market, the keys do come with one setting of backlighting; it's either on, or it's off. The fingerprint reader works well with Windows Hello.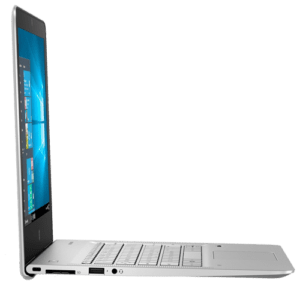 The glass trackpad is really wide so you have plenty of room for navigation and that also means that you can keep your pointer controls a bit slower. Multi gestures, pinch-to-zoom, and scrolling worked well.
HP added two top-facing Bang and Olufsen speakers that provide a much better sound quality than the bottom-facing or rear-facing speakers found on competing laptops. As normal though, they do indeed tend to lack on the bass side of the sound spectrum, but again, you're dealing with an ultrathin laptop that needs to save on space.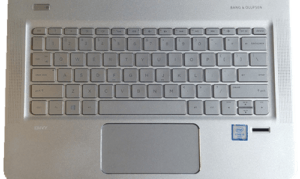 Performance
If you're using this notebook for productivity tasks such as word processing, web browsing, Microsoft Office, Google Docs and media, and you're the type to have tons of tabs open at any given time then the HP Envy 13 will be a great choice for you. However, if you're looking for a gaming laptop you'd be better served with a Razer Blade or HP Omen, or any type of computer that's actually designed around gaming. This HP is a worker machine.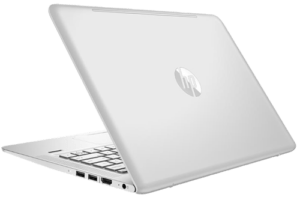 Battery
This HP comes with a 45 wAh that will deliver about 7 hours of use on one charge while handling things like web browsing and media streaming.
This is a great powerful laptop that's well fit for anyone that travels a lot or a student that carries their laptop around with all day. It's really light and makes portability even easier. Sell your old laptop on eBay or Craigslist and get the extra cash for the new HP Envy 13.