LENOVO Miix 700 2-in-1 Tablet
May 17, 2017
Are you dreaming about a Microsoft Surface Pro but can't afford one? Lenovo might have just answered your prayers with IdeaPad Miix 700. It's a compromise for those not willing to pay a very high price for a Windows based tablet.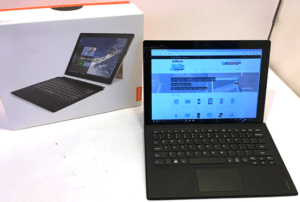 The golden Miix 700 presents itself quite fancy with a watchband-style hinge and an Intel realsense 3D camera on the back. It is light and fast with new Core m5 processor and comes bundled with magnetic keyboard cover unlike Apple's iPad Pro or Surface Pro. Apple and Microsoft want extra money for the inescapable accessory if you're planning any kind of work done on the tablets. Let's take a closer look and go over some details and let you decide if you want to buy the Miix 700.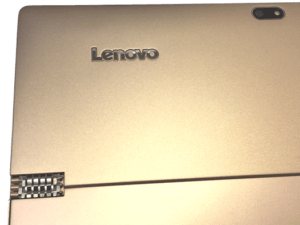 Design
First impression is very positive. The case is made of light and durable magnesium-alloy with golden finish that looks stunning. The hinge design known from Lenovo Yoga 900 laptop allows for free yet highly controlled 160 degrees movement of the kickstand that can be set in any position. That gives you more options than other tablet kickstands that usually lock in 2 different angle settings. The Miix 700 weighs 1.7 lbs and measures 0.35 by 8.27 by 11.5 inches which is less mass and smaller size than Samsung Galaxy Tab Pro. Fanless cooling design helps achieve thinner chassis and virtually noiseless runtime. Keyboard cover adds up to almost 2.5 lbs but that's still pretty light for an ultra portable computer. Magnetic connector easily attaches to the tablet converting it into a small laptop.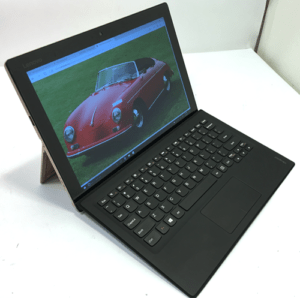 Keyboard
The magnetic bond holds together both pieces securely and will only let go when intended. Keyboard has solid key resistance and is comfortable to use on a desk or on your lap just like a notebook. Typing experience compares to Microsoft Surface Pro 4 type cover. It's not a backlit keyboard like on higher end HP Spectre X2, but it works well even for longer typing sessions. One piece touchpad comes handy in laptop mode. The touchpad is compact but very precise and responsive. Lenovo charges extra for an Active Pen which is great for drawing, sketch work and signing documents. It is a nice stylus but I personally like the Surface Pro 4 pen better.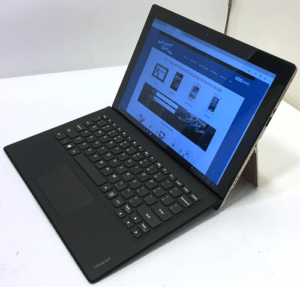 Ports
You will find a total of 4 ports around the tablet. 2 USB and 1 mini HDMI ports on both sides and audio jack on top. One of the USBs is also a charging port allowing for only one peripheral device connected while the tablet is charging. I would like to see one additional USB type C port but it's not there. Next to the HDMI port located are power and volume buttons. Lower sides feature speakers grills. Speakers produce decent quality sound however they are quiet and not very practical. External speakers or headphones will easily enhance your audio experience.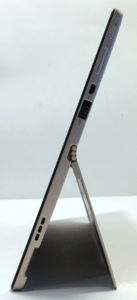 Performance
We were lucky to test the better model of the Miix 700 equipped with Intel Core m5 (Skylake architecture) processor, 8GB of RAM and 256SSD. The base model has only 4GB of RAM and 128GB SSD and Core m3 CPU. The m3 is sufficient for home use such as web browsing and entertainment. For more demanding applications like photoshop and video editing the better 1.1 GHz Intel Core m5-6Y54 Processor is necessary. Backed up by 8GB of RAM it will handle a lot but it's not a gaming computer. HD Graphics 515 GPU is rather weak and was not designed to cope with modern 3D games. We like to test all computers on how they do with gaming and tablets seldom do well. So if you are a gamer with some extra cash think about buying a budget gaming laptop for your play time.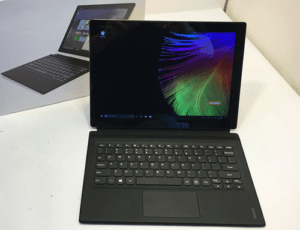 256GB SSD can't be upgraded but should be enough for your files. Down the road you can backup and store your data on a cloud or a flash drive. Another cool feature is the Intel realsense 3D camera that will let you measure objects or even scan persons into virtual 3D by simply looking at them.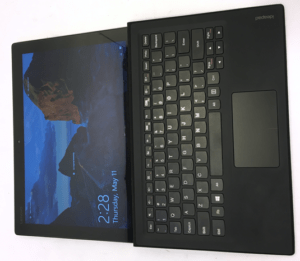 Display
12 inch IPS panel has 2160x1400 resolution the same as the Surface Pro 3. It is less than newer Surface Pro 4 that has 2736x1824 pixels. But on a 12 inch screen it doesn't show that much difference. Colors, brightness and contrast are very good on the Lenovo's display. Glossy finish is reflective but the skinny tablet can be positioned any way you like in avoidance of direct light. Touch Display works perfect and we couldn't find any drawbacks. A good display is important and noticeable since it's the first and most looked at part of the tablet.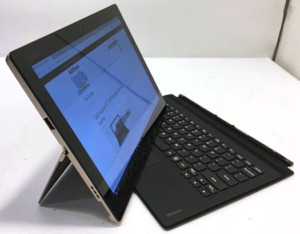 Battery
Battery life isn't the best in its class with under 9h on one charge. For comparison Surface Pro 4 tablet runs 1.5 h longer but it costs almost $500 more with the keyboard. You will have to decide if that's worth the extra money. Like we stated on the very beginning LENOVO tablet is aimed at those wanting a great Windows tablet but not willing to spend over $1000.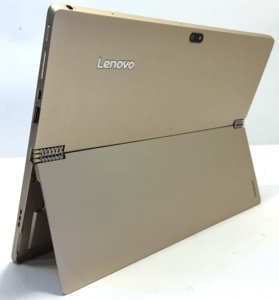 Conclusion
A used Miix 700 in mint condition sells for $500+ on eBay, at the time of writing, making it a great value for money. It provides enough computing power for social life, work, play and entertainment. Fanless design and passive cooling make it noiseless which is becoming a standard in modern tablets and laptops. Just like silent electric cars on our roads.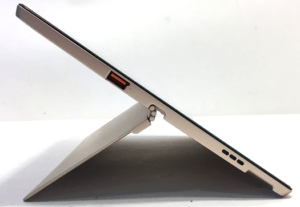 LENOVO Miix 700 is an elegant convertible tablet and another great model to choose from in 2017. Also check out on our blog its brother tablet Lenovo Miix 510. Also read about recycling and best ways to sell good or broken tablets online. Broken electronics that seem worthless can sometimes bring you extra cash. It's easy to check on our webiste how much you can get for your tablet.