Gigabyte Sabre 15 Gaming Laptop
May 02, 2017
We here at SellBroke cover it all, from budget laptops, work or school laptop, phones, tablets, gaming laptops, and sometimes we even talk about drones. One thing is for sure though, if it's out there eventually we may cover it. Today I'm going to cover a laptop made for gaming that most people may not be aware of.
The Gigabyte Sabre 15. Though it's not a very well-known laptop, it's in that $1000USD range for gaming laptops that we like to discuss. So without any more delay, let's get into some of the design features.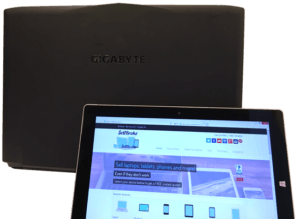 Design:
The first thing that you may notice is that this laptop doesn't have any type of color accents on the outside, it's just a light black raised Gigabyte logo set on a light black lid. In fact, the entire laptop is just all black inside and out. With only a few accents lines on the lid, the laptop has a very subdued look to it. It weighs 5.51 pounds so it's not the lightest laptop on the market. It's screen is 14.88-inches x 10.52-inches, and the laptop itself only measures 1.05-inches tall in height when closed.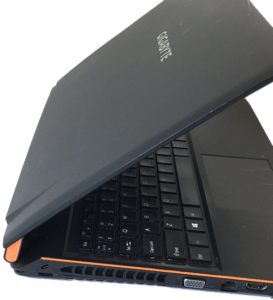 The build quality could be a bit better. When closed the top lid does bounce back quite a bit of flex; a bit more than we would normally like to see. However, the keyboard and deck are pretty solid. If you're only typing and gaming on it, it'll be fine. The hinges also feel pretty tight like they should last for many openings and closings of the lid. The entire machine has a matte finish so if you're one that gets crazy over fingerprints on your machine, then you better prepare yourself for craziness, because fingerprints pop up on this machine like no one's business!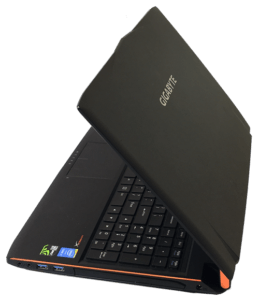 RAM and Storage
If you open up the bottom plate you can upgrade or replace the RAM sticks. Out of the box though you're getting 16GB of RAM. You also have access to both drive bays. The included 256GB SSD uses a SATA interface, but it does not support NVMe drives. Read and write speeds were 150 and 140 respectively. Over all you have 256GB + 1TB of storage.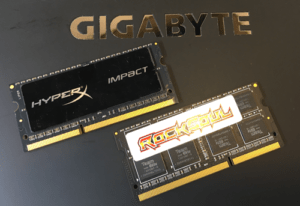 The 47-watt hour battery is removable. I'm not exactly sure why they decided to use such a small battery, but nonetheless, they did and that's what we have. If you buy spares you can swap them in and out. You should expect about 3-4 hours on normal usage and less than 60 minutes if gaming.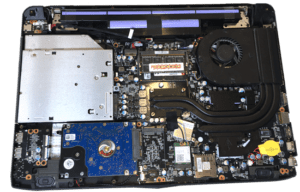 The GPU temperatures run about 85º, and on an extended stress test you can expect closer to 90º. There is a single cooling tube that runs quite the length, but it does seem to keep things nice and cool as intended. As far as the fan noise is concerned you can control that a little bit thourgh their software.
Audio:
The speakers work and sound OK but they are not in a great location. Since they face downwards if you're not on a hard surface then the sound won't traject and it'll be really muffled and you'll lose clarity.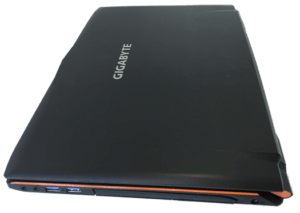 I/O:
There seems to be a decent selection of ports to choose from. On the left-hand side of the laptop you have your power, Ethernet, two display outputs, a full-size HDMI port, a USB type-C, USB 3.0 and a SD card slot. Along the other side we have separate audio and mic ports, two more USBs and an exhaust vent for the fan, and of course a security lock slot to keep your rig safe. One thing to mention about the ports is that if you're right-handed and use the ports and a mouse everything will be all jammed up on one side that will get in the way of your mouse usage.
Keyboard and Trackpad:
The keyboard is full-sized and also offers a 10-key number pad that also dubs for your directionals while gaming. The keys are black with white lettering that does have a backlight for low-light situations. They have a 2.5mm travel to them which some people are bound to notice right off the bat. It's a bit long but nothing that you can't get used to with some time.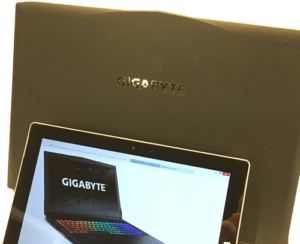 The trackpad is made with plastic and has a plastic surface that feels smooth. Since it uses the Windows drivers, the accuracy and gesture controls are great and on-point. There are also two separate physical mouse buttons if you prefer to use them.
Performance:
It has a standard issue Kaby Lake i7 and a GTX 1050, and the upgrade you can get a 1050 Ti combo. If yo get the 1050 Ti, it's the a device that'll get you really solid per frame rate per second (frp)on most AAA titles. Light to moderate demanding games, like Overwatch and Doom, will break 60fps on ultra settings. More demanding games such as Battlefield 1, will be in the mid to high 50s on high settings. The most demanding games like Watch Dogs 2 and Rise of the Tomb Raider, need to be set to medium settings to get the cleanest frame rates.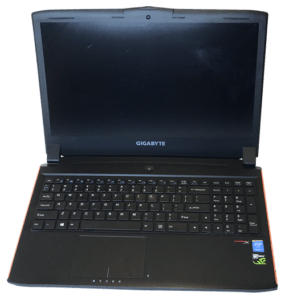 Display:
The screen is a 1080p IPS panel. The bezels aren't too thick and viewing angles are pretty good. Its color gamut scored a 52% for Adobe RGB, 68% with RGB and has a brightness value of 250 nits. Arguably, this screen needs to be brighter, but after staring at it for hours on end, maybe Gigabyte has decided to keep it lower to save your eyes.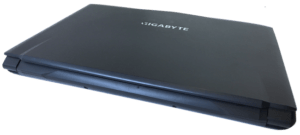 Conclusion:
For the $1000USD price point you are getting a solidly built machine and a pretty decent screen. Most importantly you can gain access to the machine and upgrade or replace as time and money allows. It's a sizable machine so it may not be one that you take with you everywhere you go, and plus with the tiny battery size it isn't really conducive to much travelling, but as a desktop gaming laptop you're getting a good machine here. If you need extra cash to buy the new gaming laptop you can sell your old laptop on eBay or to SellBroke. It's easy to compare those services and see what's best for you.