Lenovo Legion Y520 Gaming Laptop
Apr 13, 2017
Every so often we need to cover some gaming laptops because let's face it, many people of all walks of life are gaming these days. Lenovo obviously has the same line of thought, so let's take a look at their new Legion Y520 that features a NVIDIA GTX 1050 TI and the new Kaby Lake processors. This is Lenovo's response to Acer's VX 15 and Dell Inspiron 7567. This model also has 8GB of RAM and a 1 terabyte hard drive that runs at 5,400 RPM. Starting at about $849.00 USD you can have one too.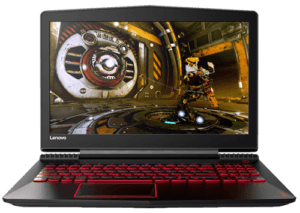 Design:
This laptop is mainly built of plastic. The top lid has a checkered and striped finish that looks pretty good. This laptop measures just under an inch think and just about at 5.3-pounds. The bottom has 3 rubber feet and a huge intake vent. This is not a convertible laptop that's small and light like LENOVO Yoga 700. You will not be able to carry the Y520 around easily. It feels better on your desk.
The interior is also made out of plastic but the palm rest has a soft touch coating that adds a real nice feel. It feels very similar to the Dell Latitude E6420's palm rest that we recently covered.
Lenovo does try to make the Y520 stand out with a plastic strip that tries to look like a brushed aluminum finish, but it isn't. The build quality of the Y520 is surprisingly good, there is hardly any keyboard flex and the display and lid flex is about average, given the price point.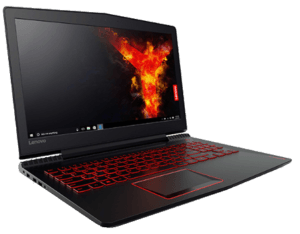 Performance:
Taking a look at the internal components you'll find that the Lenovo Y520 has 8GB of RAM. It will also support up to 32GB. As for the hard drive, you will be able to pick up a 1TB hard drive. But here's a fair warning: it's painfully slow with read speeds of 115 and write speeds of 123.4. If you want to get a better performing machine then you'll need to upgrade to an SSD. This upgrade is suggested if you want to buy the laptop and fully enjoy it.
I/O:
On the left-hand side, you should find the security lock slot, charging port, RJ45 Ethernet, USB 2.0and your mic and headset jacks. On the right, you have an USB Type-C for peripherals, an SD card reader, two USB 3.0 ports and a full-size HDMI.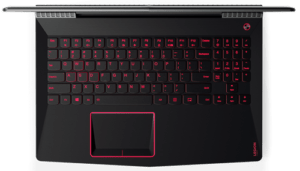 Keyboard and Trackpad:
The trackpad is solid even though it is not using the Windows Precision drivers, but Lenovo did equip it with one that is using the Elan drivers. Lenovo did use physical click type buttons done at the bottom but that's where the similarities stop, you see, these buttons don't actually physically click, so you have to get used to the double and single-tap method. It's sizable and accurate. The Y520 also features a full-size red, two-option backlit keyboard with a 10-key number pad. Key travel is adequate and makes for a comfortable typing experience.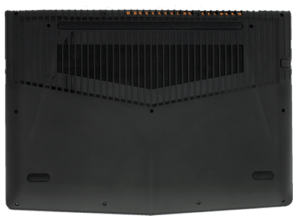 Display:
The laptop has a large 15-inch full HD IPS panel that has some decent color accuracy, especially compared to Dell's 7567. The sRGB color spread was 67% and AdobeRGB came in at 50%. You're going to get some pretty good viewing angles from the IPS feature on the display.
Video GTX 1050:
OK, here's where this laptop gets fun and interesting. Lenovo packed in a NVIDIA GTX 1050 TI with 4GB of GDDR5. With this GPU you can expect to play many high-end games on high settings at 1920 x 1080. You can expect 55-65 frames per second on epic and high settings.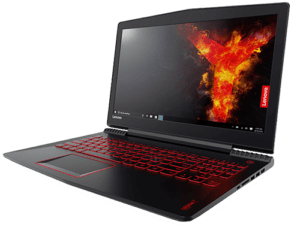 Even after a good amount of game time, the machine stayed really cool thanks to the two fans that Lenovo installed in this gaming unit. Not only did the dual fans keep it cool they were very quiet doing so at no more than 48 decibels.
Next, there is the Lenovo Nerve Sense control panel where you can control the Extreme Cooling, Network Priority, and Sound Management.
The legion Y520 does come with a small battery pack. It has a 3-cell, 45 watt-hour pack that you can expect 3-4 hours on medium screen brightness, and for gaming, more like an hour.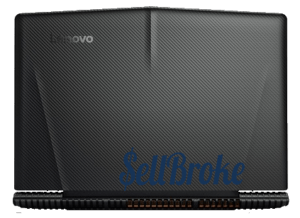 The two top-facing Harman Audio speakers do a decent job powering this laptop; however, without the subwoofer, the low-ends are lacking. That's to be expected. Most people have a laptop like this hooked up to some type of external audio or more likely, a headset.
This laptop isn't cheap but it's worth every penny. If you need extra cash you can sell your old laptop back online and purchase the new Lenovo. It will be definitely a good investment. You can also sell a broken laptop if you don't want to repair it.