Samsung Series 7 Chronos high-end Laptop
Apr 11, 2017
In couple of months will be a half way through 2017 presenting more laptops to choose from on a used computer market. We try not to focus on any type specifically and we review laptops and tablets in different price ranges.
https://www.youtube.com/watch?v=JSPmHYXVxwA
Back in 2013, Samsung unveiled two big daddy Series 7 laptops which they named Chronos. It was meant to be one of their high-end laptops. You can buy this laptop used from a person or on eBay at a relatively good price.
Quick Specs:
The Series 7 Chronos is a big notebook with a touchscreen size of 15.6-inches. Originally it was available with up to 1 terabyte of hard disk storage, 16 GB of RAM memory. This sleek laptop came with an Intel® Core Third Generation i7-3635MQ processor that has plenty of power for your day-to-day multitasking needs. As for graphic rendering Samsung packed this notebook up with an AMD Radeon HD 8870M graphics card that produces awesome video streaming from sites like YouTube, Hulu, and HBO Now.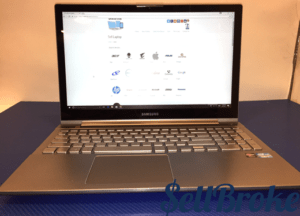 Build:
The outside of the Chronos is constructed of brushed aluminum metal for both the top lid and the actual entire base. So this notebook is certainly up to speed for the modern day market in terms of appearance. The bottom plate is plastic, but it really doesn't look too bad paired with the aluminum body. The top lid didn't offer much flex and there was even less flex found in the middle of the keyboard. Needless to say that this machine was built to be durable and while at the same time looking good doing so. This machine was designed to compete against the MacBook Pro for the type of person that wants both productivity and is also design conscious.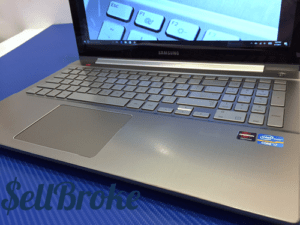 The Chronos is a sizeable machine measuring in at 14.8" Wide x 9.8" Deep x just 0.94" Thick and weighing in at a touch over 5 pounds at 5.29-pounds. These dimensions also make it ideal for a standalone desktop replacement too.
I/O:
Connectivity and portability are some things we all need to consider when buying a laptop. For some people, the bare minimum will usually suffice. One one side the Chronos came with a full Gigabit Ethernet port, a VGA, full-sized HDMI, two USB 3.0 ports and the 3.5 mm headset.microphone combo jack, as well as, a security lock slot. Turning it around to the other side you'd find the SD card reader and two more USB 2.0 ports. The SD card reader supports a 3 in 1 set up so it can recognize an SD memory card, SDHC memory card, and an SDXC memory card.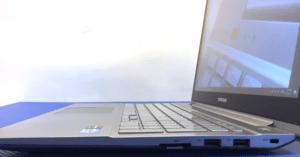 For a larger laptop like this one many times you may find yourself using it as the driving machine to your streaming video, with the VGA port you can connect directly to your TV/monitor to watch shows on a larger screen than the stock 15.6" LED screen that's on the laptop itself.
Display:
The 15.6-inch multi-touch Full HD LED 1920 x 1080 touchscreen display delivers as expected. It also features around 300 nits of light. So it's super bright as well, up to 36% brighter than competing brands. The multi-touch gestures such as flip to change screens, two-finger scrolling and pinch-to-zoom all worked exactly as designed and were very accurate and stable and is reminiscent of a tablet. The colors and video rendering were very nice and accurate (as you can see in the video above). For video reproduction, Samsung put a dedicated 1GB AMD Radeon HD 8870M graphics card to suit your needs.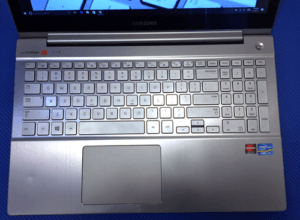 Keyboard and Trackpad:
The keyboard looks really slick with its silver color on a silver background. The keys are nicely backlit to accommodate your low-level light scenarios. Really, in today's market, a backlit keyboard is a basic need and a standard that should be expected; however, you can still find laptops that don't have the backlit option. But for the most part it's a standard function, and the Chronos gives you what you need. Another options Samsung provided on this machine is the full-sized, well-placed 10-key number pad. Anyone who works with large numeric spreadsheets or in accounting will definitely appreciate the 10-key.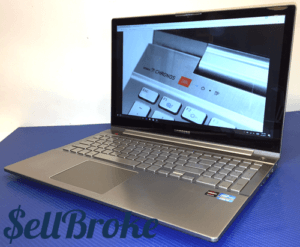 The trackpad is a large glass multi-touch/gesture pad that is devoid of all mechanical buttons. Again, this is a normal set-up on today's laptops. The trackpad is sizable so the multi-gesture commands have enough room to operate well.
Audio:
Audio is provided by JBL. The sound quality was good while under our testing conditions of media and music streaming. It was accurate and also pretty good given the configuration of a basic laptop. The sound was ample enough. But as always it will sound better with headphones or an external sound bar or something similar.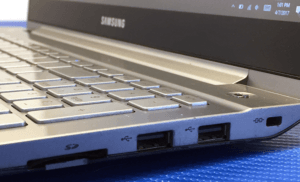 Battery:
Samsung gave the 7 Series Chronos a 91-watt hour, 8-cell lithium polymer battery pack. It will yield about 7 hours of stability depending on your usage. But with music and video streaming we got about 6.5-7 hours.
This Samsung 7 Series is a very attractive used laptop to buy if you can find on in a good condition and at a price that you are willing to pay. If you need extra cash for the new machine you can sell your laptop online and ship it to Sell Broke and get your money fast.