Asus computers are quite popular on the US market nowadays. You may have even noticed that this brand appears often in our reviews. Last model that we talked about on our blog was a very nice convertible laptop, ASUS Q304U. Today's subject is from a lower shelf for those on a budget or needing a cheaper notebook for simple tasks.
This kind of lower end Windows based models are competing with Chromebooks running Google's Chrome operating system.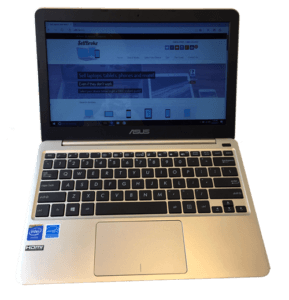 Design
It's biggest attribute is size and weight which is lower than Lenovo Yoga 700-11ISK Core m5. That certainly makes this laptop very attractive as an ultra portable computer device. Its compact chassis makes holding it with one hand effortless. 11.6-inch screen is big enough to browse the internet or stream and watch movies and helps to keep the size of the notebook smaller than 11-inch MacBook Air. Shape of the lid with rounded edges is pretty standard for an Asus laptop and comes in several colors finishes. We picked a gold one for our testing.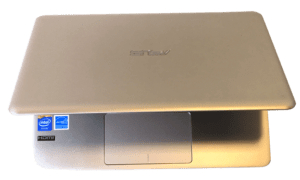 Display
To price the laptop around $200 Asus could not afford a touchscreen. It is not a problem until you realize the Windows 8.1 was intended for use on devices with touch displays found on various Windows powered tablets and laptops. You can still use the computer interacting through keyboard and trackpad, but that takes away the ease of touching the display with our finger tips. Other than lack of touch functionality the screen is actually pretty good for this cheaper kind of laptop. It's brighter and colors are better than on HP Stream 11. The downside is glossy finish and its reflectiveness that may be annoying when used outside on a sunny day.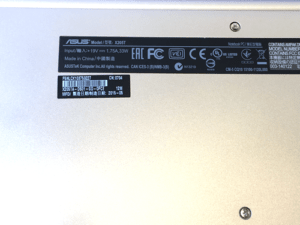 Performance
Asus X205T comes with an Intel Atom Quad Core processor. The Atom Z3735 CPU clocks at 1.33GHz and does just fine in this tiny laptop tackling with ease tasks like web browsing, video streaming and some lighter online gaming with Intel HD Graphics. The processor runs cool enough for a fanless design, like in a 12" MacBook, making the laptop noiseless. The motherboard has integrated 2GB of RAM that can't be upgraded. The 32GB flash storage allows quick access to your files.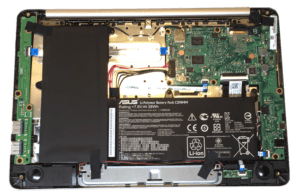 It's harder and harder to repair these kinds of laptops where everything is integrated with the motherboard and single components can't be simply replaced with new ones.
Also the webcam and mike are very basic but they get the job done when chatting on Skype with friends across the globe.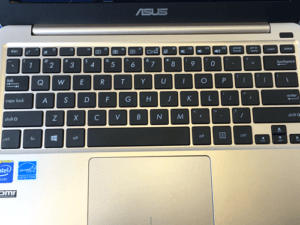 Ports and keyboard
For connecting with external devices Asus X205T has 2 USB ports, SD Card Slot and micro HDMI port as well as an audio jack. All ports are located on both sides of the notebook.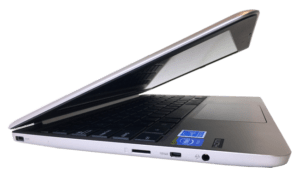 The keyboard is almost full size. Trackpad is huge proportionally to the palmrest. Trackpad is precise and smooth which to some degree compensates for the lack of touch display. Keyboard with its nice layout is predictable and comfortable for longer typing.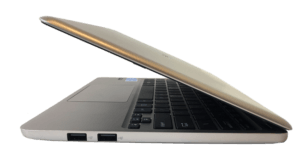 Conclusion
I was impressed with everything this laptop has to offer for the budget price. In general this laptop is better compared with other small laptops like Lenovo Ideapad 100s and HP Stream 11. Super light and with long battery life being ideal choice for any work on the go.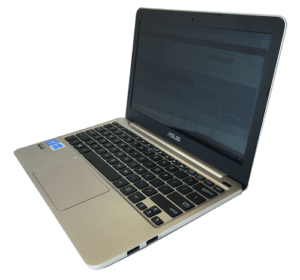 If you don't expect too much you will get all you need and even little extra.
If the Asus X205T had a touch screen it could easily compete with the 2-in-1 hybrid Dell Inspiron 11 3147 that is more expensive.
You can't go wrong with buying this laptop for around $200. It's money well spent and the laptop will hold the value longer than other more pricey models. It can also be a good alternative to buying a tablet since the laptop concept is more universal.