Current convertible laptop market has a lot to offer. It is crowded with very competitive ultra portable computers. Lenovo alone has countless Yoga models that appeal to most shoppers. We've already reviewed the beautiful hybrid Lenovo Yoga 900 that we truly love and its bigger brother ThinkPad Yoga 15 laptop that is a real workhorse.
We also talked about the previous Lenovo model – the small Yoga 700 – equipped with Intel Core m3 processor. Today we're happy to show you the newer Yoga 700 with Core m5 inside.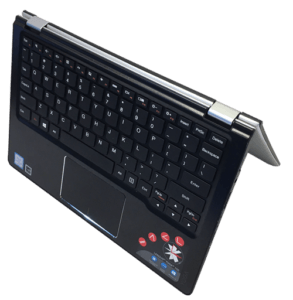 Convertibles are next to 2-in-1s the best selling computers, like Microsoft Surface Book. And Lenovo is dominating this market segment with the most variety of sizes, performance and colors.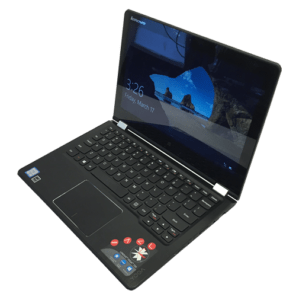 Design
Last Lenovo Yoga 700 shipped to us was orange which made it stand out visually. Some like it, some hate it. But color of the case and feelings it provokes are very subjective and we're not going to talk about them. Today's Yoga 700 is black on silver and looks very classy.
The outer case is fully made of plastic, used by Lenovo in many other models, and feels pretty durable. The laptop is small and very light. 2.5 pounds make it one of the lightest convertible laptops next to Yoga 900.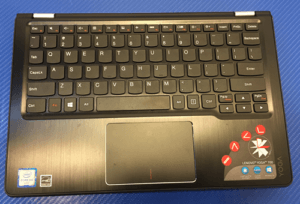 Palmrest is made of brushed metal that is gorgeous and feels nice. Compact keyboard and touchpad are fitted in the palmrest with ergonomics in mind.
All ports are located on both sides and are limited to 2.0 USB, 3.0USB, micro HDMI, SC Card Slot, audio jack and charging port. That's not many and we would like to see a couple more. Standard size HDMI would be great to plug into a TV without a dongle conversion.
Display
11.6-inch screen displays sharp image and decent colors. 1920×1080 pixel native resolution is sufficient considering small size. Touchscreen functions smooth and flawless. Brightness and good viewing angles are pros of this display. But it has a glossy finish that makes the screen very reflective and difficult to watch in sunny conditions.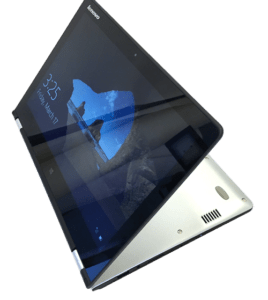 Convertible modes
Convertible laptops and their configurations open up new ways to use them. Laptop mode is best for typing and interacting through touchpad. Theater mode is best for watching movies. Tent is good for scrolling through recipes and playing touch based games where you don't want the keyboard in your way. Tablet mode is self explanatory yet it doesn't work as expected with bigger convertibles. Yoga 700 is perfect considering its size and weight. It actually feels like a tablet when in that configuration.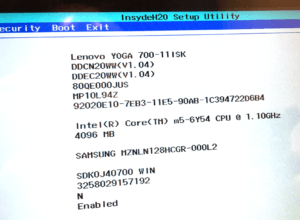 Performance
Intel Core m5-6y54 CPU clocks at 1.10GHz and is better than its predecessor m3-6Y30 at 0.90GHz. It handles more and heavier tasks as well as is capable of running more demanding games. And that's always a big plus as video games are slowly taking over our reality. Yoga 700 is not a PlayStation 4 console yet but it's producing decent gaming experience. Back to specs you won't be able to upgrade beyond 4gB of RAM as the memory module is integrated with motherboard. Storage is upgradable if you need more than stock Samsung 128GB SSD.
And if gaming is your primary focus check out the Razor laptop instead. It's more expensive but offers a different world.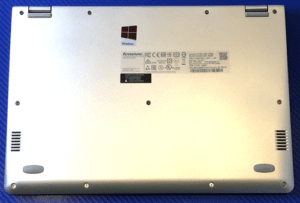 Battery
4 to 5 hours isn't impressive for a convertible laptop but considering its size it's easy to understand and accept. Compact case can only fit a smaller battery with lesser cells to hold charge.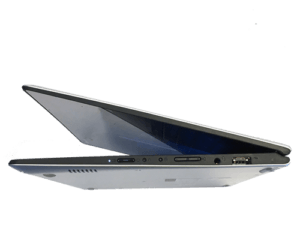 Conclusion
Yoga 700 is ultraportable and perfect for getting things done on the go. It will fit almost everywhere and is ready to work just in seconds. Next to best selling ultrabooks like Samsung 940X Lenovo is a choice of many students and office workers. This laptop is made for day to day applications like entertainment and light duty work.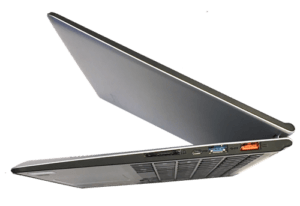 Bigger Yoga 3 14-inch 80JH laptop offers more, if you need better performance and are willing to pay more. This model is based on the same concept but with better cpu and more memory will do better under heavier load. Yet expect to spend more money on the bigger Lenovo model.