This Dell Inspiron 11 3147, 3000 Series 2-in-1 convertible laptop is a little version of the 2-in-1 convertible 2016 Dell Inspiron 13 7000. It looks similar at first except for smaller size and plastic case instead of aluminum one.
Design
Dell Inspiron 11-3000 is a little compact laptop that converts into a tablet when needed. The biggest difference in size is obviously the outer case and palmrests with smaller sized keyboard. I personally find larger keyboard layout better for me. Also the touch-pad is smaller and takes a minute to get used to it and get a comfortable feel. But overall it's not bad. Also with the touchscreen you may find yourself not using the touchpad at all. That depends purely on your personal preference. Not as expensive as 13 7000 this model is an interesting choice for a used convertible laptop to buy in 2017. It's still fairly modern with the touch display and it won't break any bank.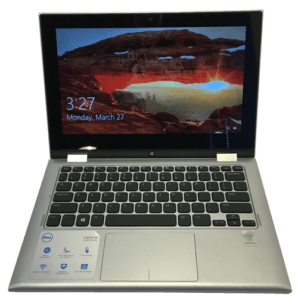 Chassis
The lid and bottom case are made from a gray plastic that doesn't look as good as on the Dell 13 7000. Aside form cheaper looks it isn't as sturdy since it's plastic and not brushed aluminum. I was surprised with how much the top lid flexes when opening and closing. Same with palmrest and keyboard, especially when pressed in the center. Yet it doesn't affect typing or using the track-pad.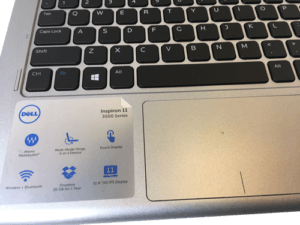 Keyboard
What does affect typing though is the lack of backlighting. Unfortunately this laptop doesn't have a backlit keyboard. If you type without looking at the keyboard then you may not care although I think back-lit is a nice feature for everyone.  Other then that the keys feel nice and firm. They have a good feel to them and they offer a nice travel distance. Due to compact size of the chassis the keyboard is tightly spaced, but that is expected on a smaller laptop, especially a convertible.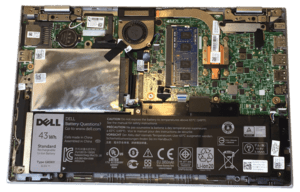 Processor
 The Intel Pentium is a Quad Core processor but it's less powerful than the Core i7 CPUs. It does handle multitasking well without the speed of a Core i7. Integrated graphics do fine as long as you don't want to play more demanding video games. This little laptop was designed in mind on web browsing and streaming movies. And for those purposes it does well. Video editing will take more time but considering the price of the Dell it shouldn't be a surprise.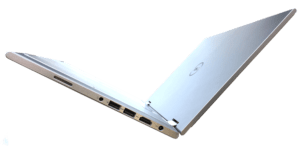 Ports
Ports selection on this laptop is decent with 2 USB 3.0 and 1 USB 2.0 and SD Card reader. In addition to that you have a full-size HDMI port which I myself can't go without. I connect to my big TV on regular based and I don't like using extra dongles and extensions. Towards the front of the machine are located power and volume buttons, like on the bigger convertible unit. This particular location of the power button causes accidental powering of when picking the laptop up and Dell could have done better in my opinion.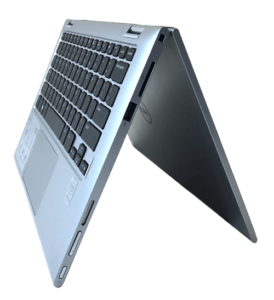 Audio
The audio is pretty decent off this little guy. Obviously, it lacks anything deeper mid-tones and bass, but it effortlessly provides enough volume level for a medium size room. It's louder than you would expect form such a small laptop.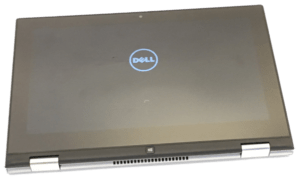 Conclusion
You can't go wrong choosing this laptop. For the asking price you get a good looking and performing laptop that also converts into a tablet. With the size and weight of the computer the tablet mode is pretty useful unlike with bigger machines. You can hold it with one hand and use the touchscreen with another. Performance-wise this Dell is comparable with HP EliteBook 810 Revolve reviewed on Sell Laptop Back just a few days ago.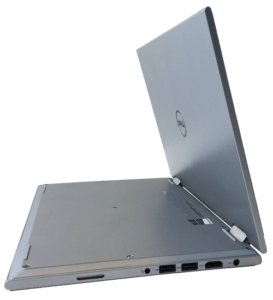 This Dell scores high on tests for budget convertible notebooks that easily tackle everyday tasks. The battery is pretty good and holds charge for a long enough time even for a touchscreen laptop. It can't be accessed and replaced without taking the bottom off. Dell 11 3147 is comfortable to use in any mode whether it's a laptop, tablet or in between in theater or tent mode.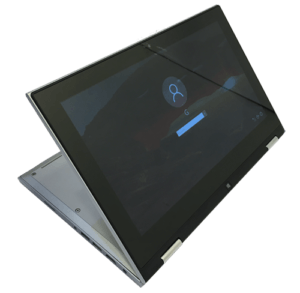 Specifications:
Pentium Quad Core 2.16 GHz

Memory 4 GB (integrated with motherboard)

Stylus

Touchscreen IPS Display 11.6-inches 1366 x 768

Windows 10 Home Edition 64-bit

 Bluetooth 4.0

Keyboard: Standard, Not Backlit, Spill Resistant

1 TB HDD

Battery: 32 WHr, 2-Cell Battery, 45 W

Weight: 2.6-pounds

Ports: 2xUSB 3.0, USB 2.0, HDMI, SD Card Reader