Wow, has anyone really taken the time to look over the Microsoft Surface Book? Talk about a pretty cool little machine! I'm a die hard Apple user from way back, and I really am set in my ways. But if I were to consider a multi-use 2-in-1 convertible tablet combo, I would definitely give this Surface Book a real good look.
Options
The Microsoft Surface Book comes in a few different configuration options. You can get either a Core i5 or i7 with either 8GB or 16GB of RAM. These are the two most common setups. As far as storage capacity is concerned you have the option of either 128GB, 512GB or 1TB. The one shown here in the video is brought to you by a 6th Generation Intel Core i7-6600U Dual-Core Skylake processor with 128GB and an Iris 540 GPU and 8GB of RAM.
Surface Pro 4 vs Surface Book
If you're wondering what the difference between the Surface Pro 4 and the Surface Book the main difference is what they primarily do. The Surface Pro 4 takes a "tablet first" sort of approach, whereas the Surface Book takes the "laptop first" approach.
The Surface Book has a 13.5-inch display screen and the Surface Pro 4 has the smaller 12.3-inch panel. That's how you can tell which is which just from the first appearances.
Speaking of first appearances, the Surface Book looks much cooler and modern with its unique detachable keyboard base system. The actual hinge itself looks like something off of a spaceship. It's uniquely designed to expand and contract as it rolls close and unrolls open. It is supposed to be the ultimate notebook.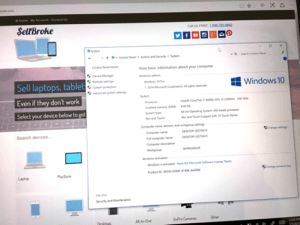 Performance
The Surface Book does have some ultimate versatility, that's for sure. If you are one that enjoys editing photos to create awesome videos, or you like to draw and sketch things, then the Surface Book may fit your needs. It packs plenty of power to handle all of the above work spaces. This amazing laptop brings a lot of high-powered performance. It only weighs in at 3.48 pounds and using its PixelSense ™ resolution to really pop the 3000 x 2000 pixel display. It has been specially programmed to bring 'true to life' color at a high contrast but at the same time with low glare.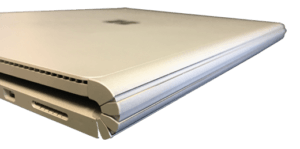 Hinge
The Dynamic Fulcrum Hinge system is unparalleled. Basically, it flexes as it opens and closes. But uses a multi-clip system in the base that when attached it firmly sits tightly on the base with "muscle wire locks". Once it's in place it feels very sturdy and solid like it's a permanent type of clamshell. This is really unlike any laptop hinge and it definitely sets it apart from regular convertible laptops.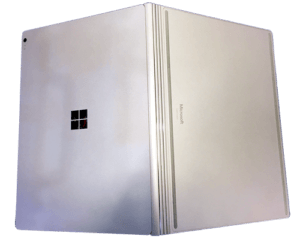 The Surface Book uses a dedicated GPU when it's attached to the base. The only way it can detach is after you've closed all Windows applications do allow it to switch to the dedicated GPU within the tablet display. The base also allows for a little bit more battery capacity with an extra battery back tucked away in it.
Surface Pen
You may be wondering about the Surface Pen. Well, it works. And it works well and you can find it magnetically attached to the left side of the unit. It feels as fluid as using a regular ballpoint pen on paper. You can sketch things up to your creativity's desire. If you want to open a blank OneNote document all you have to do is make one click of the pen and even if it is asleep, it'll wake-up and get you going. You can also activate Cortana with a simple click of the pen.
Security
Security has been taken to another level with the Surface's built-in facial recognition system. You can use Windows Hello in tandem with the facial recognition camera and bypass inputting your passwords because the Surface will know it's you. With heightened security levels you will always feel safe storing your content on the Surface.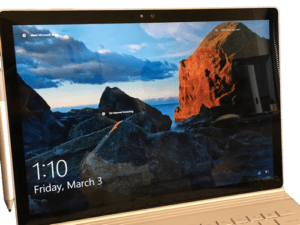 Display
When it comes to graphics, this laptop really takes things to the next level. With the PixelSense technology, you get 3000 x 2000 pixels with 267 pixels per inch with 3:2 aspect ratio which can be a bit funky when you're used to the regular 16:9 and 4:3. Talk about a super clean and clear display, the sRGB color reproduction comes in at 100% coverage. I bet you wouldn't believe there're 6 million pixels on this screen, would you? As far as the equipment used for the GPU you're looking at a NVIDIA GeForce integrated Iris 540. The display, no matter how you put it, is just awesome.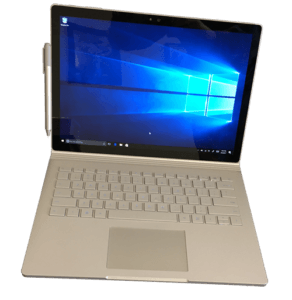 Full-sized backlit keyboard
Since the Surface Book is a bit larger at 13.5″ Microsoft was able to fit in a full-sized backlit keyboard on this little beauty. Not only were they able to have a full-sized keyboard they were also able to hook you up with a fair amount of ports. It has a headphone/microphone combo jack, Mini-Display Port, Multi-Card Reader, Surface Connect and two USB 3.0 connections. Considering it's only 9.14 x 12.3 x 0.51 inches weighs in at 3.47 pounds, it really has most of everything you need.
So, if you are in the market to buy a rather high-end convertible laptop it really seems that taking an extra look at the Microsoft Surface Book may be in your favor. It is pricey but if you can afford it you will love it.
And if you need extra cash you can sell Microsoft tablets in any condition to Sell Broke.