Asus VivoBook Q301L Touchscreen Laptop
Mar 03, 2017
AsusTek Computer Inc. was founded in 1989 and quickly became popular on Asian and European markets. Now the company is fighting for it's share in North America. Their factories in Asia, Europa and Central America manufacture computer hardware and electronics. Asus sells high end laptops, desktops, monitors, networking equipment, projectors and much more. Asus offers vast selection of laptops and notebooks for all segments and markets.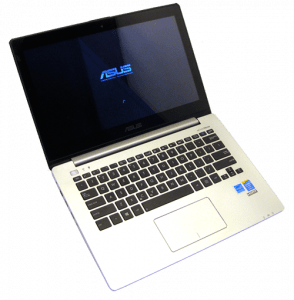 Favored Asus laptops lines are VivoBooks, ZenBooks, Transformers and the smaller Eee Pads. It's worth separating the line of Republic of Gamers that are among best selling gaming laptops in the world.
The Asus VivoBook Q301L is a laptop built with students in mind. It's not a huge driver for today's gaming junkies, but if you're trying to get your education on, this may work out for you just fine. Maybe you just sold your old laptop and you need a good replacement. This could be the perfect laptop for the college student at a great price of about $600 new.
It's a 13.3 inch LED touch screen display laptop that provides the basics and accuracy. It has a 4th generation Intel Core i5-4200U Haswell dual-core processor at 1.6GHz and boostable to 2.6GHz. It's not the fastest out of the gate, but it definitely seems to be able to catch up quite nicely. It has 6GB of RAM, though we prefer to see 8GB the 6GB here will have to do. As far as the storage space goes it hooks you up with a 500GB hard drive. The graphics card on this model is the Intel HD 4400 which is mainly ok for low-end gaming.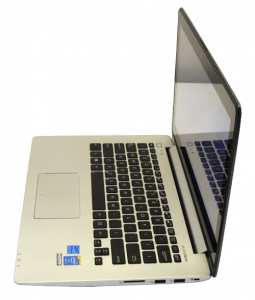 The appearance of the laptop is pretty clean. It has a nice dark grey brushed aluminum finish on the top lid that feels nice a durable. The rounded corners are a nice touch too. The internal palm rest is plastic as are the chiclet style keyboard. The machine is pretty thin at 0.85" so it remains pretty light weight. It's also just a touch thicker than an regular ultrabook. One thing that was not so attractive is the super large black bezel around the display. It really makes the 13.3" display look even smaller.
Another aspect about the display is that it has TN technology so that has much more limited viewing angles than say an IPS display has. It's also very glossy and casts a ton of reflection. For the most part this is kind of unavoidable with touch screens and just something that you must get used to.
As far as connecting to this little Asus they have provided a few ports for your needs. They didn't go overboard by any means, but you will find two USB 2.0 ports and one USB 3.0. Of course the charging adapter and Ethernet port, one full sized HDMI. If you want a rig with more ports than that you will have to look elsewhere. You will also have to look elsewhere if you're looking for an optical drive. Asus deferred against this as well.
The keyboard provides good typing feedback and has a fair amount of key travel. Personally, I like a little bit less key travel, but it gets the job done. Here's a huge downer in our books: it does not have a backlit keyboard. This is ridiculous in today's common setup of keyboards. It's not that much to add a backlit board in terms of tech nor price. This is just a lazy approach by Asus. Also, they omitted the numeric keypad, but that's more or less pretty normal, especially on smaller laptops like this one.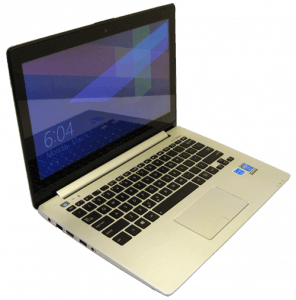 The 2-cell 38-watt hour battery provides about 2.5 - 3 hours of streaming time and 5.5 hours of casual usage like browsing the web and multi-tasking school work. The reason why it's gets as good as time as it does is due to the Haswell dual-core processor. It simply doesn't over demand from the battery.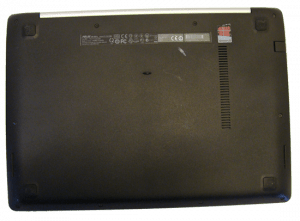 For an extremely portable almost ultrabook, this little Asus is good at what it does. It's not going to save the world for you anytime soon, but it will save 500GB of your school needs. It will provide you with connectivity to get you going on what you need to do. Be nice and gentle with the touch screen though because there have been many reports of it cracking a nit more easily than expected.