ASUS N551JQ- Best selling used Laptops
Feb 20, 2017
There are many, many brands of laptops out there on today's market to fit everyone's budget and needs. Last week we talked about buying a used laptop from an individual. It could really save you money but could also turned into a dud if based on a wrong decision made carelessly.
https://www.youtube.com/watch?v=kGpuOYrtT2w&t=13s
Selling laptops is a never ending cycle of new technology replacing old. How do you know which is your best fit? Well, that comes from some deductive analysis on your part. We can just provide some helpful information. Today's piece is on the N series Asus.
Where do you even begin? First off, how do you pronounce this brand? According to the ASUS video it is pronounced "Eh-Zeus". I've personally have always said "Ay-Suss", but according to ASUS it has the Zeus sound in it. The name was a shortened version of the word "pegasus", but, I've never said "pega-zeus". However you want to call it doesn't really matter, what matters is the laptop itself, so let's get into it.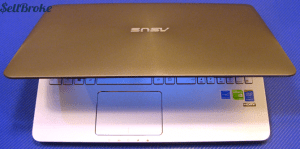 Design
This laptop has a very nice look to it as soon as you take it out of its box. It has a black aluminum spun metal-finish that is absolutely eye-catching. From the outside lid you can see the two-tone look by simply changing the viewing angles. They really did an awesome job when taking in the look of this laptop. Even on the inside there is a spun-metal look that's really captivating. Neither the lid nor the keyboard provide much flex, so it is definitely a sturdy machine.
Performance
You can get this laptop with a 4th Generation Intel Core i7 processor and with 1TB of hard drive storage that runs at 5,400 rpm at 2.5GHz. It also has 16GB of RAM that's on tap for the memory so you will have plenty of power to operate this machine under some pretty heavy multi-tasking jobs.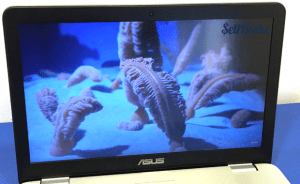 15.6" IPS full HD display
ASUS has their own splendid technology that has WideView and Zero Bright Dot stock from the set-up. This allows the 15.6" IPS full HD display liven up for any circumstance. It also provides a large span of viewing angles. The screen is made with a matte finish to reduce glare from outside and high light areas that you may find yourself working in from time to time. This display features the basic industry standard of 1920 x 1080 pixel resolution and does a great job at doing so as well. Now If you find that you need, or want, touch screen capability you can also find it with a touch screen. Obviously, the touch screens cost a bit more, but if it's what you like or need, then it's at least available.
Optical drive
As the industry seems to be sizing-down with their technology the laptops are getting smaller and smaller as well in some cases. One way of accomplishing this is to remove the CD optical drive to preserve room, but the N551JQ was selected to keep its optical drive. That means you can back up info to a disk or even load software from discs to your machine. If you still have a large DVD or CD collection you still have a place to use them conveniently.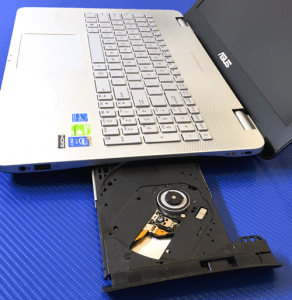 Older laptops equipped with DVD drives are gaining value again as the drives are becoming a scarce feature in newer models. There is nothing wrong with keeping an older computer especially if it's performance suits most latest software demands. One downside of an older machine may be it's defectiveness due to wear. Hardware can eventually fail but it can be also replaced. The same goes for Apple MacBooks. Here's where a lot of people face the dilemma whether to sell of repair a defective MacBook or another laptop.
Keyboard and trackpad
The keyboard has a pretty smooth look to it too. Many laptops on the market have a blackboard set in silver or grey. The ASUS N551JQ stayed with a pretty cool looking monochrome design of silver keys in a silver palm rest. The end result is silver on silver and it just looks so clean and trim. However, the keys do tend to look a bit dirty if you don't wipe them down from time to time. Our fingers have a lot of oils on them naturally that causes for a dirty looking keyboard if not maintained. It's a one-piece illuminated keyboard that is also backlit for those low-light times. A backlit keyboard is also a pretty stable industry standard, but not all laptops provide that. For the number crunchers out there the is a full size 10-key number pad as well.
The trackpad isn't too big on this laptop either. The ASUS features a multi-gesture buttonless trackpad that so far has proven to be very responsive with both Windows 8.1 and 10. The upgrade went smoothly with no hitches.
Graphics
The graphics on this machine are awesome. For an everyday user you won't be disappointed. It comes with an NVIDIA GeForce 845M card with 2GB of DDR3 SDRAM. It provides a very smooth picture for your online streaming and DVDs. the colors are crisp and vibrant and pop out.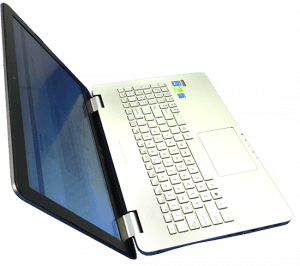 Portability and connectivity
Portability and connectivity is very important these days with more and more data transferring taking place. This ASUS has 3 USB 3.0 and a Type B USB, Ethernet, a full size HDMI port and of course the charging and audio jacks. For your safety it has a lock slot as well.
With all the CPU and graphics power combined with memory this ASUS laptop will be useful at work and home for a long time. There is no need to upgrade it with a newer model yet. Unless your laptop breaks then you may consider selling it to Sell Broke. We also offer help with selling broken iPhones and other defective electronics.