LENOVO Yoga 3 14-inch 80JH Laptop
Feb 11, 2017
Are you selling your laptop and looking for an upgrade? Has your laptop stop updating with consistency or just not able to because it's too old and out of date? Allow us at SellBroke.com help you in your decision making process. Scouring the web for information on laptops can be fun, but it can also waste a lot of time if you're looking for love in all the wrong places. If you are considering a 2-in-1 convertible laptop, hopefully this quick article will help you out.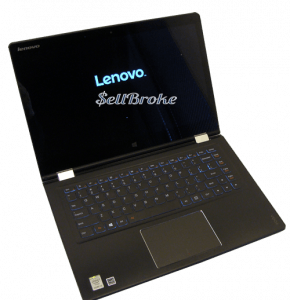 Taking a look at the convertible Lenovo Yoga laptop, you may find you are looking for. The one we will be discussing is the Fifth Generation Intel Core i5-5200U of the Yoga 3 14" line. The Pro version is a bit different, but not by much. If side by side you'' see that the Pro is actually a bit thicker and weighs in at 3.5 pounds, but it still definitely has the Yoga styling. It is still using the Yoga 2 hinge style that proved itself to be sufficient enough to continue onto the next generation. It's still uses the two-hinge system.
Portability and design
Let's take a look and see what's up with its portability and design. In terms of hardware itself, it is very well built. It's solid and feels like a sturdy machine that can handle being lugged around. On the left-hand side you have the power port /USB 1.0 port, a USB 3.0 port, a headphone jack and of course a microSD slot. Spinning this laptop around you'll see the power button, lock button, volume rockers, a mini-HDMI and another USB 3.0 port.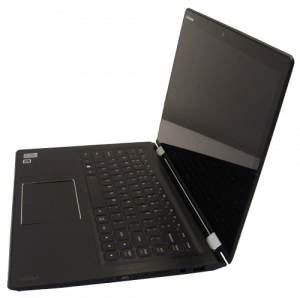 When you open it up you will find out that this is powered by the Fifth Generation Intel Core i5-5200U processor. Due to its fine performance, this is a really good processor and allows for a great battery life.
Touchpad and keyboard
You also have a really smooth centrally located glass touchpad. Some people like to have their touchpads offset to the left or the right. But if you're coming from an Apple product, this won't bother you in the least. Since we're working with Windows 10 the preadjusted settings work just fine with multi-gestures and multi-finger navigation.
Smashing your Function and Spacebar will allow you to cycle through the different brightnesses of the of the backlit chiclet keyboard with ease. Both the keyboard and the touchpad are very fluid and smooth to use. Key travel is nice and the feedback is very comfortable.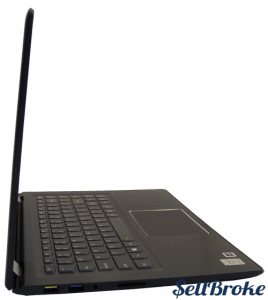 Performance
In this particular setup the hard drive can hold 128GB at 2.2GHz with boost upto 2.7GHz. It has 8GB of RAM available to keep things nice and quick. Different models have more space like the i7 with 225GB and 8GB of RAM, but you begin to climb in prices pretty quickly, and if you want to stay within a reasonable budget the i5 will get done what you need.
The Full HD display is 14-inches of goodness. It has a resolution of 1080p with full touch display. Since it's a 2-in-1 type of laptop you can swing back the keyboard and use the computer in either tent-mode or roll it all the way over and use it just for a media playing screen. The speakers are on the bottom of the unit. When you put it in these different positions the sound doesn't get hindered at all. Both the display and speakers do well by the Yoga.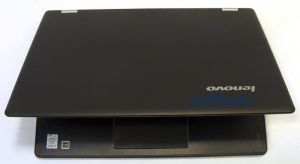 This is what you may call a half workhorse of the Yoga 3 line. Because of its i5 processor it can get a lot done with minimal effort. Battery management is pretty awesome. You can get maybe about 10 hours of usage out of a moderately used laptop on a single charge.
All in all, with anywhere between $500-$750 depending on your configuration, this is a well-rounded, well-built laptop for getting work and play accomplished.