AirPods Follow Up. Best headphones for iPhone 7 ?
Jan 23, 2017
Today we are talking AirPods. They're hard to find, easy to hate, but at the very least, they have stirred up some mixed emotions. You may have remember a while back ago we covered the AirPods before they were released, here's our follow up.
The initial reaction when you first see the AirPods is, "Holy cow, you chopped the cables off, put them in a floss box and charged $160?" there is something about AirPod that even though there's this voice in your head telling you that you shouldn't buy these, you still kind of want to. Now, by no means are AirPods cheap. But on the other end of the spectrum if you were to stack them up against other truly wireless earbuds, it's not that crazy. Samsung's Gear IconX are $169; Bragi The Dash are $249; and even something like the Rowkin Bit Charge as $129. So when broken down comparatively you may be able to get past the initial price tag shock.
AirPods and iPhone 7
AirPods will greatly complement your iPhone 7.

One thing that is hard to get past though are their looks. They are definitely not the ugliest tech gizmo out there? Probably not, but they still look pretty dumb just hanging out of your head. However, I guess you aren't paying for style so it's a good thing their tech side is awesome.
For starters
For starters, the setup process, even for the first time, is one of the easiest things you'll ever do when it comes to tech. From the second you unbox these, you put near your phone, you pop open the cap, press connect, and you're done. It doesn't matter if you love Apple or hate them this is how pairing should be. Whether it's AirPods, other Bluetooth headphones, gaming headsets, controllers, whatever it may be, if pairing was this easy with everything, the world would be a better place.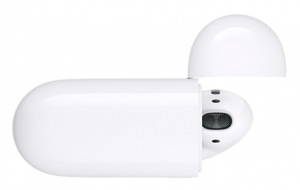 Another awesome aspect is that you only need to pair them one time and you're done forever. So once you've done them once you'll never have to go through the setup process again. I've always found it to be pretty frustrating every time I try and pair my phone with my car and it won't take for whatever reason. That's no longer an issue with the AirPods.
Personal favorite
A personal favorite of mine is the ability to stop and pause music simply by removing them from your ear. Throw it back in your ear and they turned right back on from where you left off. This feature isn't limited to just Apple Music. You will be able to use that same feature with apps like Spotify and YouTube. The most compelling aspect of the AirPods are their convenience factor.
There will come a time when you will have to recharge your AirPods, probably after around 4-5 hours of usage. When that time rolls around simply slap them into their case and there you have it, just like that, in 15 minutes you'll get another additional 3 hours of listening time.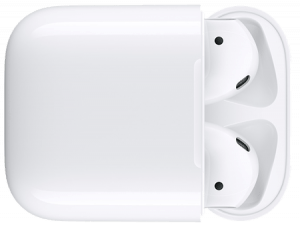 Not all the tech that Apple put into these is the best out there. For instance, if you want to turn the volume up the only way to do so is with Siri. This is ok when alone, but when yo're sitting in public and you start irrationally begin saying "volume up" "volume down", people are going to think you're a bit crazy if they don't see them hanging out of your ears. They don't claim to be water resistant either. By default you can access Siri by double-tapping on the AirPod but how cool would it have been if there was a digital slide to adjust volume? That's right, it would have been pretty cool. Another way to have access and control over your AirPods is through the Apple Watch. You can skip and repeat songs and adjust the volume from the bezel of the watch.
Big time question
One big time question you must ask yourself is, "Do these even fit in my ear?" Well, the easy answer is: if the regular Apple EarPods fit, so will these because they are the exact same design and size. But however, if the originals don't fit your ears too well, then don't expect these to be any better.
Another question is: "Do they sound any better than the original EarPods?" the short answer is: No. They do not sound any better than the originals. That being said we suggest that if you didn't mind the EarPods there really isn't a reason to go out and spend an extra $160 for an accessory that you already have.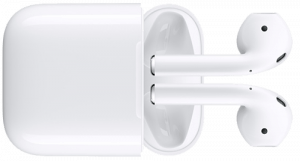 If you:
own an Android device: don't buy these
are an audiophile: don't buy these
don't like the fit of EarPods: don't buy these
On the flip side, if you're already into the Apple ecosystem and you feel the tech outweighs the cons, then go ahead and give them a try.
If you want to sell Apple laptops check the quote first to see what it's worth. Sell Broke guarantees best offers to sell Macbooks, iPhones and other Apple gear online.