When buying and selling tablets it's good to get an idea as to what is out there on today's ever changing market. Everyone is familiar with Apple's iPad, Samsung's tablets and Microsoft's Surface line. But maybe not everyone knows about HP's answer to the Microsoft Surface 3 tablet. So here's your chance to get a bit of insight on the HP Spectre X2 12" 2-in-1 tablet. Last year we covered the 2016 HP Spectre "The World's Thinnest Laptop".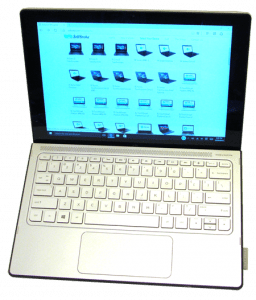 Is it a Microsoft Surface Pro?
Lately it seems like a lot of companies are copying the Microsoft Surface Pro. The latest is the HP Spectre X2 hybrid and it's definitely a literal interpretation of what Microsoft is doing. Like the Surface the X2 has a kickstand on the back and a keyboard cover. It also works with the optional HP Active Pen that uses Wacom technology (sold separately). The kickstand is made from an open metal frame that kind of looks like an easel. It isn't too comfortable to try and balance on your lap.
Keyboard cover
On the plus side, the keyboard cover actually comes with it in the box. Surprisingly it's very comfortable to type on. There are still some drawbacks though. The keyboard cover adds more weight than the Surface's does and the X2's touchpad isn't very reliable.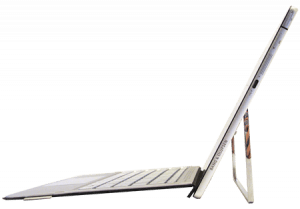 Core M processor
On the inside the X2 runs one of Intel's lower-powered Core M processors. The idea is that these chips are not as robust as the traditional core CPUs but potentially offer longer battery times. Since the chipsets are smaller than a regular CPU processor they allow for thinner and lighter designs. The problem is that the battery life is not much longer or better than a core i5 system. It is not necessarily lighter either. The battery life could be longer. HP couldn't surpass 7 hours in our own tests, though the boast 10 hours. Most new Windows laptops do much better and even the Surface Pro gets about an extra 30 minutes.
Solid state drive
The solid state drive is a very fast and keeps the battery alive a bit longer because there is nothing spinning and wearing it down. You can choose from 128GB, 256GB, and 512GB of storage with lightning fast boot-up speeds. Since there are 8GB of RAM you can multitask effortlessly.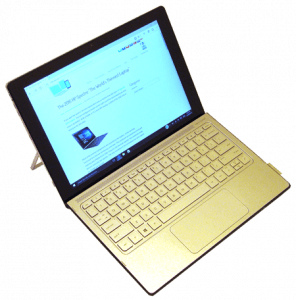 Audio
The audio is provided by four Bang & Olufsen speakers that arguably lead the pack in high-quality audio equipment. There are two speakers located in the top of the keyboard and also two more on either side of the display screen.
Two USB Type-C connections
Luckily the keyboard is backlit so that means you can comfortably type in any lighting environment. Another nice addition is that HP provides two USB Type-C connections for data transfer and quick charging. There is an adaptor that comes with it in the box that can give you a connection to use your standard USB accessories.

In short one of the main reasons why you get the HP Spectre X2 over the Microsoft Surface Pro is because of its price. The Xs starts at about $800 USD, and that's about $100 less than the Surface and it also comes with the keyboard cover in the box and isn't an extra $150 item. That price difference isn't nothing, it is after all almost a $250 difference that crests the $1000 mark. But if you really want to get the best hybrid 2-in-1 laptop out there, you're probably better off getting the one that everyone's copying: the Surface Pro.
Sell Broke will recycle your old laptop or tablet for cash. Best way by far to get extra money for a new computer.