Samsung Galaxy Tab Pro S SM-W700 tablet
Jan 09, 2017
The new hot thing is to have a Windows based tablet and Samsung has not been left out. Samsung's Windows tablet is the Galaxy Tab Pro S. It's super light and super thin and runs Windows 10 Home Edition. This is a 12" tablet that comes with a keyboard cover case combo and sells for about $900USD. That's a little pricey for a tablet. If you need extra cash you can now sell a broken tablet on the Internet. Sell Broke among other websites offers cash for broken tablets.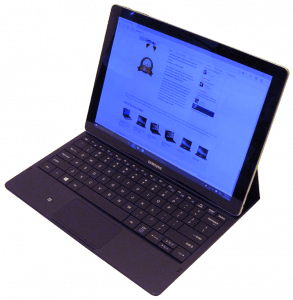 Things We Like:
The keyboard carrying case allows for a few different stand-mode positions. It is an attempt to give you more viewing angles on a smaller device. The setup of the cover has a pretty sturdy design that allows for a very solid build feel.
As far as weight is concerned this tablet only weighs 1.8 pounds and combined with the keyboard case brings it up to around 2.5 pounds. This is a really light device even with the carrying case. It measures in at 6.3mm without the carrying case and with the case about 6.7mm.
The Galaxy Tab Pro S is powered by an Intel Core M3 processor with 4GB of RAM and 128GB SSD. it also has a couple of ports available. It has the headphone/microphone combo jack, also a USB Type-C port that is used both for data transfer and charging. It would have been nice if they provided another USB-C port so you could transfer data and charge at the same time. As with most, if not all tablets, this little Samsung has two cameras as well; one on the front and another on the back.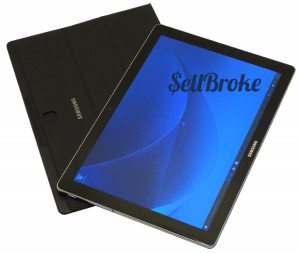 On-The-Go:
This is a great device to take with you when you're on-the-go. If you're someone who travels a lot and needs something light and efficient this Samsung was designed for you in mind. The one thing you will have to avoid is any outdoor sort of usage. The glossy screen reflects everything in a big way and becomes virtually impossible to operate outside in direct light. Granted, most of the time no one uses their tablets for work out in direct sunlight, but it's worth mentioning that if you try you won't be able to see anything. Due to the AMOLED display regular indoor visibility is great.
Audio holds it own. This device has two speakers on either side that project a decent amount of quality sound for its smallness.
The keyboard carrying case is pretty cool in its own right. As expected though, the keyboard is pretty small so getting used to it could take a little while. Especially if you're also using a regular size laptop as well. The keyboard is backlit so that's nice and when using it in conjunction with the touchscreen, it really works seamlessly.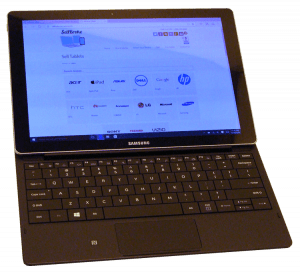 Functionality:
Since this is a Windows device you can use all the Window applications like Office plus you have the Windows App Store where you can download anything else that you may desire. The battery is fairly decent and Samsung claims that it can give you about 20 hours of usage, and in our tests that is pretty accurate. Another nice thing is that it charges pretty fast with the USB-C.
Another neat feature is the Samsung Flow App. this app allows you to sync your phone with you Samsung device. You will be able to see all notifications on your tablet from your phone while doing work on the tablet. This allows you to keep you phone out of your hands so you can work uninterrupted. In order to use this feature you must link your two devices together via Bluetooth.
This tablet has another cool feature that works with your phone. You can actually use your fingerprint reader on the phone to unlock your tablet. Of course this option only works with Android 6.0 and above.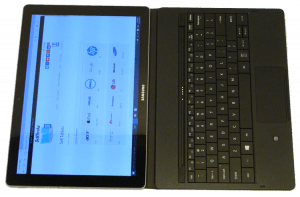 Be responsible and recycle your old and broken electronics. Sell Broke pays cash for broken laptops, tablets, smartphones and more. Check out the homepage for details on selling your electronics.