Did you get a new laptop again for Christmas? Lucky you. If you want to find the best way and place to sell your old laptop then read on.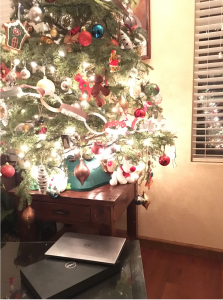 After-Christmas mess
Once again the holidays have come and gone with a blink of an eye. The family and friends have left. Now it's just you, the leftover mess, and the overwhelming sensation that you must make more room in your life to accommodate all the things you just got. As I sit here and look over what was Christmas in our front room I know I definitely have that driving urge to purge a lot of things around the house. I see a now old and outdated laptop that was used as makeshift screensaver fireplace. As well as a couple iPhones. Luckily, there are options to handle this situation.
Unwanted electronics
Like many people the post holiday anxiety begins today, around the 27th. The shock and awe of everything has come to a close. Now here we sit with a house to get back in order, electronics to find a new home for and a waning desire to do any of it. Thank heavens for the internet, where you can do almost anything from your home and pajamas.
Advice
Are you wondering where and/or how to sell your old MacBook or other laptops? Are you an environmentally safe and conscious person? Then maybe you just stumbled upon exactly what you need. Here's our advice on selling laptops online.
There are many websites and companies that claim to buy back your used or broken computers and laptops. But there are only a few with a reputable business history. Selling your devices has never been easier! If you are trying to sell a broken MacBook that just got replaced for Christmas and you care about your environment, then simply get a quote for your older MacBook and in a few days gets paid. What's that you say? Get paid in a few days? Yes, that is correct, get paid in a few days. Simply head on over to our quotation page. There enter your device, or devices, in the search bar and we will immediately give you a quote. Yes, it's that easy.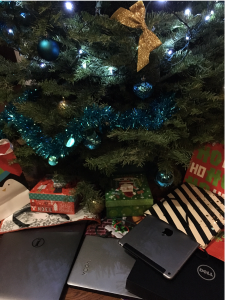 Sell your laptops online
Once you have decided that you wish to sell us your old model MacBook simply print out the free UPS prepaid shipping label. Pack your laptop carefully to ensure safe travels and then once we verify that the device is in the condition you told us it was in, we will send you a check or a PayPal payment within days.
Before you ship us your device be sure to clean it both physically and electronically. Of course our technicians will perform a factory reset and make sure that the laptop is 100% information free. But if you prefer to know that it's been done no matter what, then it's best to do it yourself as well. No one has ever gotten their personal information stolen by being too safe!
Recycling responsibility
Reselling your devices to us can allow you to sleep easy at night as well when it comes to the environment. Instead of simply throwing away your laptop or device we at SellBroke disassemble the entire device and categorically separate all the pieces. Some pieces are made of heavy metals and minerals that are better served to a recycling plant than into our landfills. There are many potentially toxic materials in a laptop that needs to be disposed of properly. And we do just that. We are a green company that regards and holds the value of our planet very high. Not only do we pay you well for your broken laptops or used computers. We pay back the planet by being kind to her and recycling your used materials. Gion Green and Clean has never been easier than selling your laptop to us, this, we can guarantee!