As Christmas quickly approaches so sell your phone before it's too late to get a new one. Times runs out on gathering all of your goods for your friends and family. Let us help you make an educated decision. Most people like new phones and not everyone likes, or wants, the super elite iPhone or Samsungs. So let's look at an alternative. Here we will talk a little bit about the ZTE Axon 7.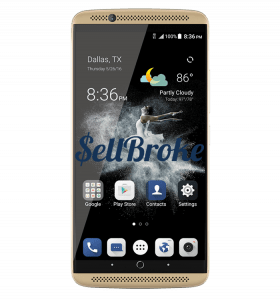 Let's jump right into it and discuss a few pros and cons concerning the new Axon 7. We'll first talk about what the Axon 7 does best:
Number one:
With its 5.5" Quad HD AMOLED display the screen on this device is amazing. The colors are bright and crisp and it even has some settings that allows you to tweak the saturation and the color temperature. Where they nailed it is how the Gorilla Glass 4 curves down to the aluminum body giving you a super nice feel when swiping left and right as it goes right to the extreme edges. It definitely makes for a great viewing experience when watching videos or playing games. Overall the display is top notch.
Number two:
We were pleasantly surprised to see how well the battery performed even though it's only 3,250 mah. On normal usage the device would last 4-5 hours of screen on time, and that was with the brightness most of the way up and both WiFi and Bluetooth constantly turned on and some music streaming. Due to the USB Type-C port the device is able to be fully charged within 2 hours. It's a fairly decent battery that should get you through the entire day.
Number three:
Watching videos and playing games requires sound and these dual front-facing speakers provide a really good sound quality that enhances your viewing experience. They are very loud yet cast zero to none distortion. Plus with the built in digital audio processing you get a surround sound experience. Obviously this won't replace a dedicated Bluetooth speaker, but it's a great alternative for when you are out and about. If you prefer to listen to your media through headphones, ZTE also included a high 32 bit audio chipset making anything you listen to sound quite a bit better.
Number four:
The performance of this device is fast and smooth. With the Snapdragon 820 chip and 4GB of RAM everything opens up quickly and it rarely stutters and runs smooth like butter. Heavy 3D gaming was not any different with the Adreno 530 GPU and even though it's not as smooth as the 1 + 3 because of the 1080p display the difference is miniscule.
Number five:
Expandable storage. Now even though this is not a concrete reason to purchase the ZTE Axom 7, it's still a nice addition worth noting. Most of us like to have the option of having more space on any device that we own. Especially since most pictures taken on smartphones these days are larger than 3MB in size. As well as 4K recordings being much larger. Not only does the ZTE include expandable storage up to 256GB, but it also has an extra SIM card slot.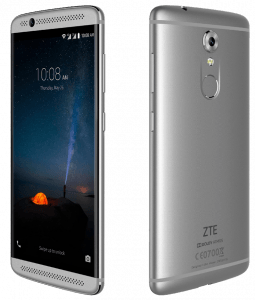 Now we will nitpick this pretty awesome device a bit and talk about some "not so desirable" aspects of this phone. These aren't necessarily reason to not buy it, but rather, some things that are nice to know upfront.
Number one:
Capacitive buttons. The back and recent keys are bothersome at times since both buttons display the same symbol: dots. Also they are not backlit so night time navigation can be less than smooth until you get used to their placement, plus they are a tad too close together and are pretty small for your fingers. Basically, they are just a bit annoying more than anything.
Number two:
Software. ZTE's MiFavor 4.0 skin also gave us some issues. Don't take this wrong, there were a couple features that worked just fine, but overall the UI is somewhat buggy and poorly executed. For example: the bell and lock screen has to be tapped on every time that you want to see a notification. Also, features such as MiPop and MiVoice didn't work that well, do not disturb mode is hidden away in settings and there is no way of setting or removing specific tiles from the Quick Settings panel. Still all of this can theoretically be fixed with some software updating. However, for now, we will just have to deal with it.
Number three:
The fingerprint sensor. Once again being a little bit nitpicky the fingerprint sensor could be better, and it's location is not ideal either. This particular reader reads slower than other devices we have used in the past. It also tends to reject it too often especially with the slightest bit of moisture involved. Yes, most readers are not accurate when moisture is present but this one is really sensitive to it.
Number four:
The camera in low-light scenarios is not awesome. On paper the camera looks pretty promising with a 20MP and a wide f1.8 aperture lens, base detection autofocus, optical image stabilization, dual LED flash and up to 4K video recording, but it's just not so. Images do come out great in good daylight lighting. Once the sun goes down the camera begins to take horrible pictures that are over processed, noisy and just blurry overall. If you are looking for a cellphone camera that takes better night pictures, you'll have better luck looking elsewhere.
Number five:
Adoptable storage is not an option for those looking to expand their system's storage space with an SD card. 64GB may be enough for a lot of people. But there will always be some out there that do need more space. Just keep in mind that any mi SD card that you plugged into the ZTE Axon 7 will be a separate pool of storage space.