2016 Alienware 17 R4 GTX 1060 Gaming Laptop
Dec 11, 2016
This moment before the end of the year may be the best time to sell your laptop and used electronics to make room for the new ones.
Just before the Christmas Season falls into full effect, let's take a look at one of the late 2016 market has to offer us in forms of a gaming computer.  I am going to take a few moments here to talk about the 2016 Alienware 17 R4 with the a GTX 1060 graphics card. We had as much fun testing this laptop as with the previously reviewed Alienware Aurora R5 Desktop PC.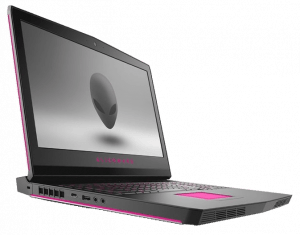 Design and Build:
Alienware has come out with a brand new design that's intended to make a point and it certainly does. It's just a really cool looking machine. It features an all new design that boasts a new aluminum exterior lid that feels very cool to the touch and towards the back there are two very aggressive looking exhaust fan vent. On the sides of the machines they engineered some visual effects and inlaid some really sleek LED lighting.
The build quality of this laptop is top-notch, there is hardly any keyboard or display flex. The interior has a soft touch finish like the one found Dell XPS 13" and 15" which really makes it a pleasure to use. However, this laptop is not a daily transporter; it is extremely heavy weighing in at 9.74 pounds and at its thickest point comes in at 1.18". Getting into the guts of this machine is very easy from the sturdy aluminum bottom plate all you need to do is remove the 7 screws and there you are, smack dab in the thick of it. Once inside you'll see your 2.5" hard drive, two sodium RAM slots, 3 m.2 SSD slots, and a subwoofer that is only available on the 17" model.
Quick Specs:
You're going to get a Quad Core i7-6700 HQ, 16GB of DDR4 RAM, a kick ass NVIDIA GTX 1060 GPU with 60Gb of DDR5, also you will have 1TB hard drive plus a 128GB SSD of storage and a 1920 x 1080p IPS panel. This is a higher end retailing machine at $1,799 USD.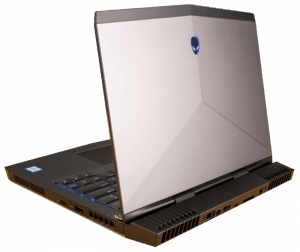 Connectivity:
Starting on the back of the machine there is a RJ45 Ethernet connection, a mini display port, a full sized HDMI, Thunderbolt 3, an external GPU port and the charging port. The right side only has one USB 3.0 and an exhaust vent. The left side offers a bit more with a Kensington Lock Slot, another exhaust vent for the fans, a USB Type-C 3.1 a USB 3.0 and the audio jacks.
New Feature:
This model features the Tobii Eye Tracking which enables your eyes to act as a controller. The iris scanners are located under the Alienware logo in the bottom middle of the display. To activate it simply press and hold the spacebar and just look at the screen. The scanners will pick up your eye motions and adjust the screen as if looking at it in real time. Like anything else, this is a new innovative option that will probably have much more use in the future. It should come as no surprise that this laptop also comes VR (virtual reality) ready.
Performance:
The processor is super fast with the latest Intel Skylake i7-6700 HQ which offers an insane amount of horsepower. This is essential for high end gamers. This laptop also is equipped with NVIDIA's latest 10 series Pascal based GPUs which provide an incredible performance. With this GPU you can expect to play many of today's high end games with your settings on high or ultra settings with 1080p without a hiccup. If 4K gaming is a priority of yours you will have to step up to the GTX 1070 and the 4K panel, setting you back about $2,350.
The new GTX 1060 offers a desktop type of performance. You can play games like Battlefield 4 on 1920 x 1080p and you should to reliably expect well over 100 frames per second.
After about 45 minutes of gameplay the fans really kick up in noise levels and emit about 49-52 decibels. But these fans have a lot of equipment to keep cool and safe so this amount of noise feedback is definitely ok since it's keep about $1,800 protected. Alienware did very well on their thermal management as this laptop remained cool; comparatively speaking.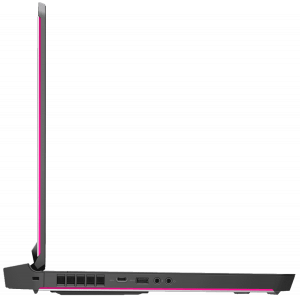 Trackpad:
The track is large and offers various color options that you can configure in the Alienware control panel. Two-finger scrolling and multi-touch gestures are all accurate as well as the awesome tracking abilities it has. Alienware really did a fine job engineering this trackpad. It even has the two left/right buttons that many laptops have been getting away from. So, it's just not a large square with haptic feedback.
Keyboard:
The keyboard is large and spacious and has awesome tactile feedback with 2.2 mm of key travel. Again the Alienware control panel gives you options to customise the color of your keyboard as well.
Display:
The display is a 17.3" full HD IPS anti-glare with 300 nits. You also get the Tobii IRI eye tracking. The Spyder4pro reports 97% sRGB and 75%b of Adobe RGB. These are real good results for this panel. The anti-glare and IPS gives you an very wide viewing angle as well.
Audio:
The two front-facing speakers give great sound quality plus you get that deep  bass from the subwoofer.
Battery:
The battery is very solid and the base model comes with a 68 watt hour battery pack and if you want to upgrade to a 99 watt hour pack you need to shell out an extra $50 to make that happen. This will give you about 5-6 hours of casual usage and maybe 90 minutes if you're gaming it up.