We are always talking about the laptop and desktop systems that we run in our homes. Today let's take a look at one of the better accessories that you can get for your home. Most of us have big screen flat TVs in our homes and we've gotten used to the letter box bars on the top and bottom of the screen when watching movies. But this LG 34UC97‑S monitor priced at $1,299.99 USD could be a game changer.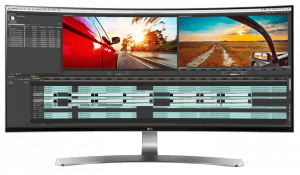 LG has made an ultrawide 34" monitor which means that it goes wider than 16:9. If you can put that into perspective movies are shot in 21:9. So if you watch a movie on any 16:9 HD TV you get those black bars on the top and bottom. This is called letterbox. With this ultra-wide 34" LG monitor those black bars are eliminated. It has the same aspect ratio that most modern movies are shot. So when you are watching a modern movie that is shot in 21:9 you actually get to see the entire space with this monitor.
The downside is when you watch any 16:9 content, like YouTube videos. Then you get black bars on the left and right side. It seems as if the monitor has enormous bezels. This of course is pretty annoying at first but after awhile you won't even notice it. It may seem like you're losing vertical space going from 16:9 20" screen like found on an iMac. Just keep in mind that it still has the same vertical space. But now offers all of the horizontal space as well.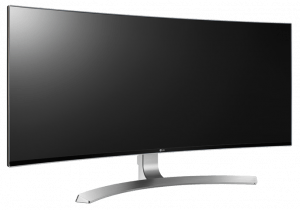 Ok so now that we know it's a 21:9 ratio how does its quality look in real time? Well, it's one of the best we've ever seen. Right out of the box the monitor is set to 99% sRGB so it's really crisp. You may see colors and detail that you've never noticed before. However, it is not all fun and games. As typical from an IPS display it has light bleed and with this monitor it's really bad. Especially in the left upper corner. When you turn down all of your lights to watch a movie and a dark scene comes on you will not be able to miss this terrible off yellow color bleeding effect.
This is a common complaint of this monitor. So if you think that is something that is going to bother you too much you may elect to not purchase this particular device. Hopefully LG gets their tech team to fix this issue pretty soon. However the alternatives like Dell and Samsung are experiencing that same issues. Obviously the technology isn't quite up to par yet. But it seems like this LG is the best on the market at this price range.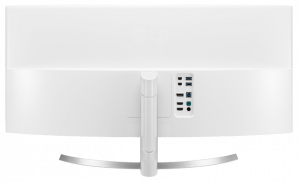 The resolution of the monitor is 3440 x 1440p and thus it is very, very clear. The response is 60 Hertz and if you're a gamer that will seem like a pretty slow refresh rate. But since most people have never experienced a monitor over 60 Hertz, it really shouldn't be much of a problem. On that note you can only get 60 Hertz if you connect via a displayport, if you connect your monitor via a HDMI you will only get 30 Hertz.
If you're looking for a computer paired with a curved monitor you can also take a look at the all-in-one desktop PC Samsung DP700A7K.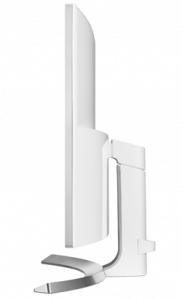 The construction of the monitor is pretty good but not fantastic. In some cases the monitor has been delivered cracked. So make sure to carefully look over your piece when you get it and if there are any discrepancies be sure to contact LG or the store which you made your purchase. It definitely is a fragile accessory piece. To top that off the stand it comes with is not the most sturdy either. You may have to find an alternate way of mounting the monitor. Take it or leave it, this is what we have to choose from on today's market of ultra-wide monitors.
Sell your electronic gadgets to SellBroke and collect money to buy a new device.