Asus GL552 Gaming Laptop
Nov 09, 2016
Sticking with the gaming theme that we've been on recently let's take a look at the Asus GL552 15.6" gaming laptop. This is another Republic of Gamers' notebook. This line of Asus gaming laptops is targeting more and more game loving customers with many models. The range of gaming oriented laptops like Alienware is constantly growing also within Asus portfolio. But is this helping their customer base or is the Republic of Gamers line slowly losing their reputation? Let's take a look at the newest addition and see what it has to offer.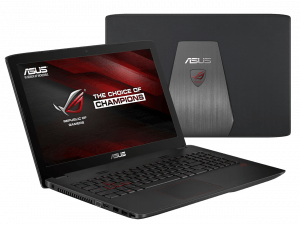 Design:
The first things we see on a laptop of course are its look, its feel and naturally its build quality. The GL552 is made of entirely plastic. It carries the distinctive Republic of Gamers features and is quite solid. Well, at least the bottom case and palm rest areas are solid. The lid plate is not what we expected it to be and is quite flexible. The GL552 has their nice design pattern on the back that is quite interesting. And also has the Republic of Gamers logo. It also keeps the familiar red lines around the trackpad and the red lettering to keep the laptop looking more aggressive and gaming like.
It seems that not all of the plastic parts fit securely and don't look exactly aligned. The real notable area is the battery on the back. The hinges look pretty tight and strong and for a 100% plastic case, the build quality isn't too bad. For example the palm rest area and keyboard look pretty sturdy. And the screen has the familiar technology that is used in the G501. It is an anti-glare IPS with full-HD resolution and looks good in almost every aspect.
Display:
As usual the engineering tests revealed some flaws of course. For example, the screen flickering was only non-existent when the screen brightness was set to 100%. Slow pixel reaction is another usual problem for a display with good color reproduction. It has a sRGB coverage of 93% and is not bad for a screen on a budget gaming series.
15.6-inch size display sets it right in between competition such as smaller yet more expensive 14-inch MSI GS43 VR 14″ and bigger and really cool 17-inch laptop ACER V17 Nitro.
Performance:
Performance is always an important part of such a machine and the NVIDIA 950 M is used to keep the price-to-specs balance in check. It is still GPU from the upper-mid class range and belongs to the Maxwell build architecture. It could be found with GDDR3 or GDDR5 memory. We tested the more common GDDR3 version which is used with the GL552. And the graphics accelerator is a very capable one. As far as the CPU is concerned you can find a model with with either an Intel Core i5 or i7 that can give a bit of flexibility to the system in terms of price targeting. It could also be equipped with an optional SSD drive.
The motherboard features an m.2 SATA slot that is user accessible. There is no need to lose any storage capabilities if you want to upgrade. This option is very cool and should be made available at any mid or high end class of laptops in today's market.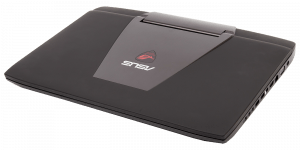 The temperature on this laptop is acceptable. The plastic does not cool down as fast as aluminum, but the laptop is bulky enough to allow for hot air movement so your machine will remain at safe temperature levels.
Conclusion:
In general the Asus GL552 is a great choice if you want to have a nice gaming machine but not wanting to spend over $1000. With its aggressive looks, pretty good specs and decent sound quality, you can have a choice here. But be aware of the fact that some compromises will have to be made. The screen is good and acceptable in quality but could have been better in terms of screen flickering.
Build quality is not bad at all; however, it is not aluminum and people really tend to prefer the aluminum to plastic when there's a choice. No matter how sturdy the plastic may be for the shell, people still like the confidence and allure of the more sleek and sophisticated aluminum cases.
If you're on a budget you may also want to consider cheaper ASUS model ZX50 or lately featured in our blog Dell Inspiron 7559 gaming notebook.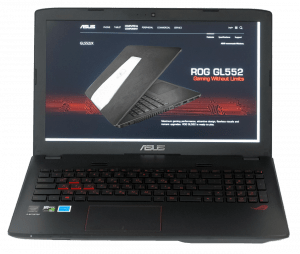 Sell us your laptop and get money for your dream gaming machine.