Dell Inspiron 7559 budget gaming notebook
Nov 07, 2016
Another weekend has come and gone and now it's time to get back to work. We'll start the week off by taking a look at the new budget gaming notebook, the Dell Inspiron 15" 7000 series, model number 7559. This notebook has some very specifications for the price, but is it a decent gaming notebook for under $800? Let's find out.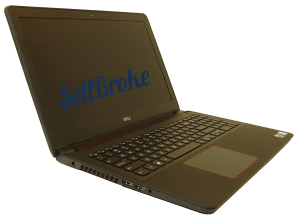 Quick Specs:
This Dell comes with a Quad Core i5 and a NVIDIA 960M with 4GB of GDDR5, 8GB of RAm, a 1TB of hard drive, and a 15.6" full-HD display, all in one pretty slick looking package.
Design and Build Quality:
The design of the Dell is pretty good. It is made of all plastic but it has a nice soft touch ,finish that makes it oh so smooth to the touch. One thing that makes it stand out amongst other Inspiron laptops is the red Dell logo planted right in the middle of the lid. Essentially it makes it look like a more expensive gaming laptop. The weight of this laptop is 5.7 pounds and at its thickest part measures in at just over an inch. The bottom plate is completely plastic as well. It can be removed with one screw to gain access to the internal components.
The build quality of the 7559 is just ok. When pressing firmly in the middle of the keyboard you will experience some flex. But a majority of the flex is found on the bottom of the screen display, this area has a ton of flex. Much more than we generally lie to see. As far as the exterior is concerned there is a bit of flex in the middle of the lid closer to the Dell logo. This isn't a huge concern, but something to be considerate of when packing it in laptop bags with other accessories.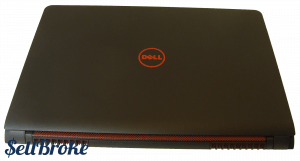 Connectivity:
Unless you're dealing with a MacBook Air you should expect to have a pretty decent amount of ports to choose from. The 7559 offers the AC charging port, fan exhaust port, two USB 3.0 ports and the headphone/microphone combo jack on the left side of the machine. As for the right-hand side you will find the SD card reader, another USB 3.0, a full-sized HDMI port, a 1.4 gigabit Ethernet port and the Kensington Security Lock Slot. On the very front of the laptop is the LED power indicator.
Display:
This laptop features a 15.6" IPS panel with a max resolution of 1920 x 1080p. Text and images are pretty shard and the overall color saturation is decent for a budget gamer's notebook. The sRGB scored a 71% and the Adobe RGB scored a 54% color range. The IPS panel with an awesome anti-glare screen make for a wide array of viewing angles.
Keyboard and Trackpad:
The full-size keyboard also features a 10-key number pad. Though the tactile feedback is nice the key travel does feel a bit shallow, but you'll get used to it within a couple of days' of usage. This keyboard is backlit with two options of operating, either high or low.
With this notebook you're getting a large buttonless trackpad. The texture isn't all that smooth as compared to other laptops, but it works well enough. Two-finger scrolling and multi-touch gestures are ok; however, navigation and right-clicking are not as smooth as others on the market.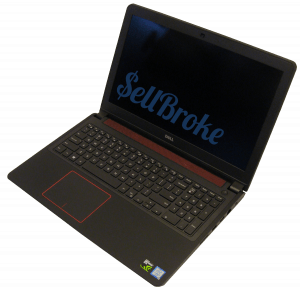 Audio:
Dell put both of its speakers on the top and one sub on the bottom of the machine. The sound in decent, but in action filled games the sound can kind of sound a bit dull. To make matters worse the mini-sub on the bottom is pretty worthless.
CPU and GPU Performance:
You should find that since you're rocking a Skylake Quad Core chip with 2.3GHz (boost up to 3.2GHz) that this chip is very capable of handling most things that you'll throw at it on a daily basis. For those that want the ultimate chip performance, for $100 you can upgrade to the i7 model.
Now for the star of the show. Here Dell packs in an NVIDIA 960 M with 4GB of GDDR5 and it can play many of today's games at 1920 x 1080p on medium to high settings. A test of Battlefield 4 set on high settings and 1080p with vsync turned off we averaged 45-55 frames per second, you can run it on ultra settings, but for a better experience high settings work just fine.
After about 45 minutes of gameplay the highest CPU temperature was 80º celsius and for the GPU was 74º celsius. The cooling fan on this laptop did a great job keeping this system running cool. Only the Lenovo Y700 was a bit cooler.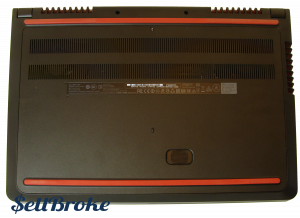 Battery:
The Dell Inspiron 7559 is boasting a 6-cell 74-watt hour battery pack that can get you about 4-5 hours of use of casual usage and screen brightness set at 50%. However, for the gaming experience you shouldn't expect much more than 90 minutes gameplay.
This notebook offers good performance to price ratio all the while looking good doing so. For a budget gaming laptop for under $800 you can't really beat it. The major cons would be the audio quality, flex on the bottom of the screen and the shallow key travel. With that being said, Dell is offering a good budget gaming piece for the holiday season.