Here we are again researching more laptops to to possibly buy after you've sold your old laptop or cell phone. Here's a full review on the Lenovo Yoga 700.
The Lenovo Yoga line of laptops have been very popular ever since the first production of the first Yoga. What we will be talking about today is the 11" model. This is specifically aimed at consumers that want something small and lightweight to take on the road with them.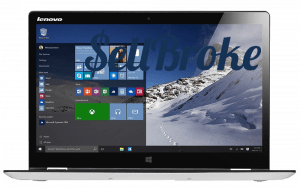 As per the norm we will discuss the design, connectivity, the keyboard and trackpad functions. We will also look at the audio performance, as well as the CPU and GPU performances. So let's jump right into the specifications.
Specs:
The Yoga 700 comes with an 11.6" full HD IPS panel, an Intel Core m3-6Y30, a 128GB SSD and 4GB of DDR3 RAM and a 720p HD webcam. This sells right off the shelves at $599.99 USD. Every now and then you can find this on sale at Best Buy for $499.99, so it's wise to keep an eye out; everyone likes to save money whenever possible.
Design and Build:
The design and build quality of the 700 looks and feels pretty solid. The exterior is made out of a white plastic finish that looks very similar to the Yoga 300. Tipping the scales at 2.42 pounds is comes in very lightweight and at the thickest point it only measures 0.62". The interior of the laptop is of a nice brush metal finish that gives it an overall sleek look and feel.
The overall design and build quality is pretty solid just like most Lenovo laptops. There is not a lot of keyboard or top lid flex. The bottom base plate is made of plastic and also seems to be very durable.
This is a 2-in-2 laptop so there are four modes. To start with you have the everyday laptop mode, followed by the stand mode, tent mode and lastly the tablet mode. Since this laptop is so light the tablet mode is actually relatively comfortable compared to others that are just a bit too heavy and clumsy.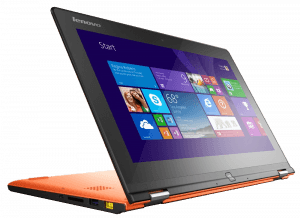 Keyboard and Trackpad;
The keyboard on this notebook is solid. It's well spaced for a small and compact laptop and the feedback offers great confidence. The key travel is short at 1.2mm and also there is no 10-key number pad and unfortunately there is no backlighting either.
The Yoga 700 boats a large buttonless trackpad and is very smooth, but most importantly its performance is very precise. You're not get too many glitches with the tracking or two-finger scrolling. However, if you're used to a multi-touch trackpad you're going to have to look elsewhere for this Yoga doesn't have it.
Connectivity:
On the right side of the notebook you're going to find the power status indicator, power button, the one key recovery pin, the orientation lock button, volume rockers, headset microphone combo jack and a USB 2.0. On the opposite side there is the charging port, a USB 3.0, micro HDMI port, and the SD card reader.
Display:
This notebook has a decent 11.6" HD IPS display that has a resolution of 1920 x 1080p and it looks real crisp and sharp. The only bad thing about it is the color accuracy is below average of comparable notebooks. Where you won't be disappointed is with the very smooth and highly responsive touchscreen. The scrolling and multitouch gestures are very nice. Overall this touch screen panel does a great job. The viewing angles of this panel are nice; however, the glossy coating is extremely reflective.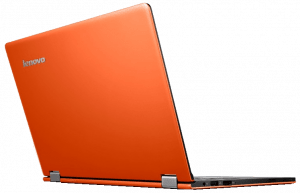 CPU and GPU Performance:
The CPU performance of this laptop features the Intel Core m3-6Y30 which offers a great performance from day-to-day applications like Office and Netflix. It's fast and efficient for light duty work but just don't expect too much from the CPU and you'll be just fine. If you think that you would need more horsepower you may want to consider the Yoga 700 14".
The Intel Graphics 515 offers performance that is pretty close to the old HD 4400 which is found on the 4th generation Intel chips. Basic games like Minecraft and League of Legends will run fine on this chips with about 30-40 frames per second on low settings and 1920 x 1080p. Just don't expect to run high-end games like Fallout 4 or Battlefield 4 because you will be disappointed.
Since the Intel Core m3-6Y30 does not require a fan this notebook is extremely quiet. The Solid State Drive performance from this laptop has been fast. It's was reading 538.2 MB/s of read time and 158.6 MB/s of writing performance. Overall the system responds quickly
Battery:
In real world usage with medium screen brightness expect about 4-5 hours. This is what most users will get while streaming video and Office applications.
Audio:
The two bottom-facing speakers sound pretty good. Like a lot of laptops the bass is lacking but the mids and highs are extremely well balanced so at the end of the day that gives it a pretty average sound quality that you should be happy with.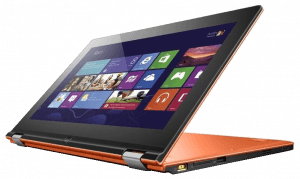 Looking to upgrade your computer? Sell your laptop or tablet to Sell Broke for highest cash value.