If it's time that you're thinking about purchasing another laptop because yours is getting out of date and maybe not able to do updates anymore, or some apps just aren't compatible, why not sell your laptop and take a look at some buying options? Here we are today taking a look at the HP Envy 13t. This is a brand spanking new ultrabook from HP . Let's take a look at the specs.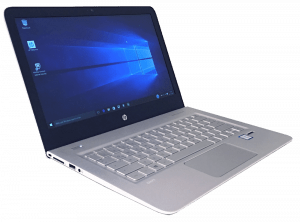 Quick Specs:
Let's break down the specs and see what we're getting into here. Hp has provided an Intel Core i5-6200U, 128GB Solid State Drive (SSD), 13.3" Quad HD IPS panel, 8GB of RAM and the HP TrueVision webcam, for the retail price of $849.99 USD.
Design and Build:
The design looks very sharp, it features an aluminum body and looks slick and sexy. It's one of the slimmest notebooks on the market at 12.9mm and one of the lightest at 2.18 pounds. It almost looks like the Spectre x360 series . In terms of build quality HP did an excellent job. There's very minimal flex on the lid and the bottom plate. Considering how thin and light this notebook is, the keyboard flex wasn't too bad either.
One of the nice things about this laptop is when you lift the lid the panel slides under the back end and slightly elevates the keyboard from the back to give it a comfortable angle to type on. It also allows for airflow underneath the computer for better cooling. The fan seems to be constantly running even during light usage, but the good news here is that the fan noise is very low. Even during high levels of usage the fan noise is very respectable. HP did a very solid job at engineering these two fans.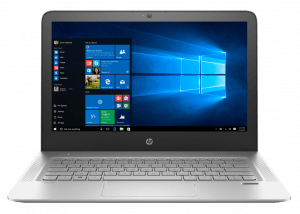 Connectivity:
Here we see on the left side of the notebook HP equipped it with the Kensington Security Lock Slot, an SD card reader, a USB 3.0 and the headset/microphone set combo jack. Turning it around to the right side you'll find the power status LED indicator, two more USB 3.0 ports, a full-size HDMI port, as well as the charging port.
Display:
The display on this laptop is a 13.3" Quad HD IPS panel that looks beautiful, The color is pretty accurate and the text is very sharp, Hp really hooked it up on this laptop. This panel scored a 96% on the sRGB and on the Adobe RGB is measured at 76%. The brightness levels were very good as well at 341 nits. Another nice bonus here is the IPS offers very wide viewing angles. The only con really is that the glossy panel tends to reflect a lot of and background light can be quite bothersome at times, but it's still better than most ultrabooks on the market.
CPU and GPU Performance:
The Intel Core i5-6200U is a solid CPU for schoolwork, light video editing and even some programming. It has a base clock speed of 2.3GHz with a max turbo boost of up to 2.8GHz. This 128 SSD is fast with the read speeds at 536.9 MB/s; however, the write speeds were fairly low at 138.3 MB/s, for better speeds it's better to upgrade to the 256GB.
With the integrated Intel HD Graphics 520 you can easily play light duty games like Counter-Strike: Global Offensive on low settings and get around 40-50 frames per second (fps) at 1080p. Other light duty games like Minecraft and League of Legends will also run fine without a problem. Now, if you want to up the ante a bit and try to play some high-end games like GTA 5, you'll certainly be disappointed.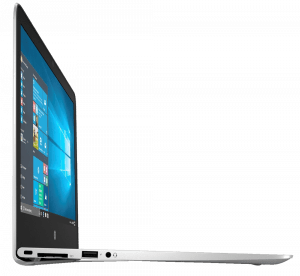 Keyboard and Trackpad:
The trackpad is a decent size and the texture is smooth like butter. Tracking and two-finger scrolling is very precise. Overall this notebook has a pretty good all-around trackpad for daily use.
The keyboard is well spaced out and the tactile feedback is excellent. The only complaint here is the short key travel at only 1.2mm, but after some time using it it grows on you and becomes very second-nature. Since we're dealing with a pricier laptop here it does come equipped with a backlit keyboard, but it only has and off and on option.
A super feature that is rarely found on notebooks these days is the digital fingerprint scanner. Simply swipe your finger and bingo… you're logged in.
Battery:
This 45-watt hour battery gets a shorter user time compared to others on the market at only 4.5 – 5.5 hours with the screen brightness set at 60%. That's with light duty work like web browsing, word processing and video streaming. It's actually not too bad considering it's powering a high-resolution Quad HD panel. But if you want to sacrifice some display pixels you can step-down to the full HD model for better battery performance.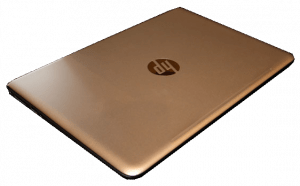 Audio:
The Bang & Olufsen speakers do a great job at producing sound levels that are well balanced. The only knock here is the lack of low-end kick found in other ultrabooks like the MacBook. Besides that, these speakers are actually pretty decent for casual use.