Today we are talking about the Dell Inspiron 15, this is the 3558 model and it is aimed at students who are on a budget who are trying to bank, The retail price of this laptop is $329.99 USD; however, Best Buy usually run specials that are around $279.99 and even sometimes for $259.99.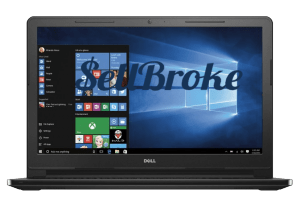 Specifications:
What we get in this new Dell is a new 5th generation Intel Core i3-5015 U, 4GB of RAM, a 15.6" HD 1366 x 768p display, 1TB of hard drive running at 5400 RPM and a 720p HD webcam.
Design:
The design of this notebook is pretty bare bones, it's only running you $279, so don't expect anything super spectacular. With that understood, it's not a bad-looking laptop at all. This notebook tips the scales at 4.25 pounds and its biggest point is 0.9 inches. The exterior is made out of plastic and you also get a pattern finish on here that adds a really nice touch.
In terms of build quality you may be a bit disappointed in the display flex especially towards the middle section. However, the keyboard flex was good.
The fans do a good job keeping the unit cool and do so very quietly with light to medium usage.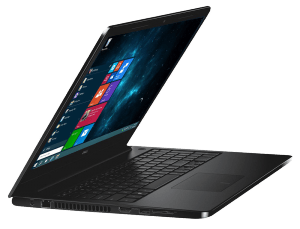 Accessibility:
Porting on the left side gives you your charging port, RJ45 Ethernet, an exhaust fan vent, a full-sized HDMI port, a USB 3.0, and a SD card reader. Now tin it around to its right side and you'd find the headset/microphone combo jack, two USB 2.0 ports, a DVD drive and of course the Kensington Security Lock Slot.
CPU and GPU:
To keep the prices low on this laptop Dell decided to use the Intel Core i3-5015 U, which is a Broadwell dual-core chip clocked at 2.1GHz but doesn't offer any turbo boost. This chip is pretty capable and will be fine for many high school and college work courses.
With this CPU you're also getting the Intel HD graphics 5500 and during some gaming tests set at 1366 x 768p on very low settings, it averaged around 40-50 frames per second, on medium settings the fps is about 32-55.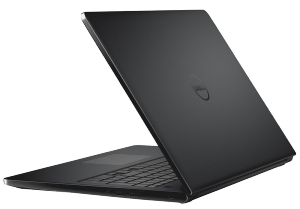 Display:
Dell provided a 15.6" HD display which means you get a resolution of 1366 x 768p, text can be fuzzy at times and the color accessing is poor, but that's expected at this price point. Out of the box the calibration was awful, but with a few adjustments it was easily fixed. The Spyder4pro reported 62% of sRGB and 46% of Adobe RGB.
One of the worst aspects overall of the laptop is the screen quality. Usually these budget notebooks have terrible screen qualities and this one is no exception. You'll just have to find the right spot, because the viewing angles are awful.
Keyboard and Trackpad:
With this Dell you are getting a full-sized keyboard with a 10-key numeric keypad, which comes in handy for those types that do a lot of number crunching. The key travel is short and the keys are small, but the tactile feedback was great while using word and provided no problems.
This laptop features a medium sized trackpad that does an OK job the surface is a little rough and the tracking can be a pain sometimes. However, two-finger scrolling and multi-touch gestures were on point.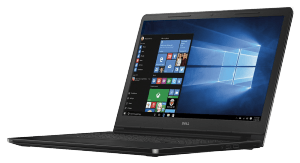 Audio:
The speakers on this laptop are surprisingly good. Two drivers powered by MaxxAudio are facing the bottom. Their sound quality is acceptable and there is very minimal distortion.
Battery:
Battery life is decent with a 4-cell battery pack. With a full charge you can expect 4 – 4.5 hours with medium settings. That's with web browsing, YouTubing, and word processing.
Looking to upgrade your laptop? Sell Broke will buy any laptop or tablet and help you get extra cash for the new computer.