Thinking about getting an affordable laptop that's capable of everyday tasks with plenty of power? You've come to the right place, let's take a look at the Lenovo IdeaPad 500. This is kind of like the cheaper version of the Lenovo Z51.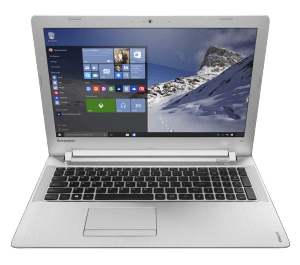 Specifications:
Let's take a look at the specs. You get an AMD A10-8700P, a 15.6" 1920 x 1080p, 1TB 5400 RPM with 8GB DDR3, for a retail selling price of $429.99 USD. However, you may be able to find this for sale at Best Buy for $379.99, so keep an eye out for that.
Design and Build:
The design is made mostly of plastic and it seems pretty durable. The weight comes in at 5.06 pounds and at its thickest point measures at 0.97-inches. The interior palmrest is made out of brushed metal finish and it feels rigid. Then there's plastic surrounding the display. Basically this is identical to the Lenovo Z51. The bottom base is made out of plastic and can it be removed for future upgrades. To access the internal components you have to remove all of the surrounding screws and the one under the label. After that you will have access to your two DIMM slots for your RAM, wireless card and your 2.5" hard drive.
There is very minimal flex towards the top of the notebook and that's awesome considering its price range. Unfortunately the keyboard flex is terrible, even with pressure you can see it flex under stress.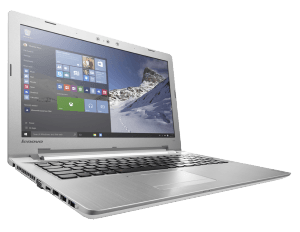 Portability/Connectivity:
The charging port, exhaust vents, VGA port, Ethernet adaptor, full-size HDMI, two USB 3.0 ports and the Onekey recovery pin can all be found on the left side. Turning it around to the right side the IdeaPad 500 has the microphone/headset combo jack, USB 2.0, an SD card reader along with a DVD drive and the Kensington Security Lock Slot.
Display:
It is not often that you will find a laptop under $400 (on sale price) that rocks a 1080p screen. The color accuracy is very poor but the text is crisp and sharp despite the 4Pro Color rating having an embarrassing score of 63% for the sRGB and 48% for the Adobe RGB. You won't be impressed with the viewing angles either, as they as pretty awful. It is a TN panel so it's kind of expected; you'll just have to adjust it until you find the sweet spot.
CPU and GPU:
The AMD A10-8700P offers adequate performance for many of today's applications. This is a Carrizo chip with a base clock speed of 1.8GHz and a Turbo Boost up to 3.2GHz. This chip has the power to compete with the Intel i3 series but not the Core i5 series. The 1TB drive is incredibly slow pushing rates 105.3 MB/s read speeds and 102.1 MB/s write speeds.
The Radeon R6 is an APU that offers good performance for the money. You can expect to play games like Diablo 3, Counter Strike: Global Offensive and DOTA 2 on low settings of 1600 x 900. You will average between 25-30 frames per second, but you can get better results at 1366 x 768.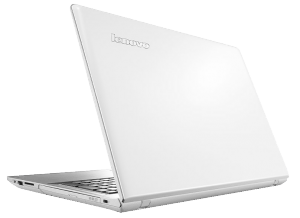 Keyboard and Trackpad:
The small keys offer a good typing experience. The key travel is decent and the overall feedback from these keys is great. The only drawback is the lack of a backlit keyboard, but for $379.00 there's not really any room to complain.
The trackpad is large and the surface is solid. It also has a physical right and left click button that has been vastly improved over the Z51 series. The tracking is precise and on-point and the two-finger scrolling is smooth. You may find the multi-touch feature to be a bit choppy at times, aside from that this is a really solid Windows trackpad.
Audio:
The two bottom-facing JBL speakers sound really good. The bass is a little on the weak side, but the mids and highs do a decent job.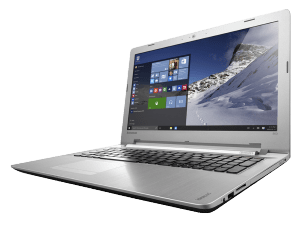 Battery:
This laptop features a four-cell battery pack that may disappoint your expectations. With medium screen brightness this little pack will only yield about 2-3 hours on a full charge with web browsing and slight video streaming. After about an hour of Netflix the battery was already down to 55%, so if you are taking this on the road be sure not to forget your battery charger.
SellBroke.com buys laptops and tablets for cash. Good and broken ones. Select your electronic device to see how much we pay for it.