To end the week we will take a look at the new (6 months old) HP Pavilion G199nr 17.3". It's aimed at consumers that want to replace their desktop without spending over $1,000. So, let's get right into it and break down some of its specs.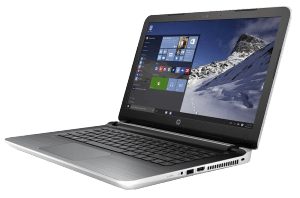 Specifications:
With this new HP you're getting an Intel Core i7-6500U, 12GB of RAM, a 17.3" 1920 x 1080p display, 1TB 5400RPM hard drive and a NVIDIA 940M dedicated GPU for the selling price of $999.99 USD.
Design and Build:
This notebook it made of primarily out of plastic. The exterior is silver and looks pretty good for a huge notebook. The bottom plate of this HP offers no easy access to the components. This thing's a monster in weight, tipping the scales at 6.6-pounds and at its thickest point measures at 1.16", it's definitely big and hefty.
The exterior lid flex is terrible, it looks like a trampoline. The interior is made out of plastic, but it looks pretty good. You get a black and silver finish that appears to fade in and out when you tilt the laptop. The good thing here is that the keyboard flex is minimal.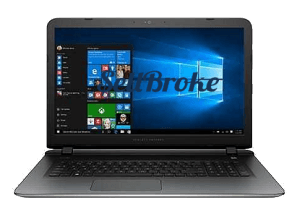 Portability:
On the left side of the notebook you have the charging port a gigabit Ethernet port, USB 2.0, USB 3.0, an SD card reader and a DVD drive. Flip it around and on the other side and there we have the LED indicator lights for the power status and hard drive status, also the headset/microphone combo jack, a USB 3.0, a full-sized HDMI port, and some exhaust vents for your fan and a Kensington Security Lock Slot.
Display:
The 17.3" IPS panel looks very good. Text and images are crisp with the 1920 x1080p resolution. The color accuracy is superb with reading of 99% sRGB and Adobe RGB of 78%. Overall HP really did a great job on this panel, the only con is the glossy reflective coating is still very reflective. The multi-touch screen is pretty smooth sailing with the two-finger scrolling and multi-gestures are very responsive.
CPU and GPU:
The performance level from this Intel Core i7-6500U offers great performance for many different applications. Remember this is a dual-core chip, so don't expect top notch performance. The biggest downside to this computer is the 5400RPM hard drive. Yes it's spacious at 1TB, but it is quite slow yielding read times of 104.1 MB/s and write times of 103.8 MB/s. For better performance you would want to install a SSD.
This notebook comes with 12GB of RAM, which should be more than enough for the average consumer, but those that want more you can upgrade to 16GB.
The fan noise on this notebook is pretty well contained. Under light to medium usage you can barely hear it running. That being said, under heavy CPU usage or gaming you will hear it humming along pretty well.
For your graphics performance you will get the NVIDIA 940M with 2GB of DDR3. Grand Theft Auto 5 is playable on low settings set to 1366 x 768.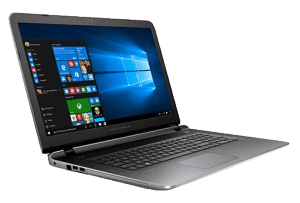 Keyboard and Trackpad:
The trackpad is huge with a nice smooth surface. The two-finger scrolling is pretty accurate; however, tracking and moving around can be too sensitive at times. Since this is a 17" laptop, odds are that you will be using an external mouse anyhow.
The keyboard is large with a nice bonus of the 10-key numeric keypad. For many office personnel the 10-key is a must. At 1.4 mm the key travel is a little bit short but the tactile feedback is still pretty good and consistent. It's not quite like a ThinkPad, but it's still pretty comfortable. HP didn't leave you hanging, for the dark circumstances they did equip it with an off or on backlit keyboard.
Audio:
The top-facing speakers made by Bang & Olufsen are only about average. Throwing that brand in there seems to be more of a marketing scheme, and nowhere near the HP Spectre line of laptops.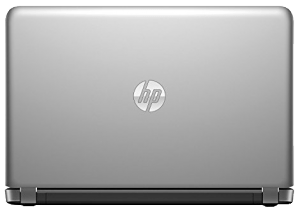 Battery:
The performance of the 4-cell battery pack was very disappointing. Expect about 2-3 hours on a full charge with normal usage of web browsing, word processing and media video streaming. However, since this laptop is aimed to be a desktop replacement, there shouldn't be very many occasions that it's unplugged.
SellBroke offers cash for used and broken laptops, tablets, smartphones and other electronic devices. The process of selling a computer is very quick and easy.