It's that time of the year again when kids and teens all start going back to school. With a new school year comes the need for new school gear. Of course there are clothes, shoes, bags, and books to buy, but let us not forget the electronic gear that we need to arm our scholars with. It is up to us as parents to give the best when possible, and that's why we will look here at the new HP Pavilion x360 M3 13.3-inch laptop.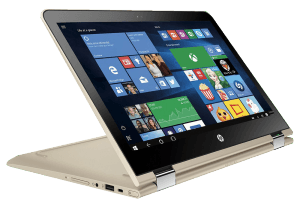 Specs:
Let's start by breaking down the specs. In the new x360 you will get an Intel Core i5 at 6200U, 8GB of DDR4, a 13.3-inch full HD IPS display and 128GB Solid State Drive (SSD). Selling on the current market for only $799.99 USD, you can pick this gem up fairly easily. Not to mention that sometimes Best Buy sometimes has it for sale for to students only $699.99.
Interior and Exterior:
The exterior of this laptop looks very sleek, it has a modern gold finish that looks stunning. The interior looks very clean with the charcoal based finish as well as the gold keyboard that gives it a nice touch. The bottom plate is made of plastic with two rows of rubber feet and two exhaust fans.
The build quality overall seems pretty solid. The keyboard offers very little flex and the bottom of the base is rigid, as well as minimal flex on the lid. HP claims that the stainless steel hinge has been tested up to 25,000 openings and closings and 7,000 and 360 degree rotations.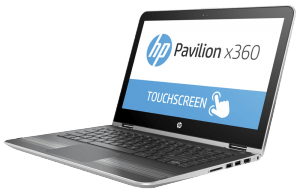 CPU and GPU:
The 8GB of RAM is soldered on board, and the only component you can upgrade is the m.2 SSD. It's a 128GB drive that can give you decent speeds; however, for better performance, step up to 256GB or more.
This notebook does feature the latest Skylake processors from Intel and this model features the Intel Core i5 at 6200U which is a very capable processor. The i5 6200U boasts the HD Intel graphics 520 card. With this chip you can play games like Counter Strike: Global Offensive on low settings at 1600 x 900p and average about 35-45 frames per second (fps).
Taking a look at the stress test using a program called Prime95 after about 25 minutes of usage it averaged around 45-58 degrees Celsius. Near the backside where the fan rests it gets about 50-55 degrees Celsius. The fan proved to be pretty quiet, the only time they are really audible is during extended stress usage of the CPU.
Portability:
Taking a look on the left hand side of this laptop there is your power button, Kensington Security Lock Slot, USB 2.0, the headset/microphone combo jack, and the volume rocker button. On the right side there is a flush mount SD card reader, two USB 3.0 ports, two full sized HDMIs and the charging port.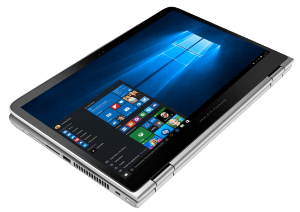 Keyboard and Trackpad:
The trackpad on this laptop during two-finger scrolling, tracking, multi-finger gestures were right on point. HP has really stepped up the responsiveness of their trackpads. Their latest notebooks really have been very good.
The typing experience on this notebook provides a comfortable experience. Even with a pretty short key travel the tactile feedback is nice. One minor complaint may resides in the location of the backspace and home key. They just seem to be a bit too close and do cause editing typos and mis-keying. As far as backlighting is concerned it is present with either on or off, there are no multiple brightness settings.
Audio:
There are two top-facing drivers powered by Bng and Olufsen and actually sound above average compared to other thin and light laptops on the market.
Display:
The touchscreen panel has proven to be highly responsive; swipes, multi-touch gesture are very smooth. This laptop rocks the 13.3-inch full HD IPS panel and the color accuracy is only average at best. Despite a poor color imagery, sRGB comes in at 60% and 51% of Adobe RGB, which is obviously pretty low. There is a wide viewing angle with the display thanks to the IPS technology, but keep in mind it's a highly reflective screen, so keep away from windows and bright lights behind you.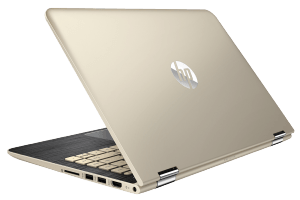 Four-in-One:
This is after all HP's newest x360 model so its four-mode functionality is important. The first mode is just sitting normally as a basic laptop. Then it has stand mode which is pretty popular for presentations and touch-based games. It's followed by tent mode that is good for video streaming and the lastly it goes into tablet mode. Weighing in at 3.48 pounds though it's a little too big in our opinion to be used in this mode very often.
Battery:
HP stuffed this new Pavilion x360 with a three-cell 41 watt battery pack which is pretty good. It's not spectacular, but it definitely gets the job done. Fully charged you can expect to get about 5-6 hours with your screen settings adjusted about 50%. That is of course with casual usage such as web browsing, video streaming and word processing.