Lenovo is a very popular brand these days and they have made many different models to choose from. Let's get into what the new 2016 Lenovo IdeaPad 710S 13-inch laptop has to offer. It's an all new high end ultrabook made to compete against the Asus ZenBooks and the Dell XPS 13.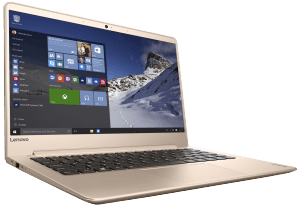 Specs:
With this new Lenovo you're getting a Skylake base Intel Core i5 at 6200U, 8GB of RAM, a 13.3-inch IPS anti-glare 1920 x 1080p display and 128GB PCIe Solid State Drive (SSD). And this laptop sells for $799.99USD.
Portability:
On the left side of the notebook you will find the charging port, USB 3.0, a headset/microphone jack combo and the Lenovo Onekey Recovery Pin. On the right side it has the power status LED indicator, SD card reader, USB 2.0 and a mini HDMI port.
Interior and Exterior Design:
The top cover is awesome with its magnesium alloy design that feels very durable and looks sleek. The bottom plate is made of full aluminum which will add strength and durability to this laptop. Weighing in at a mere 2.6 pounds it is one of the lightest notebooks on the market, it even edges out the Dell XPS that weighs 2.7 pounds. Not to mention it's also one of the thinnest laptops selling on the market measuring only 0.55-inches.
The interior looks very nice with the super thin bezels found on the XPS 13. Almost giving you a full left to right infinity screen look. The bottom features a magnesium alloy palmrest that also adds a nice touch. The big difference here is that the 720MP webcam is up top with a slightly thicker bezel compared to the XPS that has it located on the bottom left corner. Overall Lenovo really did a great job with the 710S.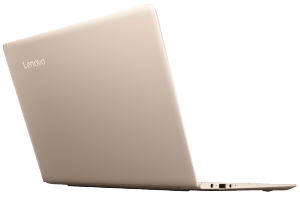 Build Quality:
Now we are going to discuss the build quality of this laptop. The keyboard was nicely designed and yields very little keyboard flex. The magnesium lid is pretty durable and it too offers very little flex and is pretty much on par with other ultra-thin notebooks. The last places to check for flex is the top cover, and due to the magnesium alloy, it is nice and rigid, and only allowing for a small amount of flex. Same goes for the aluminum bottom plate, it's solid. To access the internal components simply remove the bottom screws, be sure to not forget the 2 under the rubber footing. Once you gain access to the inside you will see the 46-watt hour battery pack, the 2 bottom facing speakers on the left and right, your 128GB PCIe SSD, 8GB of soldered onboard RAM and your wireless card.
CPU and GPU:
You will find the read speed on this PCIe to be pretty quick at 940.0MB/s; however, the write speeds are below average at only 161.8MB/s. This model features a Skylake based chip Intel Core i5 at 6200U. This chip offers more than enough horsepower for average daily usage, multimedia, and even some coding programs.
The 710S also features the Intel HD graphics 520 card. On low settings of 1366 x 768 you can expect to play games like Counter-Strike: Global Offensive and get around 50 to 60 frames per second. At 1920 x 1080p it will drop to about 35-45 fps.
Display:
This 13-inch IPS display is gorgeous. It offers excellent and accurate color reproduction and text and images are pretty sharp. This panel will have no issues holding its ground against its competitors. The Spyder4pro charts the sRGB at 93% and the Adobe RGB at 72%. Brightness levels are pretty good even at keeping the settings around 60-70%. Since it's featuring an IPS anti-glare display you will get awesome viewing angles with much less reflection.
Keyboard and Trackpad:
The glass trackpad is very large and the surface offers a good smooth texture. Two-finger scrolling is pretty responsive, but there are occasional issues with tracking. The multi-touch gestures are a bit choppy as well, with these issues it's similar to the Lenovo Flex 2. Hopefully a driver update corrects these issues.
You will get a standard full size keyboard with small keys that offer a comfortable typing experience. The key travel does feel a bit longer than the 1.3mm travel on the XPS. One odd thing about your keystrokes on this keyboard is the mini shift key on the right. That takes some time getting used to. Once again Lenovo opted to put in a backlit keyboard with the medium or high setting being your two choices.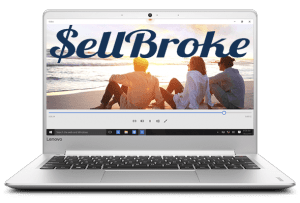 Audio:
The two bottom facing JBL speakers are decent for the laptop's small size. The mids and highs were well balanced and the sound quality is great.
Battery:
This 710S features a 46 WHR battery pack which is a little smaller than the competitors. With casual usage of web browsing, media streaming and word processing ended up with about 5.5 – 6.5 hours on a full charge, with the power saver mode on you may be able to squeeze out 7.5 hours.