We are going to take a look at the 2015 Apple MacBook 12-inch laptop with Retina Display. The base model comes with an Intel Core M-Y531 with 6GB of RAM and a 256GB PCIe Solid State Drive (SSD). This model retailed for $1299.99 USD.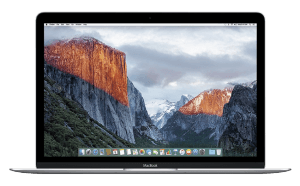 Design:
The 2015 MacBook features a stunning design, it has an all-aluminum body just like all of the other Macs, but the footprint of this Mac is tiny. It weighs in at just over 2 pounds and at its thickest point it measures just 0.52-inches. This is one fine looking ultra-portable notebook. Apple does offer three options of color: gold, traditional silver and the space gray.
Portability:
The biggest problem found in the 2015 MacBook is the one USB type-C port on the right side. With this type-C port you will need to use it to charge, connect your output video, and connect your USB devices. On the left side you will find the headset/microphone combo jack and the dual microphones. Apple does sell adaptors starting at $19.99 for the USB to USB type-C and a 3-in-1 adaptor for $79.99 that features a HDMI out, a USB type-C and a USB 3.0 port.
Many people might find it annoying to have to constantly switch out dongles and adapters. The biggest downside to the type-C charging port is the loss of the Magsafe connection. Magsafe is found on all MacBooks prior to this model. The 29-watt adaptor is very small and compact. It's slightly bigger than an iPad Air charger. Keep in mind that this MacBook can be recharged with many portable chargers that are used for iPhones and iPads.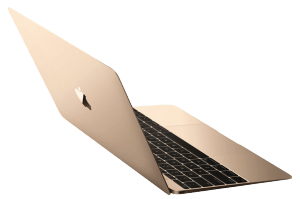 Keyboard and Trackpad:
This new keyboard has been engineered from the ground for the new MacBook. Apple was able to squeeze in a full-size keyboard into its little frame. The keys are all new, instead of traditional scissor keys found on most notebooks today, Apple chose to go with their new butterfly mechanism design. The first time you use this keyboard you might not be 100% impressed because it feels so much different in its feedback and very short travel distance, but with more usage, you'll fall in love with it. This MacBook also gives you a backlit keyboard which we all love and appreciate. Each key is individually lit and very easy on the eyes.
Apple has developed a new type of trackpad called a Force Touch Trackpad. This new trackpad is made of glass so it feels great to use. Tracking is excellent, two-finger scrolling and multi-touch gestures are smooth like butter. There are 4 sensors on the bottom that measure how much pressure is being applied. For example: if you're watching a movie you can press down harder on the left side to rewind and if you apply decent pressure to the right side of the pad it will fast forward. The harder you press the trackpad, the faster it will rewind or fast forward. The actual trackpad won't move, which can be kind of strange for some people because there is no "click", but the trackpad does give an audible mimicked clicking sound, but again, with more usage it definitely grows on you and it absolutely awesome.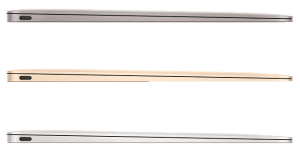 Retina Display:
The 2015 model MacBook 12-inch display is none other than the famed Retina Display. The resolution is 2304 x 1440 which gives a pixel density of 226 pixels per inch. Text and images look gorgeous on this panel. The RGB coverage measured at 100% and the AdobeRGB came in a 70%. These are awesome scores. You should fine the brightness and contrast levels to be excellent.
There are four resolutions to choose from. First you have 1024 x 640, followed by 1152 x 720, next we have 1280 x 800 and finally 1440 x 900. Since this is an IPS display the viewing angles are going to be very good unlike the MacBook Air which is based on a TN panel design. Just like the Apple Pro line of laptops Apple uses a special type of coating on this panel to help greatly reduce glare on the glossy display. You won't find this on competing PC laptops.
CPU and GPU:
Let's look at the performance of the Broadwell Intel Core M-Y531. This processor is clocked at 1.1GHz but can Turbo Boost up to 2.4GHz. The performance is good for basic to medium productivity like web browsing, Netflix and office applications and even light video editing. However, you should not plan on editing 4k video on Final Cut Pro or iMovie, because you will be disappointed. That being said, 4k video playback is completely playable on this laptop.
The base configuration features a 256GB 6GB PCIe SSD that is very fast. It may not be fast like the 13-inch Retina Mac, but overall response from the drive is very quick. The Blackmagic speed test averaged around 465 Mb per second for the write speed and 775 Mb for the read speed.
The Core M-Y531 also features the new Intel graphics 5300 card. With this graphics card you should expect to be able to play light duty video games like MineCraft, League of Legends. And even some action games like Counter Strike: Global Offensive. After about 30 minutes of gameplay the bottom plate temperatures range from 42-45 degrees Celsius and on top side of the keyboard about 37-40 degrees Celsius, and the CPU only ran at about 7-75 degrees Celsius, which are very good temps for a fanless laptop.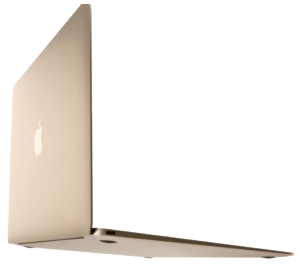 Audio:
The new MacBook features a top row of speakers, there are 4 drivers to be exact. The sounds from these little drivers sound great. Kudos to Apple for providing such a full sound system in such a little package.
Battery:
The performance from the battery is excellent. With the screen brightness set at 50% you should be able to get about 8 hours on a full charge with casual web browsing, mix video streaming and email applications.