If you want the world's' thinnest laptop then look no further than the new HP Spectre 2016 Edition. The pre-configured model comes right out of the box boasting an Intel Core i7 at 6500U, 8GB of RAM, a 13.3-inch IPS display, a 256G PCIE SSD and is selling for $1,249 USD.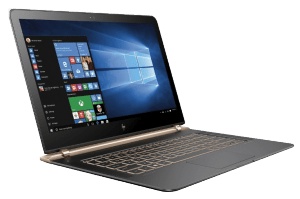 Most of the internal components are covered by the battery. It has two fully functional fans that we will discuss a bit later. This notebook as a soldered on board memory and 256GB PCIE SSD. If you're into the read speeds, this notebook really delivers seriously fast speeds. The only exception is the somewhat low write speed as 302MB per second.
The top section on the new Spectre is made out of aluminum and it comes in a gorgeous truffle brown finish, and of course the all new slick looking HP logo. On the bottom side you will find the carbon fiber bottom plate with three rubber feet rails and two fan vents.
One of the thinnest notebooks
This is by far one of the thinnest notebooks on the market measuring in at 10.4 millimeters or 0.409-inches, which of course makes it thinner than the new Apple MacBook. Unsurprisingly this laptop comes in at a mere 2.45 pounds. HP really knows it out of the park in terms of design. All of your ports are going to be located in the back, in the beautiful copper rail. This laptop features three USB Type-C ports (two of which are Thunderbolt), and the headset/microphone combo. Thankfully HP does also include a USB 3.0 to USB Type-C port adapter unlike their flagship competitor: Apple. The HP Spectre features a new piston type design for the hinges that are halfway hidden inside the actual laptop.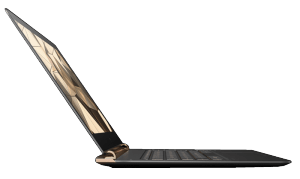 Build quality
Taking a look at the build quality of this HP you won't be disappointed. The top portion is made of all aluminum and it feels very durable. As mentioned earlier the bottom side is made of carbon fiber and it too feels really sturdy. HP really did an outstanding job with the new Specter's design, there is hardly any keyboard flex and the overall design a build is solid. The hinging system is stiff and seems durable as well.
Display panel and color accuracy
The Spectre rocks a full-HD IPS display panel and the color accuracy is on point and excellent, text and images are sharp and clear and the color is very vivid. The SRGB coverage came in at 100% and the Adobe RGB scores at 70%, this is considered the Best in Class.
Intel Core i7 Skylake processor and HD 520 graphics.
The preconfigured model comes with an Intel Core i7 at 6500U which is a Skylake base chip that can handle many of today's applications. The integrated Intel HD 520 is pretty capable as well and when set to 1920 x 1080p on low settings, it yields about 40-50 frames per second.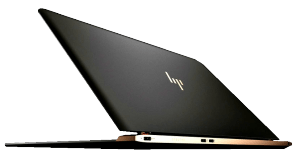 Very comfortable keyboard and trackpad smooth like butter
One issue that may need HP's design team to look into in the next model are the two top-facing Bang & Olufsen speakers that are lacking and the sound distortion is unbearable at only about 80% and higher. They did do an incredible job putting in a regular keyboard, though key travel is a bit short at only 1.3 mm, however, it is a very comfortable keyboard for an Ultrabook. There is nothing fancy about the backlit keyboard, no crazy multiple colors, the only options are on and off. The glass base trackpad is smooth like butter. Two-finger scrolling, multi-touch gestures and tracking are all on point.
Battery performance
Next up is the battery performance. This laptop features a 4-cell, 30-watt battery pack. It averages around 5-6 hours with the screen set to medium power while watching YouTube and Netflix videos and word processing.
Despite the Spectre's incredible thinness, HP partnered up with Intel to create a hyperbaric cooling system that is really efficient. The way it works is it sucks air from the bottom of the notebook and pushes it over the processor and then comes out of the copper vents towards the back. Though these two fans for the most part are quite, they can get a little noisier during video playback and charging while using the notebook.
In conclusion you get a sleek looking laptop with excellent build quality"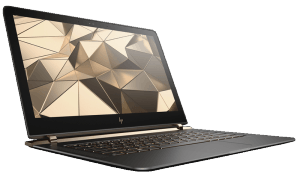 The processor is pretty capable with the latest core i5 and i7 chips available. Is notebook is an excellent choice for the consumer looking for one of the latest and greatest Ultrabooks on the market.
Planning on buying new laptop? Sell your laptop, tablet or smartphone and get money to put towards a new computer! Get a quote right now on our site and see how much we pay for your electronic device.