Today we are going to take a look at the HP Omen Gaming Laptop. This year's model is more affordable. A preconfigured model from Best Buy will set you back around $899.00 USD. Your gaming is in good hands as this model features an Intel Core i7-6700HQ, 8GB of DDR4, a 15.6-inch full IPS HD panel, a 1TB drive for your games as well as a 128G SSD for your main operating system and a NVIDIA GTX 960M.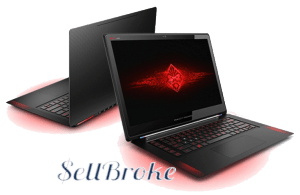 Your ports on the left side feature a Kensington Security Lock Slot and USB 2.0, USB 3.0 and a headset microphone jack combo. As for the right side we have SD card reader that has a pretty close to flush reveal, another USB 3.0 as well as a full-sized HDMI and next to that a RJ45 Ethernet port and the charging port.
Design
Some may say that HP took a big step backwards in terms of design. The older Omen was just clean and slick looking. The new seems to just use a shell of a regular HP Pavilion. However to keep it interesting HP slapped on a red Omen logo and some checkered stripes on the lid.
The interior is also made out of plastic just like the rest of the notebook. It does however have a few design cues on the inside just as it does on the exterior. It weighs in at 4.5 pounds and at its thickest point only measures 0.96-inches. The bottom plate is just plain plastic with two rubber feet strips and the intake vents. The backside the Omen has a two row exhaust vent and the chromed out flex hinges.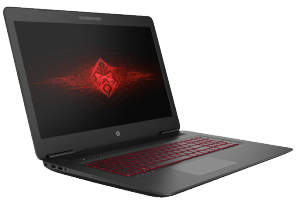 The flexing of the top of the notebook has been much improved over the HP Pavilion gaming notebook which bounced like a trampoline. However, there is still some minor flex, especially towards the middle. Considering the full plastic construction, this flex is not too terribly bad, and is similar to the other notebooks in its class.
As far as craftsmanship is concerned it seems to be built pretty sturdily and so the hinges are pretty stiff so you will need two hands to open the Omen. For now the hinges seem that they will last quite a while, but only time will tell. In terms of keyboard flex there is very little thanks to the solid base. The Omen has a 15.6-inch full HD IPS display panel that has very clear text and images. Just like other notebooks in its range, unfortunately, the color accuracy is not perfect and is a bit on the low side. The SRGB coverage came in at 68% and the Adobe RGB scored 51%. Another thing on the low side was the display brightness. The viewing angles on for the 1920 x 1080p IPS model is great, and you can also upgrade to the 4k model for only $90, or go all out with the 17-inch model.
Performance
The HP Omen is equipped with a Skylake base Intel Core i7 at 6700HQ that clocks at 2.6GHz with the capability of boosting up to 3.5GHz. Performance wise, this chip is a beast, it can handle basically anything you task it with.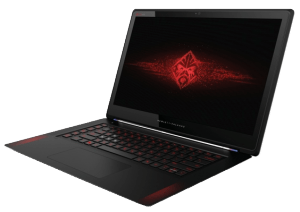 For a GPU you are getting a NVIDIA GTX 960M with 4GB DDR4 or DDR5. You can also upgrade to a GTX 965M for a bit of a performance bump. Even though the 960M is coming up on two years old, you can expect to play many of today's latest games on high settings at 1920 x 1080p. On average you can expect 50-60 frames per second, however, on intense action you can expect that to drop to about 45 fps. At any time you can stretch our settings to Ultra, but they seem to be better using the high settings.
Testing after about 45 minutes of game play the temperatures emitted were pretty impressive. The hottest part is on the right-hand side at around 49-50 degrees Celsius and on the left side of the notebook by the WASD keys remained pretty cool at around 33 degrees Celsius. The HP imagepad has been reduced to the size of an iPhone 4, the previous one was about the size of an iPhone 6. Tracking, two-finger scrolling and multi-touch gestures were all on point.
The Omen comes with a full-size keyboard with a 10-key numeric keypad. The key travel is decent and the overall typing speed is pretty good, and yes the keyboard can be backlit, but there are only 2 options: on or off. Unlike the old HP Omen the keyboard is only backlit with red and no more multi-color options.
Next up is speaker performance.
This notebook features two drivers facing on top by the keyboard and are they are powered by Bang & Olufsen and the sound quality is decent. Unfortunately what's lacking is the low end kick from a subwoofer like the one found on the Dell Inspiron 7559 and the Ideapad Y700. The good news here is the Bang & Olufsen audio control panel does allow for bass and treble adjustment and also dialogue clarity.
This notebook ships with an Intel Dual Band wireless AC 7265, which is a better card compared to the AC 3165 found in the Inspiron 7559. Some people have mentioned some connection issues out of the box, but a simple driver upgrade seems to resolve those issues.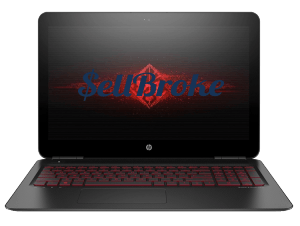 The new Omen features a 3-cell 61.5-hour battery pack that can generate around 4-5 hours of casual usage. Keep in mind that this is with medium screen brightness and everyday usage, if you plan on gaming expect about an hour and 25 minutes of usage. So keep our power charger handy.
The base models starts at about $899, but keep in mind that model comes with a 950M. The model that you're better off buying runs about $1,249.00 from HP.com, it comes with a faster video 965M, 16GB of DDR4 of RAM, two 128GB of Solid State drives and best of all a 4K display. You'll definitely get a better bang for your buck by spending just a bit more. The new HP Omen is a solid portable gaming machine that has the power to play the latest games and edit videos.