After you sell your laptops and are ready to replace or upgrade your computer, what are the main functions that you look for? Is it build quality? Programs and software? General appearance or battery life? Or are you strictly one that looks at the price analysis? Well, you're in luck when it comes to the Asus VivoBook E403SA.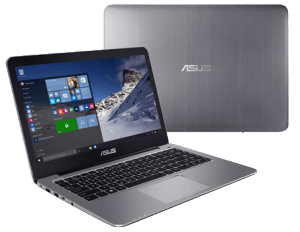 For under $400US you can pick up this little gem of an Asus that should satisfy the basic computer consumer's needs. Being a sub-$400 computer you get an affordable laptop that's lightweight, has a great battery life, has USB Type-C charging and gives you a solid functioning performance with an HD display.
The Asus VivoBook is capped with a brushed-aluminum lid that gives it a much better visual aspect and looks like a laptop of much higher quality. Customers have mentioned that even though it's looks like a higher quality piece that the metal lid actually feels less secure than they would have hoped for. As for the keyboard deck it too looks like it's made out of brushed- aluminum, it on fact its plastic made to look like higher quality. The deck is strong a rigid enough to support our wrists without a problems of that inward crush effect that some budgeted laptops tend to have.
Scaling in at just 3.18-pounds and measuring at 0.7-inches thick, makes this little Asus 14-inch laptop one of the thinnest and lightest in its category. One rare feature about this budgeted device is Asus kept functionality in mind and equipped it with plenty of porting options. Along the left-hand side you'll find a HDMI port, USB 3.0 and USB Type-C ports as well as a headphone/mic combo jack. Found on the right-hand side would be the security lock slot, a USB 2.0 port and an SD memory reader. One thing to keep in mind is that the Type-C port only supports data transfers and charging and not video, you will have to rely on the HDMI for your video-out needs.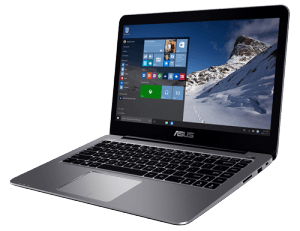 Let's take the display into some consideration, shall we? Here the Asus VivoBook introduces its 14-inch, 1920 x 1080p display that rendered pretty good graphics but it was apparent that skin tones were lacking a bit as well as its brightness factor. But once again, considering the price point Asus does deliver a decent picture for video streaming because they actually offer an HD display, which most sub-$600 laptops usually don't. They also give users about 30% more pixels that in itself gives you about an extra paragraph or two per page when working with documents and web browsing. Similar to other 14-inch budget notebooks the Asus produces about 68.5% of the sRGB spectrum, which falls within the 64% – 70% range. However the Asus VivoBook's accuracy rating was noticeably better rating with a 2.3 in the Delta-E test (0 being best).
When we get to data input the keyboard and touchpad offer solid performances and as mentioned before there is no bending issues with the deck. The key travel is a bit shallow, only measuring in at 1.4 millimeters of travel, but once you adjust to that, which doesn't require much time at all, the shallow key travel will go unnoticed by most users. The VivoBook gives an ample touchpad at 4.1 x 2.8-inch buttonless touchpad that accurately tracks your gestures and also registers Windows 10's 3-finger gestures.
Equipped with an Intel Pentium N3700 processor, 4GB of Ram and 128GB of eMMC storage, the VivoBook packs a pretty decent multitasking punch. That means you can stream online instructional videos or classes while keeping up with you documents at the same time. On the Geekbench 3 scoring it earned a 3.341, which again, is higher than most budget notebooks. Due to the eMMC storage copying files is a bit lengthy.
If you're picking this notebook up for a gaming experience; don't It's definitely not a gaming laptop and the integrated HD Graphics can only run casual games and stream content from sites like Netflix and such. Unfortunately this machine also tends to run a bit warm on the underneath plate registering in at around 104F degrees after about 15 minutes of full-screen HD video usage. As far as the battery is concerned, if you are only doing regular internet browsing on a Wi-Fi connection, Asus claims there is about a 9 hour durability to the battery.
For a budgeted laptop you get a clean, sleek looking chassis and a lightweight machine that's capable of handling a full day's' worth of work.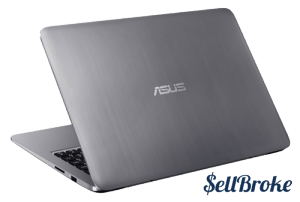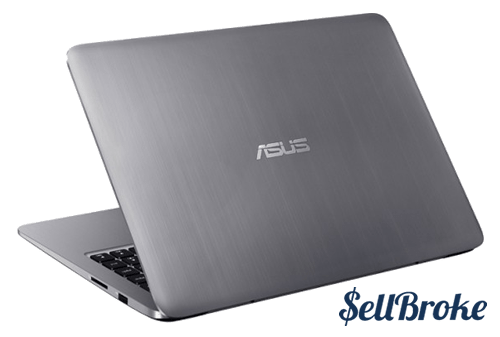 You won't be blown away by the sound performance and the underside can run a bit warm, but you're only set back a touch over $400 after tax. At this price, you really can't go wrong to consider the Asus VivoBook E403SA as a decent school computer on the run.
Going to buy new Asus laptop? We'll buy your laptop, tablet, or smartphone broken or not! Get a quote today right here on our site.