Looking for a laptop can be hard. Every machine offers different strengths and weaknesses and modern technology is constantly changing and coming out with newer feature and specs than before. The good thing about mean you can sell your laptop to us so we can properly dispose of it and you get a few extra dollars to go towards your next purchase.
One of the top 5 best-selling laptops of 2015 is the Lenovo Yoga 900, and you cannot actually look at this laptop without taking note of the very interesting and different hinging system. It's called the watchband hinge and it's made up of 813 individual component parts. Definitely a first of its kind since the Yoga 3. This new hinging system allows the Yoga 900 to flip 360 degrees that allows you four different modes to use your device in: ordinary laptop, stand, tent and tablet modes.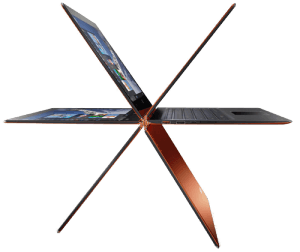 Depending on which model you choose, you can get a Core i5 or i7 CPU with 8GB of RAM and between 256GB and 512GB of Solid State Storage (SSD). It also comes with a 13.3-inch Quad HD screen which allows for an amazing 276 PPI. Even though you have these great specs they don't get in the way of portability.
With the Lenovo Yoga 900 measuring in at a mere 0.6-inches (1.49CM) thick portability is very easily attained and you don't have to give up power. Unlike its predecessor, the Yoga 900 is not trying to be the slimmest reversible laptop on the market. Reason being is because in order to pack in the Intel Core i5 or i7 it needs about 18% more thickness. But you're also getting a longer performing battery by adding just a touch more in thickness. Better run time and better performance is a great trade-off in our opinion. Lenovo claims their 900 is the slimmest Core laptop on the market, but at 0.6-inches and 2.8 pounds, it's still bigger than the older model 0,5-inch, 2.6 pound Yoga 3 Pro. With its reduced depth of 8.86-inches vs 9-inches and width of 12.75-inches vs 13-inches, the 900 has crossed over into looking a bit more generic because it has a squattier profile.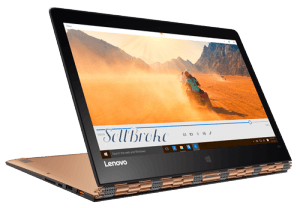 As mentioned before you can get the Yoga 900 with an Intel Core i5 or i7-6500U CPU, a 256GB or 512GB SSD, and up to 16GB of DDR3-1600 memory. Either version that you choose comes with 802.11a/c Wi-Fi and Bluetooth 4.0. The conventional home testing of word processing, web browsing and photo editing the 900 passed with great results. Only the Toshiba Satellite Radius 12 (Core i7-6500U) and the Dell XPS 13 (Core i5-6500U) scored out higher, and not by much either.
Lenovo boasts a 9 hour battery life, but the truth of the matter is it runs closer to 6.5 hours before needing to hook up to a wall unit to keep things running seamlessly. However, it still does have a pretty decent battery life because of its larger 66WHr battery and running a 4K ultra-HD video using Windows 10 media player on loop. While watching movies using the 900's native speakers you won't be disappointed there either. They emit pretty decent sound clarity along with a pretty good bass performance. But, like most laptops on the market, it is always best to listen to music and watch movies on external speakers.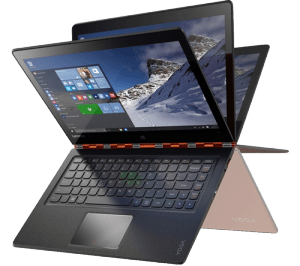 The Yoga 900 is a fully reversible laptop with a 13.3-inch, 3200 x 1900 IPS touchscreen display. Under most circumstance, and especially in low light, it emits nice clean, clear and bright colors without much, if any color wash. One the flip-side, it does reflect quite a bit and has a rather thick bezel, and if you are used to a nice Infinity Screen found on the Dell XPS, you will be somewhat disappointed.
Though the ports offered are minimal on this 900, they are enough to get you through our most common daily activities. It has two USB 3.0 Type A ports, a USB 2.0 charging port, a SD/MMC card reader, combo analogue audio jack and a USB Type C port and also a dedicated video-out port.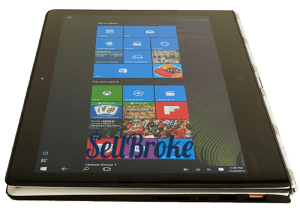 So, there we have it, a quick rundown of the 2015 Lenovo Yoga 900 in all its glory and luster. We've covered the basics and mentioned some of the faults we found, but overall we feel this is a very good computer given its price range beginning at about $1,150.00 USD.
Drayton J. Talbot
Going to order the new Lenovo laptop? We'll buy your laptop, tablet, or smartphone and help you get some money to put towards the new one! Get a quote right here on our site.