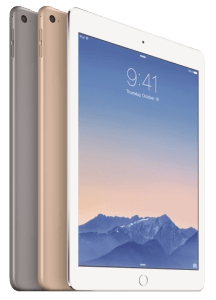 You sit and wonder why it took you so long to get with the program and sell your iPad and used electronic items back, but you're happy that you finally sent that old laptop computer in to be properly recycled, and the fact that now you received your money for doing so, means you can put that towards a new iPad Pro 9.7. You will need all the help that you can get because Apple's prices do not seem to have any intentions in dropping their prices anytime soon. They are the flagship of all flagships and as long as people are ever-so-willing to spend the money that Apple set their prices at, don't expect to see any change in that system.
The Apple iPad Pro 9.7 weighs in at 437g, that's just a touch below 1 pound, and has measured dimensions of 240 x 169.5 x 6.1 mm, with a screen size of 9.7-inches and a stunning resolution of 1536 x 2048 pixels. It comes with iOS 9.3 running off an A9X CPU with 2GB of RAM, and three options of 32GB, 128GB, or 256GB of internal storage. The cameras are definitely within industry standards and the rear-facing camera is 12MP and the front-facing one shows up with 5MP.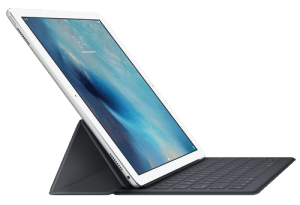 Apple seems to be converging their iPad into and more workable 2-in-1 product with the available accessories like the Smart Keyboard, which unfortunately isn't backlit, and the Apple Pencil. Of course these items are sold separately and push the overall price up even further, and the smallest 32GB version is already at a starting price of $599.00 from Amazon. However due to its portability and brute power, with the added Smart Keyboard it is a device that can all but virtually replace your larger desktop. This makes the device perfect for those people that are travelling for business more than they are ever in an office setting.
Now you can take office meeting notes easier and faster with the Apple Pencil, and the Smart Keyboard makes it much easier to fit together for the purpose of more lengthy typing projects. The nice thing about this keyboard is that is attaches without having to use Bluetooth because it utilizes its Smart Connector that was introduced with the 12.9-inch iPad Pro. The pro 9.7 is just a bunch of earlier version jammed inside a different size, it clearly has its own new innovations and advancements. The auto-adjusting new True Tone feature is always subtly adjusting the white balance to your immediate environment to keep the display more clear and concise color possible with its larger color options behind its anti-glare/anti-reflective coated glass.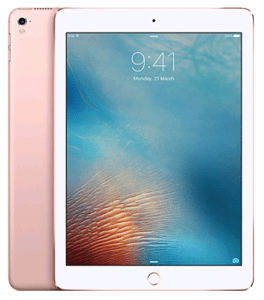 The 12MP camera also shoots 4K video like its cousin the iPhone 6S and iPhone 6S Plus. For any size tablet that in itself is a rarity. There is a strange very small bump on the back of the iPad due to the 12MP rear-facing iSight camera, but it is a tradeoff to make your iPad camera just as good as you iPhone camera. It also comes with the True Tone camera flash to help with leveling the field of view for photo taking.
The iPad 9.7 has the same polished aluminum frame and a lighting fast Touch ID fingerprint scanning home button complete with the Retina display. All of the rocker buttons, power button and all ports and the sleep button are all in the same position that they've always been in, so there's no changes in that respect. In fact the only way you can differentiate the 9.7 from afar from the iPad Air 2 is the one special color option, instead of having three options there are now four: Silver, Gold, Space Gray and the all exclusive only to iPd 9.7 is the Rose Gold.
Upon closer inspection you can find a few more differences from the iPad Air 2 in its speakers. It now has four speakers, two on the top and two more settled on the bottom and the Smart Connector on the left-hand side. These four speakers really kick up the gaming and music listening experience. Now it has an actual stereo setup and it doesn't just emit sound from one side when watching movies in the landscape position. One of the features of the new 4-way sound system is that no matter how you have your iPad orientated the upper top speakers will always handle the mid and high frequencies and they'll change dependent upon whether the device is in a landscape or normal position.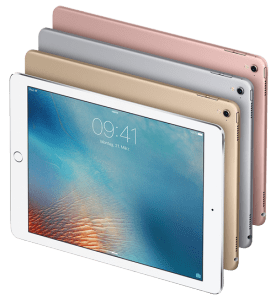 Like most Apple products there is always room to love one more.
This iPad Pro 9.7-inch device is surely ready to step up to the plate and deliver all of the flagship qualities that you've become accustomed to from Apple products. If you're in the market to upgrade from your iPad Air 2, then you'll be right on point to look into this new iPad.
Planning on buying new iPad? You can sell us your laptop, tablet or smartphone and get money to put towards a new Apple device! Get a quote on our site.