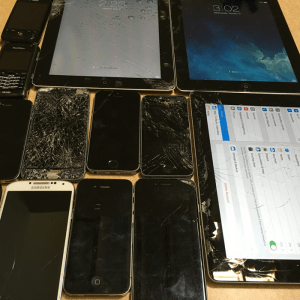 Your broken Apple devices hold value. Check our quotes to see how much we pay for broken iPhones, iPads and Smartphones.
Recycling laptops and electronics; why don't people do this more often? Recently I asked my closest 318 friends on Facebook what their interest in recycling their electronics was. To my surprise not one of my friends actually recycle their electronics. Recycling your electronics and computers, known as E-Cycling (not to be confused with an electronic bicycle), I thought would be a much more fashionable idea than it actually appeared to be. This kind of stumped me because I have many very liberal friends that are all about the better good of the planet and constantly talk about reuse, reduce and recycle. However, not a one of them actually sell their laptops and unwanted electronics. The answers I received were of the following variations: "I don't know how to recycle my electronics", another said, "Wow, I didn't know this was a thing… where can I do it?" One of my friends wanted to know more about it but was hesitant to actually follow through because they said they kept their old laptops in case they needed a backup. Other friends fell in line with the argument that they weren't sure if their information would be properly erased or if a rogue company would actually try and to steal their sensitive information.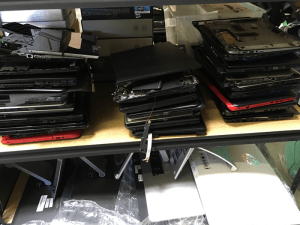 Sell broken laptops and All-in-One PCs. Never throw them away.
This was very disconcerting to me because I've been e-cycling for at least 5 years now on my own and arguably even longer. When I was in the military we had to destroy our computers, laptops and handheld devices and e-cycle, and I can remember doing that as early as 1996. So, this isn't a new fad or phenomenon. But why isn't it more popular? I understand that people are concerned about turning over their laptops and electronics over to companies that they may not know and run the risk of having their personal information hacked or shared in ways they were never expecting, but the fact that nearly 60% of people don't e-cycle is because that fear is astonishing to me.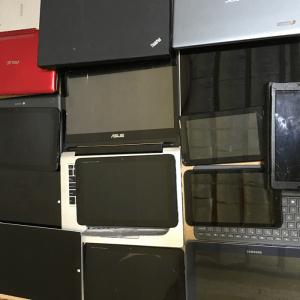 Broken tablets sold to us will be recycled in the best possible manner.
It seems silly to me that with a little bit of due diligence and research, one can find many companies that offer the e-cycling service. The trusted Better Business Bureau company I've been using for my personal stuff has been sellbroke.com, they even offer buy back options for selling your laptop, iPhone and other electronic devices. That's right, you can sell your iphone back to them and they will compensate you for your device and then you have extra money to go out and get that new iPhone that you've been waiting for. You can even look up their company's performance with the Better Business Bureau; you're not going to find a better company in my opinion.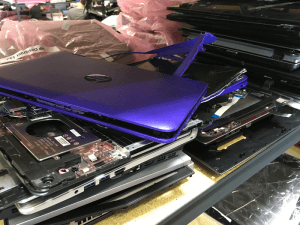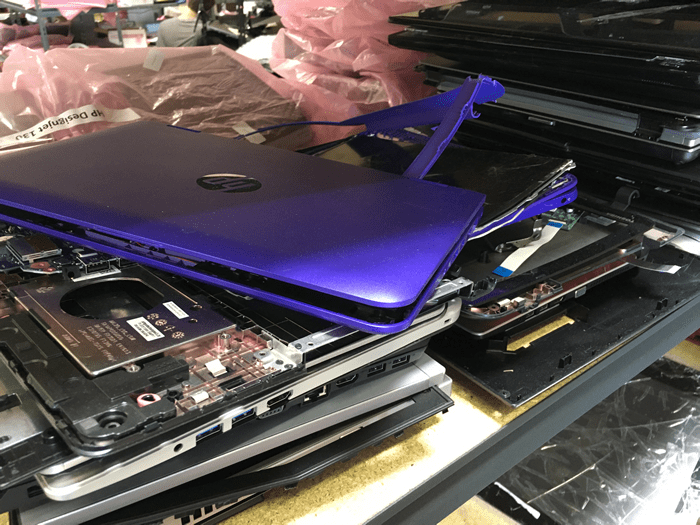 We recycle broken laptops and MacBooks to the very last piece.
Less than 25% of household electronics are recycled. This is a bit unnerving. Think about all of the laptops and electronic items that you have in your home; then think about what they contain. Most electronics have many heavy metals in them like silver, gold, copper and mercury. All of these are recyclable. The precious metals are typically stripped then shipped back overseas and are melted down and remade and used in new products. Materials like mercury are properly disposed of as to save the planet's fragile environment. Don't allow these things to go to waste. Take it upon yourself to do good for you, and our world, and e-cycle your used goods and even get paid… who would've think it?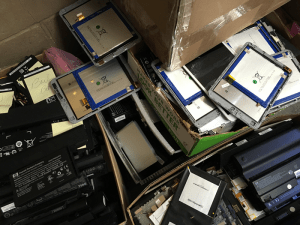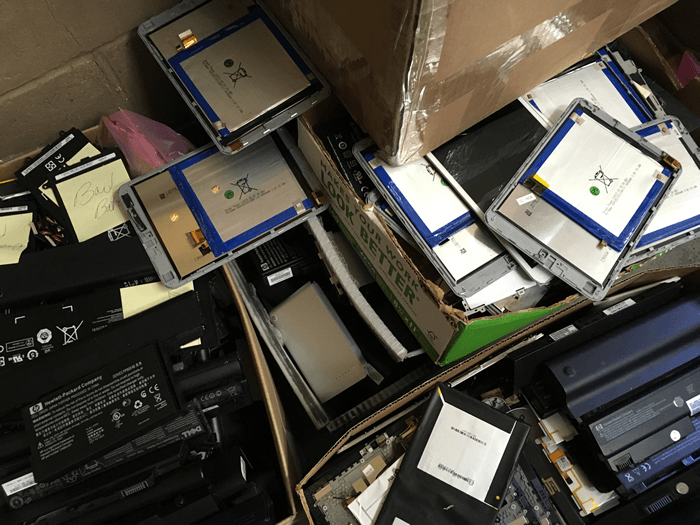 Never trash your old laptop and tablet batteries. It's very harmful to our natural environment.
If you still need more information read our post on Why selling your old laptops and electronic devices matters
Planning on recycling your electronics? We buy laptops, tablets, or smartphones broken or not. The money you will get from recycling your e waste with us you can put towards a new device!