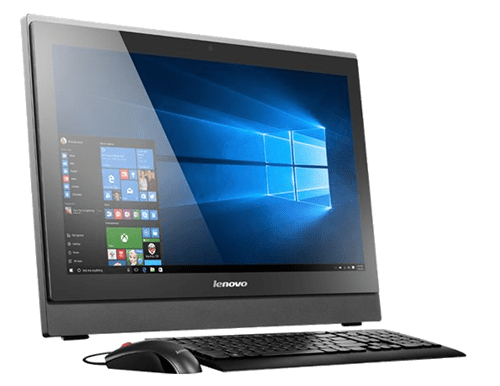 Try taking a look at the Lenovo S405z All-In-One 10 HD desktop computer if any of the following apply to you: 1 – Your everyday desktop is getting too old and updates are getting fewer and fewer between. 2 – You don't have Bluetooth to work with your mouse and other external devices. 3- Many of your apps cannot run on it. These are all the reasons you're going to find yourself back in the electronics sections looking for a new desktop.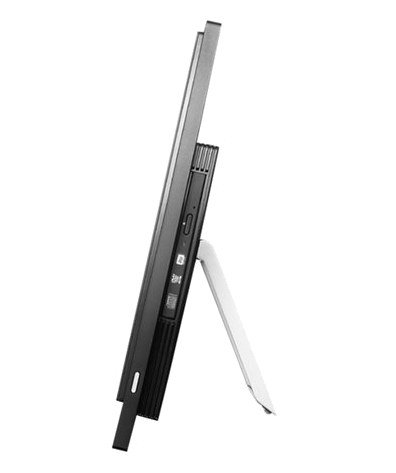 The Lenovo S405z All-In-One features a slim design body that's both beautiful and trendy to today's' standards. The design in considerably thinner than the previous generations and also has a grill-ventilation in the rear, this allows for it to run much cooler than before and noticeably quieter. You have two options for mounting this machine, you can use the stand option and have it on your desk, or you can utilize its ability to be wall mounted with the VESA mount and free up needed desk space, or just make your environment look better and more tidy.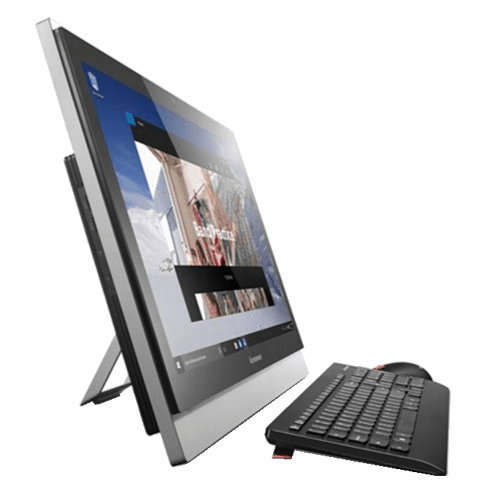 This machine has an awesome 21.5-inch display and delivers a maximum resolution of 1920 x 1080p that will never disappoint and always look vibrant and crisp. The Start Menu is better than ever and now you can customize it to your heart's desire and make it a very personal machine that you will be more comfortable using on a daily basis. With the newer technologies like InstantGo you can boot up and get working or browsing in no time. With the added safeguards put in place with Lenovo Business Vantage Suite, you get a comprehensive range of apps to further secure and safeguard yourself from malicious malware that won't destroy your software. It includes Data Safe, Sure Erase, Smart USB Protection and Lenovo Bluetooth Lock. The suite encrypts and safely stores documents and files, and also enables the permanent removal of date and archives. One nice feature that often goes overlooked is it has a privacy cover for the webcam and a Kensington Loop Lock for the physical security of your machine.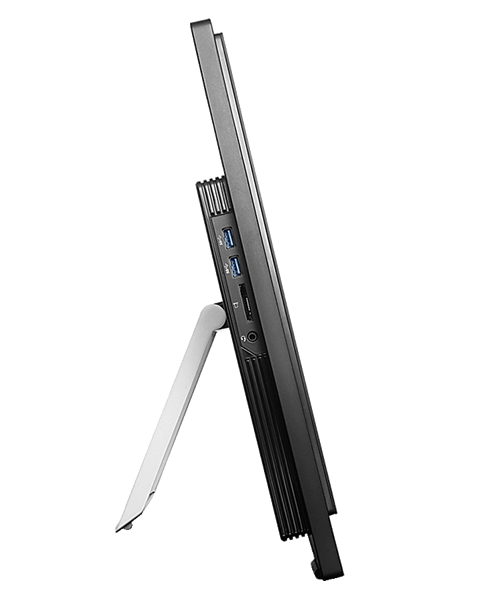 This all-in-one desktop has a 2.20 GHz AMD A Series A8 Quad-Core Processor with 4GB OD DDR3 RAM to provide you maximum performance. The 21.5-inch FHD LED Display that has a 16:9 Aspect Ratio that keep your eyes glued to the screen with appreciation. It comes pre-installed with the latest Windows 10 Pro 64-Bit OS and additional apps can be added to enhance your experience. It comes with 500GB HDD to store all of your files and data. This PC has integrated Wi-Fi, Bluetooth, Webcam, Microphone, AMD Radeon HD Graphics and USB keyboard and mouse set.
Specs:
Processor – A Series A8-7410
Processor Speed – 2.2 GHz – 2.5 GHz
Number of Cores – Quad-Core
RAM – 4 GB
Storage Size – 500GB
Interface – Serial ATA
Drive Type – DVD SuperMulti
Configuration Features – 1 x 4 GB
Installed Size – 4GB
Max Supported Size – 8GB
Memory Speed – 1600 MHz
Technology – DDR3 SDRAM
Chassis Built-In Devices – Stereo Speakers
Card Reader Type – 6 in 1 Card Reader
Dimensions – D 2.5 inches, H 15.1 inches, W 21.1 inches
Weight – 14.11 pounds
Ports – 2 USB 3.0, 3 USB 2.0, HDMI, LAN (Gigabit Ethernet)
Wireless – 802.11a/b/g/n/ac, Bluetooth 4.0
Planning on buying one? We buy laptops, tablets, or smartphones and help you get some money to put towards a new device! Get a quote right here on our site.