Motorola X Smartphone Review
May 12, 2016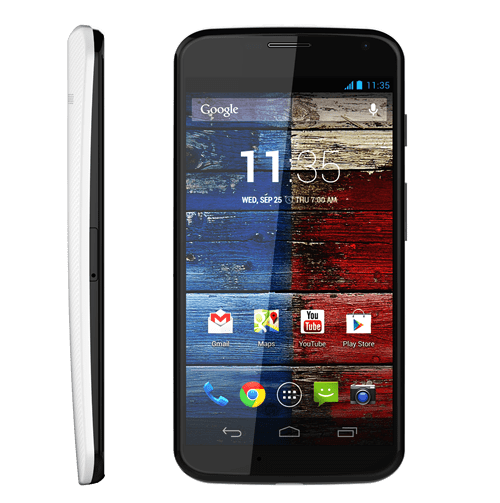 The Motorola X; this is how the Android operating system was meant to be experienced; with  a smooth crisp interface combined with a trendy and fashionable look. For the Android enthusiast the power of this phone is in its software, unfortunately with that performance it tends to compromise the battery life.
Motorola has categorized their smartphone line into 3 lines: the low-budget Moto E Series, the mid-tier Moto G Series, and the flagship Moto X Series. The Moto X provides a personal touch to your handheld device by having many options to the back plate. You can choose from a wood and leather look, you can pick different colors and you can also have personalized engravings with accent colors to really make your phone yours! The internal workings comes with an Android 4.4.4, but it's easily upgradable to Android 5.0 on most of the larger carriers.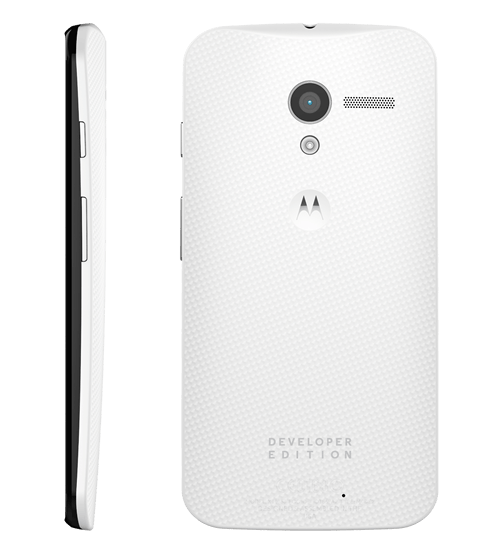 Increasingly the majority of smartphone users want a clean running machine, as well as an outwardly good looking device. As mentioned earlier one of the more common complaints is the lack of battery durability. The Moto X's battery only has a limited capacity of 2300mAh, while most every other flagship device has since upgraded their batteries' life, the Moto X just hasn't done so yet. That being said, the battery found in the Moto X is also the same battery that is found in the iPhone 6; just keep a charger handy. Luckily, thanks to Qualcomm's Quick Charge 2.0 capability you can charge a completely dead battery to about 50% within 15-20 minutes.
People have also been critical about the lack of expandable storage at only 16 GB. If the battery were removable there would have been space to add a memory port, but despite how cool looking the back plates can be, they don't grant access to the inside of the machine.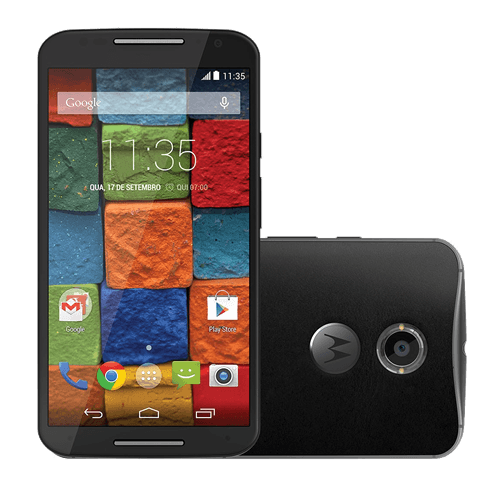 On an upside, the camera take wonderful photos and can shoot 4K video and come equipped with a Dual-LED Ring Flash. It supports Bluetooth aptX as an audiophile and is also water resistant, so the common spills on the table isn't much to worry about.
Many factors are taken into account when reviewing smartphones, and we try to only review the best. This 2014 model Motorola Moto X has some weak points such as a weak battery, and a somewhat plastic feel about it, and though it lacks expandable storage in a modern day phone there is no finer representation of an authentic Android.
Specs: Operating System - Android 5.0 Lollipop Processor - Motorola Mobile Computing System including 2.5 GHz Qualcomm Snapdragon 801 with Quad-Core CPU (MSM 8974-AC), Adreno 330 at 578 MHz GPU, Natural Language Processor, Contextual Computing Processor RAM - 2 GB Storage - 16 GB, 32 GB, 65 GB (Moto Pure Edition only) Dimensions (L x W) -  5.54" x  2.85" Curve .15 - .39" Weight - 144 grams (5.08 oz) Display - 5.2 AMOLED, 1080p Full-HD 1920 x 1080, 423 ppi, Corning Gorilla Glass 3 Battery - 2300 mAh (up to 24 hours on mixed usage) Water Resistant - Yes Networks - GSM/GPRS/EDGE, UMS/HSPA+, 4G LTE Rear Camera - 13 MP Front Camera - 2 MP SIM Card - Nano-SIM Connectivity - Micro USB, 3.5mm headset jack Bluetooth - Bluetooth version 4.0 LE Wi-Fi - 802.11a/g/b/n/ac (dual band capable) Bluetooth version 4.0 LE Speaker - Front-ported Video Capture - 1080p HD and 2160p Ultra HD Video, 30fps (MPEG4, H.264) Location Services - GPS Back Plates - Choose from 25 different backs (17 colors, 4 woods, 4 leathers) Accents - Choose from 10 accent colors on the front and back
Planning on buying one? We buy laptops, tablets, or smartphones and help you get some money to put towards a new device! Get a quote right here on our site.